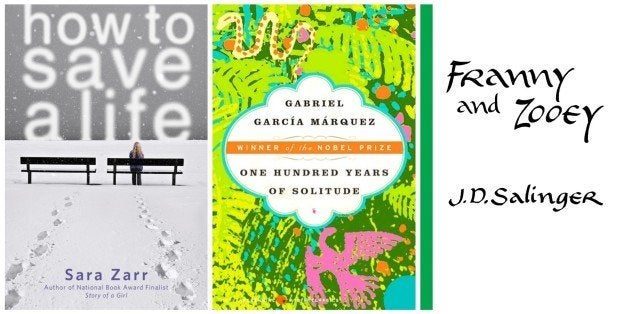 No one can make me laugh as hard as the people in my family can -- the fall-to-my-knees-crying, certain-I'm-about-to-suffocate-and-die kind of laughing -- and no one can make me as batshit angry as my kin can either. That's why I love reading and writing about families. Stakes are high, emotions are wild and messy, interactions are loaded, and loyalties and disloyalties are always in play. It's rich fodder for both comedy and drama, for stories of all kinds.
I'm a big fan of Found Family stories, the idea that unlikely people somehow stumble upon each other and become "family" by choice not blood -- like Guillermo and Oscar in I'll Give You the Sun (Dial, $17.99), who develop a father/son bond neither of them expected but both of them needed. Sara Zarr's gorgeous YA novel How to Save a Life is about people making the choice to be family and how they transform through the grace of that decision. It's just beautiful and I wept through the last part of it late into the night unable to put it down. Another favorite Found Family story is The Man Who Fell in Love With the Moon by Tom Spanbauer -- a remarkable (and sometimes devastating) novel told in a raucous and deliriously original voice about a renegade band of eccentrics who find "home" together in, of all places, a brothel in the Old West town of Excellent, Idaho in the 1880s. A glorious feast of a book.
For me, there's nothing better than getting immersed in a sprawling, epic, multi-generational family saga, and One Hundred Years of Solitude by Gabriel García Márquez is the most sprawling, epic, and multi-generational of them all. The story spans six generations of the Buendia family living in the mythical town of Macondo. This novel, a masterpiece of magical realism, of lyricism, of comedy and tragedy, is a profound exploration of human nature, culture, and history. It's also rollicking, hilarious, heartbreaking, and heart-soaring, with unforgettable characters and storytelling so alive, the book practically vibrates in your hands. It's the best novel I've ever read (and reread and reread). Other terrific family sagas: The House of the Spirits by Isabel Allende and The Poisonwood Bible by Barbara Kingsolver (also an exquisite and pitch-perfect study of voice and shifting points of view).
All hail Jane Austen. The Bennets. The Dashwoods. Enough said.
I'm going with The Outsiders by S.E. Hinton. I read this emotional novel as a kid and it's stayed in my heart ever since. Not embarrassed to admit, I still well up thinking about brothers Ponyboy, Darry, and Sodapop (and surrogate brothers Johnny and Two-bit), lost boys who only have each other. (Also, amazing: Hinton wrote the novel when she was only sixteen years old.) Runners up: A River Runs Through It, a novella by Norman Maclean, Legends of the Fall, a novella by Jim Harrison, East of Eden by John Steinbeck, Cutting for Stone by Abraham Verghese (also a wildly immersive family saga).
Brother and Sister Stories
Franny and Zooey by J.D. Salinger. Hands down.
Finally, the Wacky Family
Oh, I am a sucker for the Wacky Family story! The wackier the better. One of my favorite picture book series is
The Stupids
by Harry G. Allard, Jr. and James Marshall. But the gold medal goes to the kooky, mesmerizing, idiosyncratic Dufore family in the not-very-well-known sparkling debut novel
The Wives' Tale
by Alix Wilber. In the midst of this boisterous tale that spans four generations of the wild Dufores in the town Esperance, Vermont, characters literally burst into flames, literally rot, literally float into the air when they fall in love, literally don't sleep for years. This is some rhapsodic, weird, heartfelt, simply wonderful storytelling.
REAL LIFE. REAL NEWS. REAL VOICES.
Help us tell more of the stories that matter from voices that too often remain unheard.