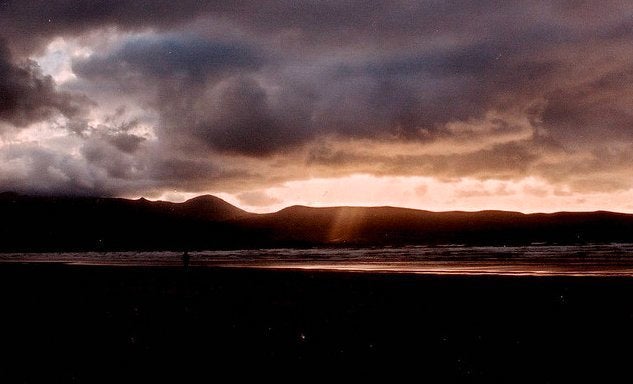 I was booked to perform in Ireland before my sister died and there didn't seem to be any point in not going. It was, after all, the perfect time to be going to a place filled with people who like to laugh and drink. I'd gotten married at my sister's hospital bedside -- I didn't want her to miss it -- so it was also an excuse for a poorly planned honeymoon.
The first stop on my tour of Ireland was Cork. Brian, the owner of City Lights, where I was set to perform, welcomed me and my wife Ashna and poured us Cork's own Murphy's stout ale, which he proudly proclaimed to be the greatest beer in all of Ireland. Then, without further delay, he pulled us into a dark back room of the club and made us swear secrecy about what he was about to show us.
There was a water stain on a metal plate above a door that looked like the Last Supper. He said that God was talking to him through this water stain and asked me what I saw.
"It's the Last Supper," I said. He made us swear again that we would never tell another living soul because he didn't want anyone making pilgrimages there to see his holy stain.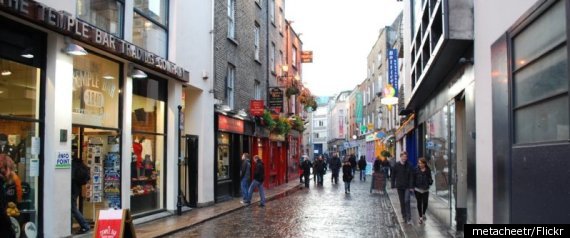 The next day Ashna and I picked up a rental car and drove straight to the charming seaside village of Dingle. We found a lovely bed and breakfast place overlooking the water called Harbour Nights and asked the owner for the best place to get seafood.
He recommended Out Of The Blue. And we wound up eating pollack in potato crusts with chives cream and pan fried John Dory. The genius of the meal was that in a circle around the main dish was an orgy of little side dishes: leeks, broccoli, coleslaw, broiled mini potatoes, rice, mixed greens, pickled carrots and pickled cabbage. The John Dory is a pungent fish but it was offset by the flaky white sea bass. What I really wanted was to take Ashna's meal. But you can't do that on your honeymoon.
The next morning I watched the lady who ran the B&B hang her family's washing out on the line while two Alaskan Huskies moved adoringly around her feet. She pointed out all of the team jerseys that were hanging on the clothesline and told Ashna and I that her family was really into Irish rugby. She loved that I am from Orlando and said their family had many good times at Disney World.
Then she got excited talking about her upcoming trip to Dublin. "I am going to see...Can you guess?'' she asked. Jokingly I said "Bon Jovi" and she clapped excitedly because I had guessed right. We sang part of "Living On A Prayer" together with the glistening sun sparkles on Dingle Bay as our backdrop. Then she made us wonderful scrambled eggs.
We drove off on the asphalt ring that runs around the Dingle peninsula and my heart leaped up at stunning cliffs meeting the cobalt sea. No wonder the Irish are so damn poetic.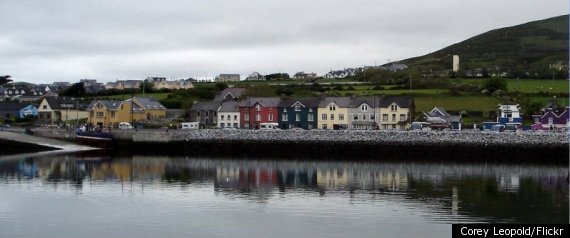 Driving on the left side of the road is still a new concept for me, but I was feeling okay, passing more sheep than people, when I saw a road sign showing a car falling off a cliff. I had to smile. It reminded me of the old joke: "To make a normal person laugh you just need to dress up a guy as an old lady and throw him down the stairs. To make a comedian laugh, it has to be a real old lady."
The next morning I told the innkeeper I would think of her whenever I heard a Bon Jovi song and we drove off for Galway, a tiny San Francisco-artsy seaport college town I've always been fond of where music is jumping out at you everywhere.
Kevin, the owner of the club I was scheduled to play, is one of my favorite people on the planet. When I started to tell him about my time in Cork, he blurted out: "Tom, did he show you his Jesus water stain?"
There was a moment of silence and we burst out in laughter. We laughed the way certain friends do who haven't seen each other in ages but haven't lost a minute.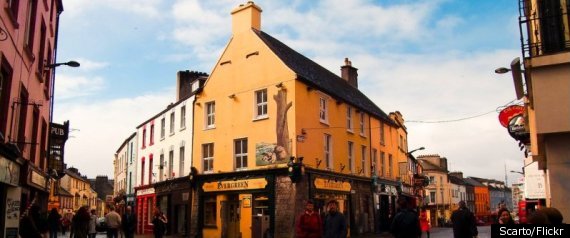 The next day, I put on the single greatest show I have ever done at his club. I told the crowd about how Kevin and I had gone out late the night before to get curry fries and chicken and wound up getting into a bit of scrap with some local toughs and a mean Englishman. They especially liked the part where I said:
"I want everyone to know that I love Irish people. I want you to know that I sincerely truly love
Irish people...that is why when I ran in, I hit the English twat."
It was worth busting up my hand to get those five minutes of material, which I called: "Chicken worth fighting for."
It all worked because it was real and it had just happened to me. I love Irish audiences because they are no nonsense and they will go with you if you are feeling it. Any bad thing that happens, major or minor, becomes a story in Ireland, where a good yarn is currency. After losing my sister, I was happy to be someplace where long days make you rich.
Related