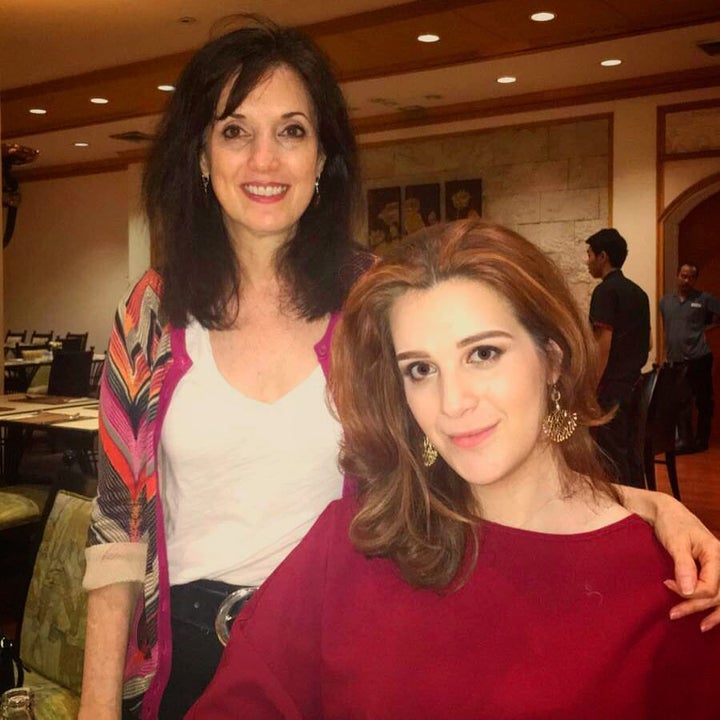 I remember in one of my early appointments with a gender therapist in New York, the therapist said to me, "Can you imagine a strong, independent, dominant kind of woman?" The question may seem inane to an outside observer, but what he was trying to do was make sure my sense of gender identity and my sense of gender stereotypes were separate. My response was, "Of course! Those are always the kinds of women I've admired and wanted to emulate." I rattled off some of my female idols in that model; Hillary Clinton, Viola Davis, Amal (at the time) Alamuddin. However, my earliest model of a strong independent woman was my mom, Amy Levinson.
As a kid, I watched as she juggled raising my two brothers and I with her career as a jewelry designer. When I was really little, before I even really understood my own gender, I took for granted that I would grow up and become a woman just like her.
I'd look at her in the morning and somehow she always seemed to have the barest hint of the previous day's eye makeup lingering around her eyes. I thought it looked glamorous, like some beautiful Jewish Priestess from a time long ago. She'll probably be mortified that I'm bringing it up, even though my mom is one of the most arrestingly beautiful women I know.
Back in my childhood years, she would make sure the three of us got off to school, and she'd get to work. She'd go above and beyond supporting us in any of our extracurricular endeavors. After much begging on my part, she let me get a piano in third grade and began getting me private lessons. That support directly led to my work as a composer today. Every chorus concert, every theatre performance, every orchestra concert, she was there. I mean every one. If there was more than one performance, she was at every. one. This was while she was going back and forth into Manhattan and to Providence RI, designing jewelry for QVC, Lainie Kazan, and eventually, The Met Museum, to name a few… not to mention getting involved in school and library board politics.
One of my myriad of struggles, as a bullied queer kid, was with my weight. I had become very overweight as a kid, and by high school, I felt completely out of control. One night, I was visibly upset. She came up to my bedroom and I confessed how distraught I was about where my weight had gotten. She sat with me and listened. We made a plan.
Over the next year, she went food shopping with me, she made meal plans with me, she cooked for me, and helped me take it off. When I originally came out as gay, it was a complete non-issue. When I was going into my junior year of high school, we were on a summer vacation in Boston and Maine. I was depressed over an unrequited crush on a boy in the grade above me. My mom suggested we break from our scheduled plans and take a day trip over to Provincetown to cheer me up.
In my adulthood, she stepped in to help my dad with his business when he needed it, dropping everything to help him and our family to succeed. When I came out as trans, it stressed our relationship a bit at first, but it put us on a major path of growth together. For perhaps the first time, we really see each other. She has flown around the world to be with me throughout my transition, being away from home for long stretches of time to offer emotional support.
She is the first person to uplift me and validate me when I'm feeling low. 'I wish you could see how beautiful you are inside and out' is a common text from my mom. She now loves to talk about, and my dad verifies this, that when she was pregnant with me, she was utterly convinced that she was having a daughter. I joke that as a typical Jewish mom, she just loves that she found out she was right twenty-five years later.
But the truth is, as a trans woman on Mother's Day, I am profoundly grateful for a mother who truly sees me as her daughter. I know how incredibly lucky I am. But it's not just luck, it's a testament to the woman who raised me. She is a strong, independent, empathetic, woman who took the time to truly see and know her child. I woke up this morning on the opposite end of the country, my first Mother's Day away from her, and looked in the mirror; yesterday's eye makeup lingering around my eyes. I smiled. I am my mother's daughter. Thank you, mom, for raising me right. I love you. Happy Mother's Day.
REAL LIFE. REAL NEWS. REAL VOICES.
Help us tell more of the stories that matter from voices that too often remain unheard.
BEFORE YOU GO