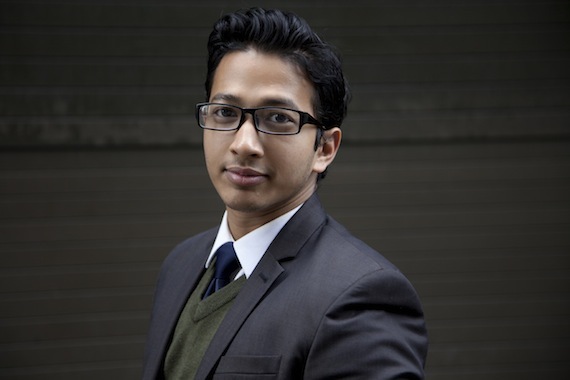 Raiyan Syed, photo courtesy of Julie Hassett-Sutton/Frantic Studio via Global Kids
Most of the students at my high school would come to school and immediately leave afterward. I wanted to do something productive. So I was interested when representatives from Global Kids came to my history class and started talking about what they offered, how you can help communities and gain an international perspective and incorporate that in your life.
There were so many after-school workshops. One focused on the genocide in Darfur. There was a college workshop and a photography and social media program. I was an active member of all of them. On top of that, I took part in the Global Kids Summer Institute at the Council on Foreign Relations.
One year, Global Kids sent a three-person team to be part of the Model UN in England. We were to represent the country of Sierra Leone. We had to study their foreign policy and make a presentation at a mock United Nation conference.
I was 16 at the time and I was a little arrogant. Before I left, I thought that since I had been chosen to go to the conference, I must be the best. I also thought, "Hey, I'm coming from America. Everyone loves America." Once I got there I realized that was not the case. We lived in a hostel with a delegation from Russia, Spain, France, and Italy. We would talk about serious topics like poverty and it was amazing to hear fresh perspectives. They were so smart and much, much more knowledgeable than I was. They were at the top of their game.
When I got back, I realized that I had to work on myself. I started learning languages. I've been studying Russian for over three years now and French for more than a year. I traveled to Russia for a month last summer. I went to Ukraine last year for two months and Switzerland last summer for two months. This year, I visited to Colombia for two months.
Had it not been for Global Kids I would not be thinking big or thinking internationally. I would not even be dreaming about traveling. Now, whenever I have time, a summer or winter break, I just want to travel, to get an international perspective.
When I got to college, I started studying international relations and I'm studying international business at Baruch College.
I've also started my own company, Fund my Fashion. It connects aspiring designers to clothing manufacturers in Bangladesh. The textile factories we work with there are smaller than other mass-production factories in the country so we can try to ensure better wages and conditions.
Popular in the Community