The last few weeks have been a whirlwind for my transhumanist presidential campaign. I'm excited that transhumanism--the social movement that aims to use radical science and technology to improve the human species--continues to be represented in politics in a major way (and in major media).
While everyone knows I have no chance of winning the presidency in 2016, it's been important to put forth a comprehensive radical science-and-tech-oriented political platform--which I believe is the first of its kind. Last month, I finally completed writing articles for each of the 20-points on my platform. While I know implementing this political platform is unfeasible now, I'm excited that in four or eight or 12 years, it might be much more relevant.
My platform also gives other politicians a myriad of ideas to consider for today's reality. This is important, since many of the major candidates--with the exception of Libertarian Gary Johnson, who I think could be a great leader--don't seem to be even thinking about the future.
Back to my campaign trail dispatch. For me, the last few weeks involved a lot of travel. It began by my campaigning and protesting at both the Republican and Democratic national conventions. The RNC was incredible for gaining visibility--which is every 3rd Party candidate's major concern. Thousands of political journalists were there in Cleveland, and I made many new contacts and friends. For example, I did a live Facebook interview on Engadget. Stories on my campaigning also came out via Martin Wisckol at The Orange County Register and comedian Dave Barry's column at the Miami Herald. My supporters and I also had lots of laughs holding our campaign posters in front of the MSNBC cameras as they were discussing Trump live.
The DNC in Philadelphia was no less exciting. Within the first few minutes of arriving, I interviewed with Jimmy Dore of The Young Turks. Many more interviews followed, including those belonging to the long form documentary being made on my campaign, tentatively titled Immortality or Bust. Later, I penned my experience as an atheist presidential candidate protesting Born-Again Christians at the DNC for The Daily Dot.
The following week I was off to New York City for a CNN Courageous produced conference on human augmentation called Human X Design. Because the videos aren't out for that yet, I'll leave detailed explanation of this to another post. But I do want to mention that I was on a panel with three wonderful women, futurist Erica Orange, artist Lucy McRae, and innovator Tan Le. They're all experts in their fields.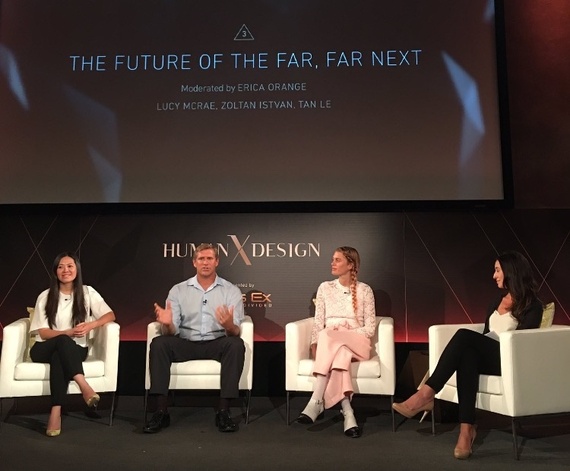 A panel discussion at Human X Design produced by CNN Courageous, highlighting technology conceived by Deus Ex
I also want to emphasize it was wonderful to be on an all women panel. In the transhumanism and futurist communities, I struggle with the fact there's never enough women involved. As a candidate I sometimes even get criticized for not having more women at my rallies or on my bus tours. Believe me, I wish it was different.
Erica Orange, who co-runs a futurist company called The Future Hunters (and helped open and close the Human X Design event with eloquent speeches), told me, "I don't know that many female futurists. I wish there were more of us." Orange hopes increased STEM emphasis in this country will lead to more female futurists.
I hope so too. A campaign idea of mine is to mandate more women to represent the leadership positions in government--right now most of the government is run by males. I have the same sort of proposal for limiting that amount of lawyers in office. Almost 40 percent of Congress is run by attorneys--and it's well known I'm not a fan of attorneys (just read my novel The Transhumanist Wager). I want doctors, teachers, plumbers, scientists, engineers, and other professions creating laws in America too.
While in New York, I campaigned a bit at Times Square with transhumanist hip hop artist Maitreya One, who I've featured before in Newsweek.
After Times Square, I went to the gorgeous offices of IEEE Spectrum and met with Associate Editor Amy Nordrum and Executive Editor Glenn Zorpette. There I talked live on Facebook with veteran science writer and Scientific American columnist, John Horgan.
The next part of my week was in San Diego where I spoke at RAAD Festival, the largest life extension festival on record. That also will be left for another campaign dispatch when I have a video of my talk.
Finally, I'm back home. But I'm soon to be off again around the country campaigning as I head into the final stretch of the elections. That's mixed news in a weird way, because one thing I've learned in the last two years of my campaign is that it's aging me a lot. Campaigning is seriously tough work. Check out below this Now This video that just came out. It has my Fox News The Stossel Show interview in it from two years ago. But it also has my interview from a month ago at the RNC convention. Of course, for the Fox interview there was good lighting and people to do one's hair. And for the Now This video, it was on the fly, outside in the Cleveland heat, and I'd been on a red-eye flight the night before. But there's no denying the difference in my look and age difference.
I've been excited to run for president--promising as my main campaign goal to dramatically extend people's lives with science and technology. But my own campaign has aged me dramatically.
Popular in the Community