From the porter to the valet to the cleaning staff, here's how to tip at your hotel--as told to us by a concierge for one of Chicago's top hotels.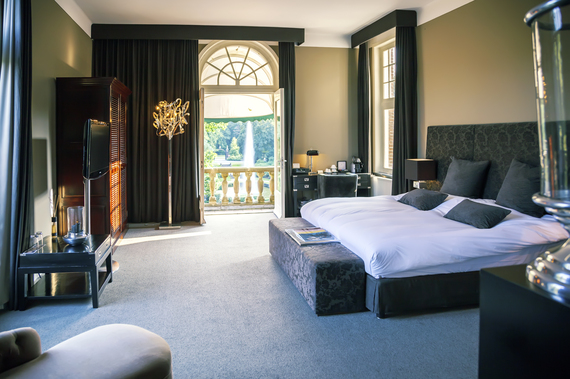 Who do you tip at a hotel? If you've ever felt confused about who the decorum for gratuities, you are not alone.

From the bellhop to the maid to the concierge, hotels put forward a team effort to try to make guest experiences exceptional, but with dozens of brief interactions with different hotel staff members, it can be difficult to know when to reach for your wallet, and when a simple "Thank you" is enough. To answer this question, we went straight to a luxurious Chicago hotel and spoke with one of their top concierges. Read on to find our hotel tipping guidelines for high-end hotels in large cities:

The Valet:
"Generally you offer gratuity to this person each time they 'pull' your car for you. Standard tips to a valet are between $2 and $5."

The Porter (Bellman/Bellhop):
"The bellman or bellhop has an extremely labor intensive job and your gratuity should appropriately reflect your appreciation of his or her hard work. I'd say $5 or more is a good amount."

Front Desk Agents:
"It is rare to tip a reception agent at the front desk. Of course, this is not unacceptable by any means. If you feel the agent has intrinsically connected with you and delivered you shining and exceptional customer service, a cash tip is certainly not out of place."

The Maids:
Tipping $5 a day is a wonderful idea, because the cleaning staff may be different each day that you stay. By leaving $5 a day, you ensure that your individual housekeeper is taken care of, and the burden of dividing a tip amongst varied shifts is not passed on to them.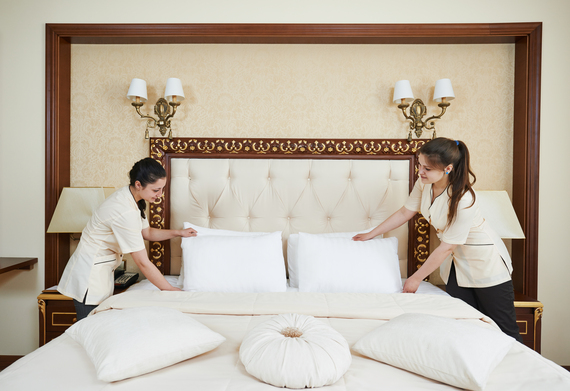 Room Service:
"For room service, the tip is generally included in this order, so a couple of extra dollars handed to the individual running the food up to you displays extra generosity on your part."

Hotel Bars:
"Hotel bars work like every other bar, so the same tipping rules apply. As far as billing drinks from the bar onto your room, treat the billing as you would any other credit card and tip accordingly."

At the Pool:
"It is always good form to tip anyone who does something for you. So, if someone is handing out cool towels on a hot day at the pool, a buck or two to display your appreciation is certainly not out of place. As far as tipping a lifeguard, I've certainly never heard of this. However, say you came to the pool with a large group of small children and the lifeguard was on extra alert during your time at the pool, a tip upon leaving would be acceptable."

Upon Checking Out:
"Upon check out, there is no need to add a tip onto the bill. It is best to directly tip those in the hotel who have assisted you during your stay rather than wait until the final bill to include gratuities. If you would like to tip the agent who assists you in your check out, that is fine. Again, tipping reception agents is not commonplace, but greatly appreciated by those who labor eight or more hours a day on their feet!"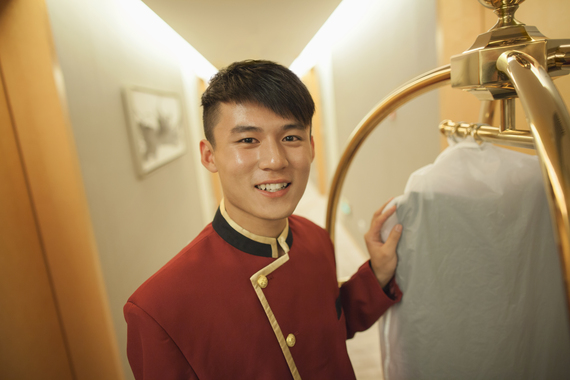 The Concierge:
People have many different ways of tipping the concierge, and they are all acceptable, and definitely appreciated. Some guests choose to tip the concierge upon arrival, others at the end of their stay upon departure. Another very popular style utilized by many hotel guests is tipping at the time of service. If a concierge prints your boarding pass, $2 to $5 is usually commonplace for a tip. Procuring that hard to obtain, last-minute Friday reservation at a hot restaurant can be worthy of a heftier tip; $5 to $20 is definitely not out of place.

Everyone Else:
"There are a few more hotel employees that you may consider tipping if conditions warrant it. I've seen security guards go over and above in tracking down a lost item. Also, coat checks and hotel restaurant hosts and hostesses certainly appreciate your tips as well.

"In my opinion, you don't always have to tip anyone. However, if there were one faction of hotel employee that you should always tip, it would definitely be your bar and wait staff. Remember, just like most restaurants in America, your servers and bartenders make a reduced hourly wage because it is expected for patrons to tip. As far as other employees you encounter during your stay, let passion and service be your guiding light. When an employee not only does their job, but also goes above and beyond, a great way to show your appreciation is a little gratuity."
Photo credits: ©Ariadna de Raadt/Shutterstock, ©Shutterstock (2)
Related