I was a weary traveler--completely drained since speaking at a three day conference in Staunton, Virginia. After days spent networking, presenting, and participating in group activities and dinners, I was yearning for a place where I could snuggle up beneath a warm blanket, in solitude.
With yoga mat draped over my left shoulder, and suitcase in my right hand, I ascended the second floor stairs to the McIntire Room at The Inn at 400 West High in Charlottesville, Virginia. When I pulled into the boutique bed and breakfast, I had a good feeling about this place. A lovely birdhouse greeted me from the main entrance, and the stained glass window beckoned me from the third floor. I could feel the charm and elegance before I even entered the house.
It was quite chilly and damp the night I stayed, but plenty of fireplaces provided warmth and ambiance throughout the evening. Within an hour, I had rolled out my yoga mat and turned on the fireplace in my bedroom. That bedside yoga session helped me refocus, recharge, and let go of all the excited, tiring energy I had been holding the past few days.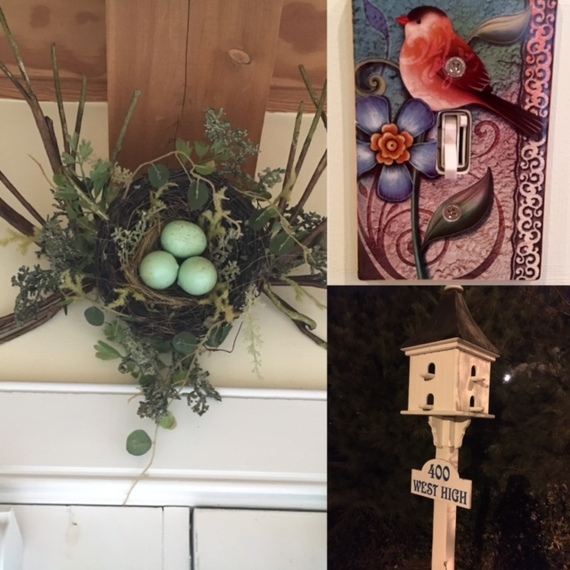 While laying on my yoga mat, I began to look around the room. It was then that I noticed birds and words had been sprinkled throughout the McIntire Room. First, I spotted seven colorful canvases above my bed--each with a black bird sitting on a branch. Then, I discovered the light switch cover which was painted in beautiful shades of blues, greens, and reds. And when I glanced over to the opposite wall, there was a decal with the most beautiful saying: Dream until your dreams come true.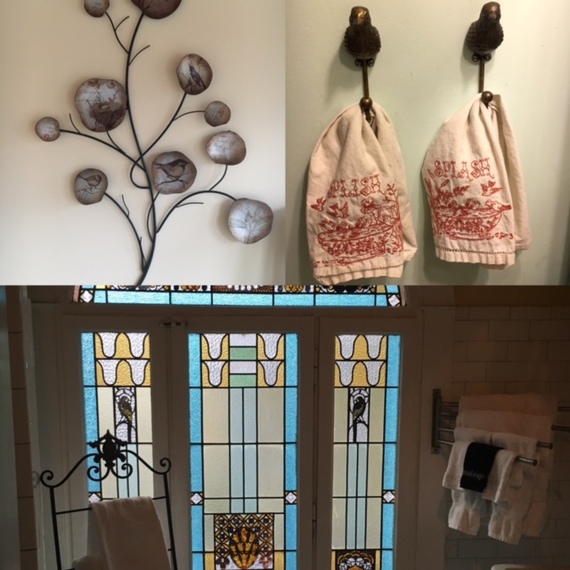 I'm a nature lover and a writer, and this inn had now captured my heart. I picked up my camera and began walking through the rest of the inn, on what I will forever refer to as "the birds and words" scavenger hunt. I peeked around the corners, inspected the nooks and crannies, and delighted in the happiness I discovered. It was as if I was walking through a fairyland, created just for me. Inspiring words on pictures and walls could be found in every room. I even spotted a bird's nest above the door to an outdoor private patio--complete with three, speckled blue eggs!
I entered the bathroom on the third floor. The stained glass window that had beckoned me hours before from outside the inn welcomed me with all its radiance and beauty. And...as I stepped closer to look at the lead and glass panels, I noticed not only several birds, but also a signature which included Florence, Italy, notated alongside the artist's name. Later that evening, I caught up with Carolyn McGee, the owner of the inn, and asked her about that alluring stained glass window. Carolyn shared with me that the window was the inspiration piece for the bird theme throughout the inn. It all made perfect sense to me!
Following my scavenger hunt, I went to the Gathering Room, made a hot cup of tea, and sank into the sofa with my journal. I had a couple of hours before dinner, and I wanted to spend some time writing in the peace and quiet. I reached into the cookie jar filled with delicious treats, snagged a chocolate chip cookie, and dunked it into my cup. Soft classical music filled the room, and a renewed energy began to bubble up in my body once again. I had picked the perfect inn to nurture my soul.