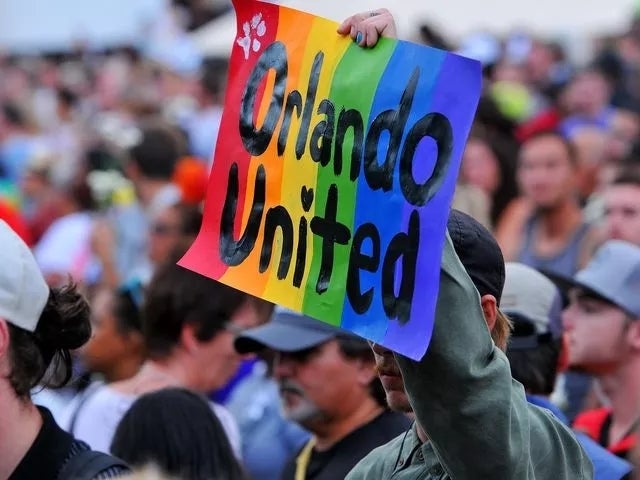 A Forward by Bhavna Guyadeen:
Alejandro Hernandez was my Academic Advisor in college. He was the person that saw me as a stressed out college student and talked me through all of my student challenges. After college, that didn't change. Simply put, Alejandro is the person I run to when I need a dose of positivity or some really good advice. After hearing about the Pulse Mass Shooting in Orlando and realizing that Alejandro personally knew the victims, I felt that he would have a unique perspective on that night. Today, on the anniversary of the Pulse Shooting, I asked him to share his experience with you as a guest author because I know that his overcoming attitude and light which he brings into every situation, will lift your spirit. Here is his Tribute.
Guest Author: Alejandro Hernandez
Life is a string of options, of decisions we must make.
Immigrating to beautiful Orlando from my native Panama (I am of Panamanian and Puerto Rican decent) was certainly one of the most definitive choices I've ever made. I remember stepping off of the plane and feeling instantly emancipated. The shackles of bigotry and the oppression of a tone-deaf machismo culture began to break and disintegrate with every step I made into the magical city where dreams come true. And they did. Now, as an openly gay man I had opportunities that would have been far more challenging if not impossible in either Puerto Rico or Panama. I was free. It was summer of 1997 when I fell in love for the first time and embarked in a professional career that would eventually lead me to my purpose.
Going out in Orlando is always so much fun. Being festive is part of Orlando's fabric and you really cannot live there and not be affected by how jubilant everything seems to be all of the time. I recall the Pulse nightclub's appearance on downtown's Orange Avenue in 2004. More than ten years later Pulse became an Orlando staple in the LGBTQ community and with a focus on local talent, so many stars were born there, and many of my community's memories were made within its walls. Latin night on Saturday became a slice of Latin America in a place where my Latinx brothers and sisters were free. Pulse was ours and there we thrived. Inside of those walls, there was only one love. Going to Pulse was never a difficult decision but rather an obvious choice.
I first met Juan through his amazing sister Celia, one of my students at the time. Celia is a military veteran, an accomplished businesswoman, and she was working her way through law school while juggling her family life; I knew her baby brother's pedigree, so I was not surprised when Juan impressed me with his warmth, his ambitions, and the beauty he radiated. A few months later Celia confided in me that Juan had come out as gay. At one of their family soirees, I met Juan's partner Drew, and then I met them again at another family event, and I remember Juan's laughter in his sister's kitchen, while we spoke about love, with his Dominican parents and family enjoying the party in the background. To see Juan emerging into his powerful, commanding self in the midst of a Hispanic nuclear family was refreshing, as I was bearing witness to the new generation of LGBTQ easily moving the zeitgeist towards a culture of diversity and inclusion. Feeling the power, and vibrant energy of Juan and Drew's young love was intoxicating and exactly the jolt that I needed.
The following year, at the local Altamonte mall, I wandered into Perfumania to purchase my fragrance of choice. I distinctly remember being taken aback by the splendid smile of the beautiful man behind the perfume counter. His disposition was regal, and his face was flawless. I recognized an accent, and we quickly shifted from English to Spanish, and unexpectedly, I left the retail store with a brand new fragrance, a free atomizer he had gifted me, and with a new friend. With his enchanting charisma, Luis Daniel Wilson-Leon broke me out of the habit of wearing just one cologne and also invited me out with his partner for a night of fun.
But I never made it out with Luis and his partner Jean Carlos. I never saw my fellow friends again.
The weekend of June 12th, 2016 in the wee hours of the morning my smart phone binged with a news alert. There was an active shooter situation occurring in my beloved Orlando. Moments later, I was paralyzed when reports everywhere cited a nightclub as the center of the unfolding events. It was Pulse. Juan, Drew, Luis and Jean Carlos all died that morning along with 45 other souls; 53 more were wounded. Their seemingly innocuous decision to have a good time that evening was met with evil of the deadliest form. And in that instant, everything changed forever.
Now, a year later, they have collectively lifted the consciousness of an entire country. Orlando demonstrated to me that anyone can transcend adversity and live life in all of its glory. Evil and hate will try so very hard to distract us, to take us down, to make us victims. But in honor of those directly impacted by the tragedy of the Pulse mass shooting, we celebrate their lives as they demonstrated: By rising above pain and seeming suffering, and by choosing to live life with love and the good they offered. Their souls live in the midst of our choices, their legacy resurrected as one act of kindness: a manifestation of love. That is my choice. May it be yours. So, if a decision ever leads us to an unlikely fate, the sections of our world will be better, simply because we walked through them.
May it be the pulse of love in our hearts that remind us of the conscious choices we make in our lives, always.
Alejandro Hernandez is a human rights activist, diversity and inclusion specialist, and educator. He holds graduate degrees in HR and Administration and is certified by The Society for Human Resource Management (SHRM).