Long before there were influencers and thought leaders in my life, there was my father, Harold Aronson. He grew up in Brooklyn, attended Tilden High School, and was likely the only Jewish boy who played three sports in a public high school in New York in the 1930's. He excelled at basketball, baseball, and football and was conscripted into the US Army after Pearl Harbor. He was stationed in Europe, mostly in Belgium, and then was shipped out to the Philippines. Because of his prior experience running a grocery store, he was placed in the "mess" and he learned how to order and manage food services for thousands of GI's while in Manila. They sent the Yankee platoon off to combat and my father was left behind to manage the "store" in Manila. That is why he survived WWII. When I went through some old papers preparing an application for my mother's veteran's benefits, I found commendations awarded to my father in those years. He even received some medals from the US Army.
He was a college student at Baruch College and played sports there too. I wish that I could remember all the heroic stories about my father's athleticism, but there is no one to ask. My brother is gone and my mother is 93 and has dementia. Next time I visit her, I will ask and see what she might remember. I do recall that my father spoke of his coach in college...a guy named Bernie Friedman...something like that.
And when I was a little girl, there was a newspaper clipping about this coach when he died. My father adored him and told us that he was the reason that he was such a good athlete. My father taught my brother and I to be disciplined about sport and I learned to be a good athlete from him. My favorite photos in camp are of me playing tennis with my father....or was it canoeing with my father...no, maybe it was me playing softball with my father. He used to boast about how I didn't throw like a girl. He smiled when he watched me smash a line drive into the outfield. When he came to visit me at camp, he and I water skied together. I loved that my father was the only parent who would participate in activities on visitor's day. I still remember going to my father's synagogue softball games on Sundays or bowling tournaments on Thursday nights. He was popular!
My father knew how to "play" even in his 40's and early 50's. He loved the outdoors and gardening was a favorite hobby. I learned everything about flowers, bushes and trees from my father. I was never afraid of animals because of my Pops. We fished together and I learned to put a big fat worm on the hook with him. I do that for my sons now. I identified birds like him and never ran from a bee because of him. We flew kites and built birdhouses together. I was a carpenter in New York for a couple of years because my father was handy and taught me to be handy too.
He loved to have me with him when he worked in his store on Sunday afternoons. He taught me a lot about people and gave me my destiny to serve. It was those early years when I was a very little girl in my father's store, that I learned to love people who were different than me. Finally it was my father who inspired me to give of myself mentally and physically. He invented the word, stamina for both my brother and me.
I wish that I had listened to my father more. I wish I let things that hurt roll off my back more and trusted that being natural and myself was safe. He advised me to pursue so many goals for myself and I didn't listen because I did not believe in myself. He wanted me to trust myself and I fought him on this. It's funny how I see it now.
My father wrote me beautiful letters when I was away at camp about his feelings for me. I have some of them in a box. These letters made me cry and miss him. I wish that I had understood him better. He was a complicated man and I was just a little girl. Then I grew up and left home and though I treasured much of what he taught me and am so much like him, I ran away from him. Well, that is another story.
On Father's Day every year, I like to write about him, my hero and the man in my life who I loved the most and still revere today. He lives inside of me for sure and I think that he would be proud of me today.
As I write about how important my father was to me in my life growing up, I can't help but wonder what orphans miss when their families fall apart and they are forced to grow up without the role models and attachment that is so important for a developing child. They have no memories of fathers and mothers and they are not able to incorporate the character of their parents into their being. It is my hope that Worldwide Orphans, as a teacher in its communities, can provide psycho-social services to help at-risk children find the success and independence they deserve.
Dr. Jane Aronson
CEO & President, Worldwide Orphans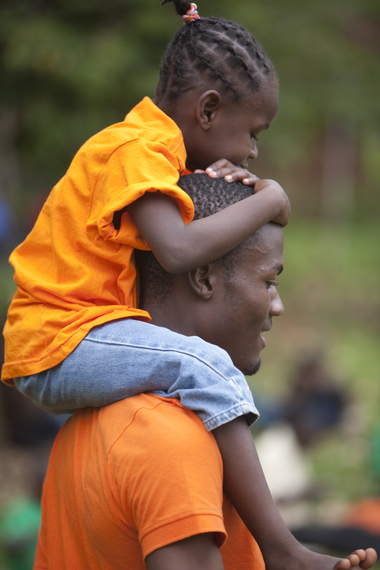 REAL LIFE. REAL NEWS. REAL VOICES.
Help us tell more of the stories that matter from voices that too often remain unheard.