Reports this week that the Christian Science Monitor would cease publishing its print edition and turn fully online was sad news to those of us who appreciated its thoughtful foreign coverage and its veterans like John K. Cooley whose knowledge of the Arab world made him an invaluable resource.
Cooley's decades of roaming the Middle East and North Africa, his meticulous probing into complex issues, his patient and accurate piecing together of information, and his linguistic skills were legend and made his reporting from the region's hot spots references for generations of reporters.
The disheveled, bespectacled professorial-looking Cooley was always ahead of the curve on terrorism and fundamentalism stories when other more fashionable topics preoccupied U.S. policymakers.
As a reporter and editor who covered Washington for years, I remember when Cooley came there for a stint and provided insights into foreign policy and defense stories I wrote, giving them an extra dimension.
More importantly, his coverage of Lebanon, Iran, Algeria, Morocco, Afghanistan, as well as different Palestinian factions for United Press International, the Christian Science Monitor, and later ABC News produced reams of carefully crafted prose, solid audio and occasional TV reports, and a series of must-read books.
In Payback: America's Long War in the Middle East, Cooley covered the turbulent years from the fall of the Shah of Iran to George H.W. Bush's war to oust Iraq from Kuwait with mordant eloquence, noting that the U.S. committed the most deadly sin of inexcusable intelligence failures and reliance on misinformation from Iranian sources.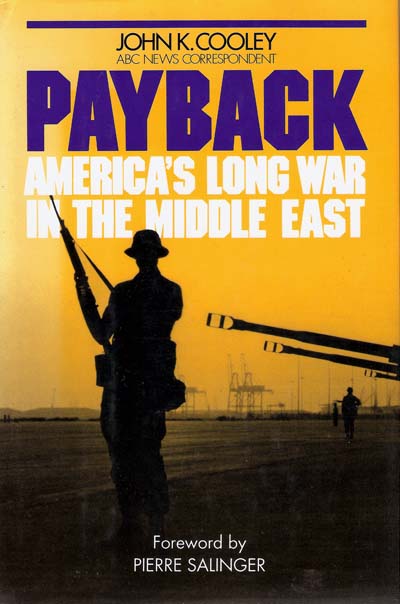 The Carter administration, like its predecessors, chose to ignore the writing on the wall about the Shah's excesses, human rights abuses and infantile megalomania, he wrote.
The author argued that a series of U.S. blunders in the region resulted in many episodes of "payback" like the abduction of David Dodge, then acting president of the American University of Beirut, as well as other Americans and foreigners in Lebanon.
The kidnappings, Cooley said, were a signal to Washington: "We can get you where it hurts and rub your noses in the mud doing it."
In Unholy Wars: Afghanistan, America and International Terrorism, Cooley provided a playbook for 9/11 as far back as 1999. A second edition was published in 2000 and the book was reprinted in 2001.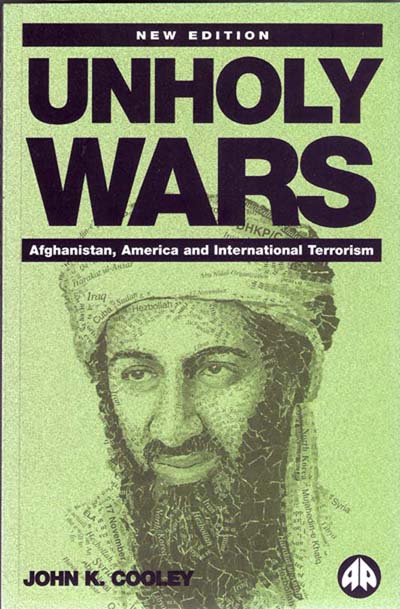 The suspense of the movie Charlie Wilson's War pales next to the intricate details of this definitive account on how Washington helped create its own Frankenstein monster in Afghanistan and then lived to regret it. One wonders how many policymakers read the book.
In today's war on terror-obsessed world it would be useful if the next U.S. president delves into this rich resource which the Independent on Sunday said was "a persuasive argument against one-night stands in international alliances and makes clear that there will be an intolerable price to pay if Islam replaces communism as the next 'Satanic foe.'"
A more recent book, An Alliance Against Babylon: The U.S., Israel and Iraq, resulted from Washington's 2003 invasion of the country.
"The chimerical dream of Bush's neoconservative advisors of deconstructing and then reconstructing not only Iraq but also its major Arab neighbors, as 'democracies' that would normalize relations both with the far-flung American empire and with Israel, has dissolved in the fog of war and insurrection in contemporary Iraq," Cooley wrote in the introduction.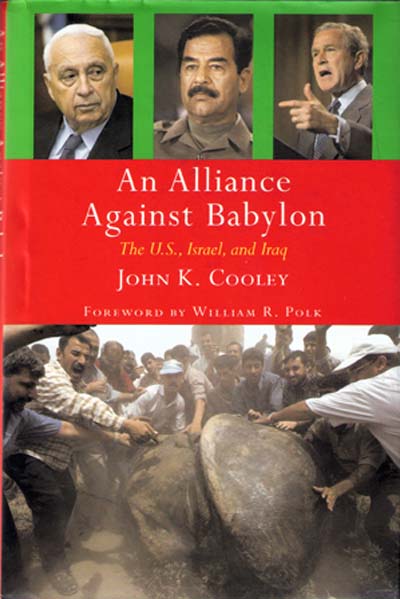 Cooley was a treasure trove of information. In the early 1990s when we both lived in Cyprus from where we covered the Middle East (he for ABC News and I for Agence France-Presse), I remember long conversations we had about Iraq, the Kurds, terrorism, Afghanistan, international money laundering and forging - a subject about which he wanted to write a book - Lebanon's continued travails, and the Palestinian-Israeli conflict.
Unlike media prima donnas with fixed smirks and perpetual "I-told-you-so" attitudes, Cooley was always generous with his time and relished helping younger journalists. Even in Athens where he retired with his Greek wife Efghenia (Vania) Katelani, herself an accomplished poet and painter, he was always willing to share his insights and encyclopedic knowledge of the Arab world.
In his typical self-effacing manner, Cooley prefaced Payback by recounting how Joe Alex Morris, a friend killed during the first stages of the Iranian revolution while reporting for the Los Angeles Times, cautioned him about taking his expertise too seriously.
"Never consider yourself an expert on the Middle East. If you do, you're already in deep trouble," Morris told Cooley.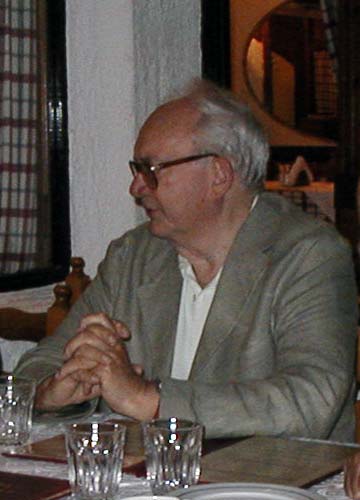 John K. Cooley (Abu-Fadil)
John K. Cooley, who died after a valiant struggle with cancer, was a consummate journalist. He lives on through his reporting, his books and his op-eds in the International Herald Tribune.
But I'll miss my friend, colleague and teacher.

Calling all HuffPost superfans!
Sign up for membership to become a founding member and help shape HuffPost's next chapter