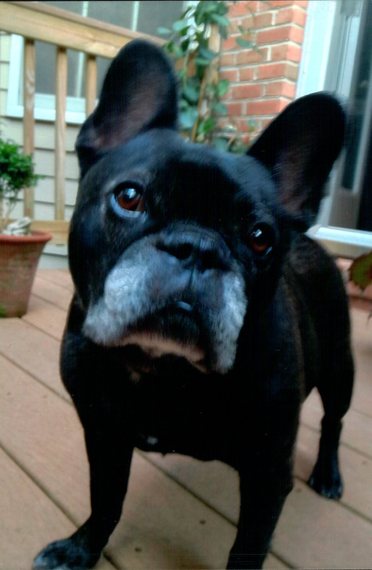 Today I'm writing a very sad post, one that I'd hope I'd never have to write but always knew the day would inevitably come.
We just recently had to say goodbye to our 12-year-old French Bulldog, Sophie.
Our beloved Sophie. Of course that was her nickname: she was officially registered as The Baroness Miss Sophie Delight. That's a long story.
Saying goodbye to Sophie was one of the hardest things I've had to do in my life. I guess I'm fortunate to be able to even say that, but it's true.
It was awful, and it's still awful. I will never get over it.
I was there the minute that little angel entered our family and I was there the minute she left.
When we first picked her up as a puppy, I took the day off from work the next day. Both of the kids had school and my partner had deadlines at work. I stayed home with her to make sure she didn't get scared.
I also stayed home "with her" the day after she died. I wanted to make sure she didn't get scared. Okay, I was scared.
But the truth is that she will never leave our family because she will always be with us.
Sophie came into our lives when my son was 8, and she has been with us at every major milestone in our lives ever since. And I've got the hundreds if not thousands of pictures to prove it. Thankfully.
She was at every birthday, every holiday, sporting event, graduation, prom, barbecue... just name it and Sophie was there, front and center for the photo opp.
I honestly don't know how we'll function without her, although obviously we will have to figure it out.
She was such an important part of our family because she was our family. She quickly became an iconic representation of all that we are together. She instantly became the glue that tied us all together, moment-to-moment, whether we were all together with her or whether we were alone with her.
To be alone with her was the best part. Her hugs and her kisses and her burps and yes even her farts were made of gold.
She had no idea she had this much power and control over us, because she could have easily used it against us to get whatever she wanted. Well, she pretty much did get whatever she wanted!
One thing is for sure, she was loved, every minute of every day... and she loved us in return. Every minute of every day.
I have to be honest and say that I treated her no different than I treated the children. She was my third child; she was my fur kid.
I worried about her just as much as I worried about my other two children. Maybe more even because at least they could tell me when something was wrong.
When she slept with us at night, I would contort my body in the most uncomfortable positions because she slept right in the middle of my side of the bed and I wanted to make sure she was comfortable.
I wanted to make sure that she was comfortable.
When we would go to my son's lacrosse games, I set up a chair for her with an umbrella over it so that she wouldn't get too hot. Her dark fur was a magnet for the sun.
I wanted to make sure that she was comfortable.
As she got older and couldn't "hold it" all night long, I got up with her at 4 a.m. and sometimes 2 a.m. to take her to the bathroom. Just like I'd get up in the middle of the night when the kids were babies.
I wanted to make sure that she was comfortable.
I was there at the bitter end because I wanted to make sure that she was comfortable.
The best part of all was the way she'd make the kids light up whenever they walked in the door. They're both in college now, and I'm sure they miss her more than they miss me.
I'm okay with that. I would too.
Of course, nothing could ever replace the warm greeting I got every time I walked in the door too... whether I'd been gone for a week on business or for an hour dropping the kids off at an activity.
Now many people are asking me... when will we get another?
There will never be another. There is only one Sophie. I would never replace one of my kids, so why would I replace my fur kid?
I don't want another dog; I don't want another Sophie.
And while she's physically gone from our lives, she'll never be gone from our family.
She's my little angel who brought so much joy to my life that I could never repay her or replace her.
Thank you, Sophie, for twelve years of pure unconditional love and never-ending joy.
Never-ending. Forever Sophie. I love being your dad.
Support HuffPost
A No-B.S. Guide To Life
Related
Popular in the Community