Between WaterAid's recent "Manpons" video and Father's Day quickly approaching, I've been thinking about men --and especially fathers. Like millions of others this week, I am reflecting on two men who've had a particularly strong influence on my life: my own dad and the man who is my life partner and papa to our two girls.
But I am also thinking a lot about the fathers who I don't know personally--and the men who play an incredibly critical role in changing societal norms, behaviors, and promoting women's leadership. Men are constrained by gender norms and expectations, and those who don't operate within their narrow confines can face harsh consequences.
Here's to those who show courage and commitment in breaking out of those confines.
Growing up in Nepal, a country known for deep-rooted patriarchy even among the educated urban elite, my dad had to clear the way many times so that I could blaze my own path. The list of examples is long, and some of it hard to explain outside of the cultural specificities of Nepal. How do I explain what it meant as an adolescent girl to have my dad insist that I eat at our family table with everyone even when I had my period? Or the conversation I overheard with a very prominent political figure grilling my father on the verge of my high school graduation on why he was spending money on my education; didn't he see it was a waste? Over the years I have counted on his unwavering support. Even today he is my biggest cheerleader and toughest critic.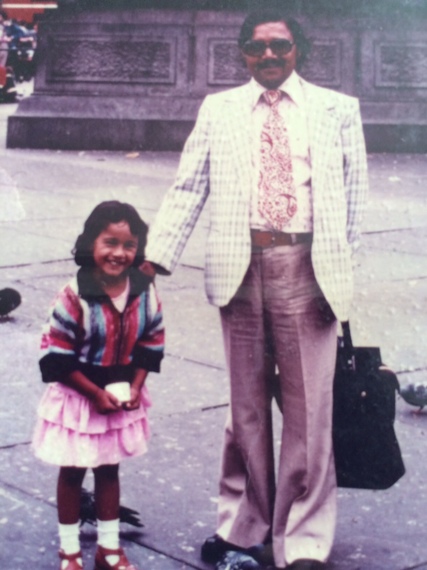 Likewise, in the relationship that my husband has with our two young daughters and the role he plays in the balance of our family, I already see an enormous influence on their lives. My husband, too, grew up in a deeply patriarchal society in Ethiopia, but has not been bound by those traditions. Instead, he has been instrumental in the advancement of my career, taking on nontraditional gender roles with ease and living an example for our girls of which I couldn't be more proud.
What amazes me, then, is how little we tend to talk about men, and especially fathers, in the context of overcoming the water and sanitation crisis. Indeed, a quick Google search of "men and WASH" turns up body and face wash. For comparison's sake I searched for women and WASH (water, sanitation and hygiene), and pages of listings came up, including many documents by WaterAid. Men and boys are invisible in WASH.
A story from Ethiopia stuns me. It also strikingly drives home the need to include fathers in the WASH conversation:
"When my first daughter experience[d] her menstruation I was very mad and punished her hard because I thought she was raped or got into some kind of sexual intercourse with boys. As a father I had very limited knowledge about it. Now I truly regret it after getting this knowledge about the subject." -- Father, in public meeting in Wolliso, Ethiopia
In many parts of the world, Nepal and Ethiopia included, household chores and collecting water from a distance is considered women's work. A study from WaterAid's work in Timor-Leste noted that "the closeness of water to the house seemed to facilitate men taking more share in water-related domestic tasks, and that while women felt that men could still do much more to help, even a modest increase in the help they received was highly appreciated and made a difference to their daily lives". The study found that after WASH facilities came closer to home, men helped more at home with water collection and caring for children and the diversity of roles for women including decision-making increased. The balance of responsibility for unpaid household chores changed.
Another study from WaterAid in Nepal found that fathers and brothers in Dhading, Nepal, were increasingly open to lifting restrictions and taboos around menstruation and that fathers provided much-needed support for changing practices.
For all families, access to water, sanitation and hygiene (collectively known as WASH) are foundational to our health, well-being, opportunity and life outcomes. With our partners, WaterAid is working hard toward WASH for everyone by 2030. While we recognize how pivotal involving fathers (and, more generally, men and boys) is to ensuring universal access to WASH, we've got a lot of work to do.
Going back to the dads in my own life, I'm realizing I've got a lot of thanking to do.