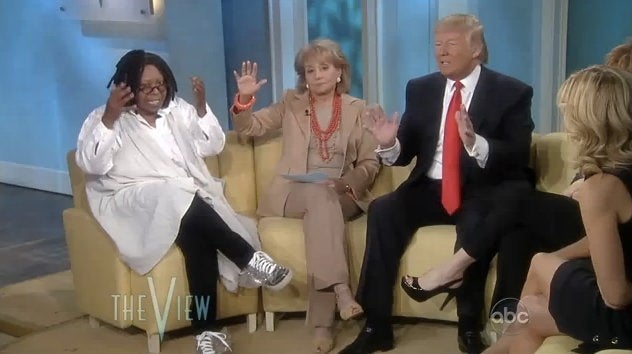 Whoopi Goldberg ended an episode on The View confiding, "I just want to tell you that I've sat here all day and my dress was on inside out." The same could describe her emotions. When she chooses to go public about issues and people important to her, she wears her heart on her sleeve and speaks her mind. As she told Oprah Winfrey on The Color Purple reunion show, "I don't hide my stuff."
Blacklash to New York Times "Hollywood's Whiteout" -- Black Swan Was The Only Black Oscar Nominee

Most recently, Goldberg gave a heartfelt personal reaction to a New York Times story, "Hollywood's Whiteout," that did not include her name among the African-American Oscar winners cited. The premise of the Times narrative was that there were no African-American acting nominees at this year's Oscars. I applaud the Times film critics and editors for recognizing the lack of diversity in films and this year's Oscar nominations. However, only 13 African-American actors and actresses have ever won an Oscar in 83 years, usually a once-in-a-lifetime achievement. By dedicating more than 2,000 words on a full inside page and lead placement on the Sunday Arts front page, the "newspaper of record" could have avoided misconception and simply listed all 13 honorees, to support their premise and document complete historic data. The masthead reads "All the news that's fit to print."
When Barbara Walters asked Goldberg how she felt about the article on The View, she revealed "I am embarrassed to tell you it hurt me terribly. When you win an Academy Award, that's part of what you've done, your legacy." Her perspective may also have been colored by the Academy excluding her from its 80th Oscars anniversary retrospective montage of hosts and highlights in 2008. In response to that omission, the producer said it was an "oversight."
Hence, this is my tribute to Whoopi Goldberg and her remarkable career, along with all the African-American Oscar winners, to set the historic record. My focus usually concentrates on reporting women's omissions. But I have made an exception to include men here, because the complete history of African-American Oscar nominees is so brief.
Times spokespersons explained the intent was to report on the total absence of African-American nominees for this year's Oscars and how few had won since 2002. That milestone year Halle Berry became the first African-American woman to win Best Actress and Denzel Washington was the second African-American man to win Best Actor. Sidney Poitier was awarded an honorary Lifetime Achievement Award. He had been the first African-American nominated for a leading Oscar in 1958, and the first to win Best Actor, in Lilies of the Field, in 1963. It is also noteworthy that Whoopi Goldberg was the host for that historic ceremony.
Only 13 Oscars have been awarded to African-Americans for Best Leading and Best Supporting Actor and Actress. The four Best Actor winners are Sidney Poitier, Denzel Washington, Jamie Foxx and Forrest Whitaker. Halle Berry is the only Best Actress winner.
Best Supporting Actor African-American winners are Louis Gossett, Jr., Denzel Washington, Cuba Gooding, Jr. and Morgan Freeman. James Baskett received an honorary award for his characterization of Uncle Remus, the first live actor hired by Walt Disney. The Best Supporting African-American Actress winners are Hattie McDaniel, Whoopi Goldberg, Jennifer Hudson and Mo'Nique.
From Hattie to Halle: What Is Wrong With This Picture?
Hattie McDaniel was the first African-American actor to win an Oscar and the first to be nominated for the Best Acting award. She was the first to win Best Supporting Actress, at 44, for her portrayal of Mammy, the servant, in Gone With The Wind, at the 12th annual Awards in 1940. McDaniel, along with all the African-American actors, was subjected to segregationist laws at the Atlanta film premiere and excluded from the souvenir program. She refused to attend the event. The youngest of 13 children, she was born to former slaves and her grandmother worked on a plantation Although she appeared in over 300 films, McDaniel received credit for less than 80. In 1975, she was inducted posthumously into the Black Filmmakers Hall of Fame, founded in 1973.
Mo'Nique, the fifth African-American woman to win an Oscar, 70 years after McDaniel (16th African-American Supporting Actress nominee), paid homage to McDaniel in her 2010 acceptance speech for "enduring all that she had to do, so that I would not have to."
Halle Berry was the first African-American performer to win Best Actress for Monster's Ball, in 2002, 39 years after Poitier's win as the first African-American Best Actor. In her emotional acceptance speech, Berry said, "This moment is so much bigger than me. This moment is for Dorothy Dandridge, Lena Horne, Diahann Carroll. It's for the women that stand beside me -- Jada Pinkett, Angela Bassett and it's for every nameless, faceless woman of color who now has a chance because this door tonight has been opened."
Whoopee for Whoopi and Her Historic "Firsts"

At a 92nd Street Y program in New York City, Goldberg told interviewer Judy Gold that she was awe-struck working with Barbara Walters on The View. "Because she really was the first. You don't get to meet many firsts in your life," she explained. Goldberg, herself, could emit a similar effect with her own singular sensational success "firsts."
As founder of the "Women in History and Making History Today -- 365-Days-A-Year Database," I was appalled by the Academy's egregious "oversight," omitting her from their Oscars retrospective. For the record, Goldberg has appeared in over 50 films. Appropriately, she was honored with a star on the Hollywood Walk of Fame, outside the Kodak Theater, home of the Oscars ceremony, on her 46th birthday.
A four-time Oscar host, Goldberg was a triple "first" host in 1994: the first woman to host solo, the first African-American woman host and the first Oscar-winner host, at the 66th annual ceremony. More than one billion watched that TV show. She hosted again in 1996, 1999 and 2002. Goldberg became the second African-American to win the Best Supporting Actress award in 1990, for Ghost, 51 years after McDaniel. She is the only African-American woman to receive two Oscar nominations. Accepting her award, Goldberg said, "As a kid, I lived in the New York projects and you're the people I watched... you're the people that made me wanna be an actor... I'm proud to be an actor and I'm gonna keep on acting... Thank you so much."
In 1985, she was nominated for Best Actress in her debut film The Color Purple, adapted from Alice Walker's Pulitzer Prize-winning novel, and won Golden Globe She played Celie, the central character. Her daughter, Alexandrea, then 11, was the little girl sitting beside Oprah Winfrey's character, Sofia, at the dinner table.
She is one of only eight African-American actresses to receive a Best Actress nomination: Dorothy Dandridge, Diana Ross, Cicely Tyson, Diahann Carroll, Angela Bassett, Halle Berry and Gabourey Sidibe. Dandridge was the first African-American nominated for a leading Oscar, in 1954, for Carmen Jones, an all-black musical. Goldberg is one of the five African-American actresses to win an Oscar. It is reported that her salary for Sister Act 2 in 1993 was $7 to 12 million. She was the highest paid actress at the time. The sequel grossed about $60 million in the U.S. and almost $100 million worldwide.
Only ten performers have been awarded the elite competitive EGOT Show Business Awards Grand Slam (Emmy, Grammy, Oscar, Tony). The women are Helen Hayes, Audrey Hepburn, Rita Moreno and Whoopi Goldberg. She is the only African-American artist to win all top four competitive honors. Goldberg also won two Golden Globes. She was the first African-American to win for Best Actress in Drama, The Color Purple, 1986 (Oscar nominee) and the first African-American to win Best Supporting Actress, Ghost, 1991 (Oscar).
Goldberg was the first woman, and fourth honoree, to earn The Kennedy Center Mark Twain Prize for American Humor, in 2001, and the only African-American woman. The Twain Award recognizes artists who have made a significant contribution to American comedy.
She keeps reinventing herself When the movie offers dried up, she created new venues to showcase her multiple talents. Goldberg is the lead producer of the Broadway production of Sister Act, opening April 20. She created the role of lounge singer Deloris van Cartier in the 1992 movie. Goldberg played Mother Superior in the musical adaptation, which earned the highest grossing single performance and highest weekly gross, at the London Palladium last year.
Goldberg has been moderator of The View since 2007. She has been nominated for 13 TV Emmys and won seven. A best-selling author, in her most recent adult book, Is It Just Me? Or is it nuts out there?, she addresses the loss of civility and the quality of daily life. She based her popular Sugar Plum Ballerinas Series for children on six girls from different backgrounds who attend a ballet school in Harlem.
Her activist humanitarian efforts include Goodwill Ambassador to the United Nations. She is a role model and advocate for women, children and minorities.
Why We Need Black and Women's History Months

Whoopi Goldberg's public exclusion experiences are testimony to why we need Black History Month in February and Women's History Month in March. In a PBS TV interview to promote Women's History Month, I was told there may be "First Female Fatigue," in response to my mission to document and champion "First Female" achievements. As a populist women's historian, I've made it my goal to bridge the generations and popularize women's history, especially with young women and men. In "A Woman's Place in the 21st Century," my national speaking platform, I relate historical perspective to today's news events. The reality that we have "First Female" records to make, proves that we still have challenges ahead. I hope "First Female Fervor" -- not fatigue -- will empower girls and women to continue to break barriers. My message is: Make more milestones!
Cracking the Cinema Ceiling in Reel Life

Women and minorities are obviously far from calling the shots on screen and behind the scenes. However, women are progressing in the film industry into influential leadership roles. In the spirit of sisterhood, Women in Film (WIF) honored all the female nominees during Oscars weekend. Halle Berry spoke on the importance of "Women holding each other up." WIF, founded in 1973 in Los Angeles, is a professional network of more than 40 chapters, representing more than 10,000 members worldwide. The organization is dedicated to women's professional development within the global entertainment, communications and media industries and to preserving the legacy of women. The first Women in Film and Television International World Summit was held in 1998, on the 25th anniversary of the founding chapter.
Essence Magazine honors actors in its annual "Black Women in Hollywood" issue, tied to the Oscars. The Hollywood Reporter published its first annual "Women in Entertainment" issue in 1992, with it's "Power 100" list, "spotlighting the leadership and impact of the industry's female movers and shakers." Goldberg was featured with fellow Oscar Hosts Robin Williams and Billy Crystal in THR's 80th Anniversary "The Legends Issue" this year. Variety launched its inaugural "Power of Women Lunch" in 2009. The publication's annual "Women's Impact Report" highlights women in the entertainment industry, since 1997. Last year Vanity Fair was criticized for it's all-white young actresses on the Oscar cover: "A New Decade New Hollywood," despite Gabourey Sidibe's nomination for Precious.
Dawn Hudson was just named to the new position of CEO of the Motion Picture Academy, effective June 1. She has been head of Film Independent for the past 20 years. Its two signature programs are the Independent Spirit Awards and the Los Angeles Film Festival. Margaret Herrick was the Academy's first librarian, from 1936 to 1943. She served as Executive Director from 1945 to 1971 and negotiated the first TV broadcast in 1953. The Academy library is named in her honor. One legend credits her with naming "Oscar," because the statuette "looked just like my Uncle Oscar."
Herewith, I determined to honor and document Whoopi Goldberg's history-making lifetime achievements and the legacy of African-American and women actors. May they always be remembered for their significant roles -- on screen and in society.
Sister, Whoopi Goldberg is a divine act.
Support HuffPost
The Stakes Have Never Been Higher
Related
Popular in the Community