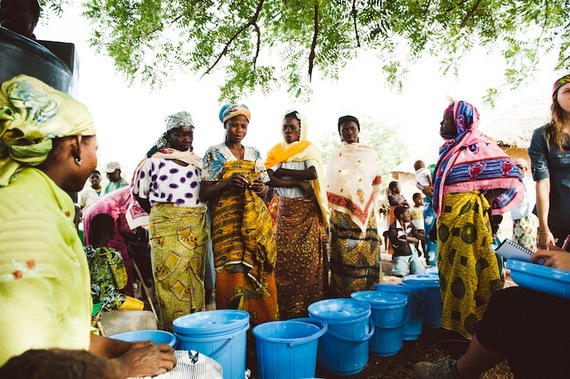 YEPALA, Ghana - Access to safe drinking water is a colossal challenge globally and no place more than in Sub-Saharan Africa. Among the many problem areas is northern Ghana, a remote savannah dotted with small villages, tin-roofed mud huts and 800,000 people who drink bacteria-laden water. Most of the villages get their water from murky-brown surface water sources known as dugouts.
Here in the village of Yepala, nobody likes dugout water. "Terrible," said Awabu Mageed, standing outside her small hut, with goats and young children scampering around her. "Even when you boil it for tea, it isn't good." It's also contaminated with fecal matter, which is why 15 to 20 percent of the children under 5 in this region suffer from diarrheal disease that can kill.
When Kate Cincotta visited northern Ghana as an MIT engineering student, she saw a big opportunity for improving the drinking water. And it wouldn't require more costly engineering solutions like deepwater wells.
Cincotta came up with a solution that is far simpler - provide local women with low-cost equipment and train them to use locally available products - chlorine and potassium alum powder - to treat the contaminated water and make it safe to drink.
Eight years ago, Cincotta launched Saha Global, a Boston-based nonprofit empowering local women in extremely poor villages like Yepala to treat the contaminated water - and make a little money in doing so.
Here's how it works: each of the participating women receives three free water drums, a bunch of smaller blue buckets and basic training on treating and selling the water. They also receive regular monitoring support from five local Saha Global staffers who travel from village to village every day on small motorcycles.
Eda Reed, Saha Global's expansion coordinator, explains how they are providing clean water in northern Ghana.
Cincotta has been painstakingly careful in thinking through the concept, beginning with her choice of women - not men - to run the businesses. "Women are the water experts because they're the ones who collect the water every day. They've been doing since they were 4 years old," she said.
She also recognized the importance of locating the water treatment centers near the dugouts, which women were visiting up to six times a day to get their water. This way, it wouldn't require a big behavior change then to switch from dirty water to clean water.
Today, 93 water businesses are up and running, serving 46,500 people. "Every operation we started is still running," says Cincotta, who is providing about $800-$1500 of materials per village, which less than half the cost of drilling a well, which also requires maintenance.
To be sure, nobody is getting rich. The women work about five hours a week, netting about $1 to $2 a week, nothing to sneeze at in an area where subsistence agriculture is about the only type of employment.
Emboldened by her success in this region that has no electricity at all, Saha Global has more recently ventured into the household solar business. More than two-dozen businesses are now running small solar charging centers, which use small solar panels to provide green power that the villagers can use for a small fee. At one of the charging stations I visited, a half-dozen villagers were re-charging their cell phones and a few more were re-charging batteries for their solar lanterns.
But clean water continues to be Cincotta's primary focus. Just two weeks ago, in fact, her group received a $100,000 grant from the Mulago Foundation to expand the clean water project and ensure that the existing 93 businesses can be self-sustaining.
Cincotta says a key priority right now is understanding her existing customers. "I'm really focused on behavior change, what it will take to make sure people drink our clean water all the time," she said. The challenge was made clear during my visit to Yepala. It had rained the past couple of days, so rather than walking 10 minutes to get their clean water, several families had opted to save 10 pesetas by using the rainwater they captured from their tin roofs.
I also asked Cincotta if she's considered changing her business model, which is premised on donating materials to the villages up front. Even as more NGOs are shifting to micro-financing models, she says she has no plans to change her strategy.
"People cannot afford to purchase water at a price where the women would be able to pay back the cost of the tanks," she said. "We want to provide clean water to the poorest of the poor and, unfortunately, there is a huge market failure when it comes to water for this population."
Peyton Fleming is a senior director at Ceres, a Boston-based nonprofit sustainability organization. He recently traveled in sub-Saharan Africa doing research and writing on clean energy and water issues. Follow on Twitter @PeytonCeres
Calling all HuffPost superfans!
Sign up for membership to become a founding member and help shape HuffPost's next chapter