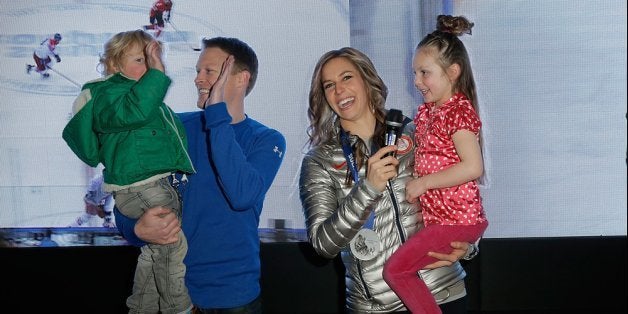 When Olympic skeleton driver Noelle Pikus-Pace zoomed face-down on her sled to the finish line of a frozen track, then realized her time was fast enough to win a silver medal, she blew off reporters, photographers and microphones. She had to find her family first -- her husband, two daughters, parents, brother and sister-in-law.
How wonderful it was as a parent to hear her first words: Not "I did it!" but "We did it! We did it! We did it!"
At that minute, 31-year-old Pikus-Pace was the second-grader who wins the school-wide spelling contest and beams at her dad sitting in the bleachers. Or the high school baseball pitcher who throws the winning strike-out and then waves happily to his mom who is so nervous she has retreated to an adjacent ball field to watch the game. (Yes, I was that mom.)
Long before Pikus-Pace and her Olympic colleagues arrived in Sochi, their parents and other relatives drove the young dreamers who knows how many miles to and from practice. They spent who knows how much time in emergency rooms and solicited funding from everyone they knew. Some even took a break from their jobs to accomplish these and other tasks.
Critics characterize such parents as the notorious Tiger Moms and Tiger Dads who are overly involved in their children's sports lives and push their sons and daughters beyond where their children want to go -- or are capable of going. Those of us who have accompanied our children to sporting events and school plays know the type, perhaps even been that type on occasion.
It's important to remember, however, that 1) the real tigers, however vocal and openly critical of their children, are a minority of parents and 2) many if not most of the phenomenally fit and talented young Olympians have, by the time they've reached the Games, matured and assumed control of their sport and their future. They've hired coaches and managers. Their parents usually -- although not always -- have retreated into the background, limiting assistance to moral support, perhaps some financial assistance and an occasional addition to the athlete's wardrobe.
This is what Jacqui White and Cheryl Davis, mothers to the new gold-medal ice skaters Charlie White and Meryl Davis, say they try to do. When their children started skating together 18 years ago, White and Davis, both from suburban Detroit, took them to practice and gave them pep talks before competitions. Shortly before the gold medal contest, they provided Charlie and Meryl with outfits to choose from, as they always do. On the night of the gold medal program, they sat side-by-side on a bench in Sochi's Iceberg Skating Palace, away from other parents and several rows above their children and the rest of the American skating team.
Occasionally they whispered something to each other and they clapped at the end of each skater's performance. When Charlie and Meryl won the gold medal for the ice dancing short program, their reaction was equally low-key. They simply stood up and just clapped a little louder. No jumping up and down, no whoops or hollering.
As their children grew up, Jacqui and Cheryl encouraged them but tried not to overdo it. Meryl concentrated on her schoolwork. Charlie played travel hockey and violin.
Jacqui did read sports biographies to Charlie. One was about Brian Boitano, who chose ice skating on his own and won an Olympic medal in 1988. The biographer wrote that Boitano's mother "dropped him at the rink and picked him up," Jacqui told a reporter. "Other than that, she didn't say, 'What jumps did you practice? She left him alone. That struck a chord. I didn't do that, but it was something to aim for."
Parents of talented children, especially talented athletes, sometimes get a bad rap.
"As a musician, one knows plenty of people who burnt out young, driven by the ambition of their parents, a couple of whom ended up having full-blown breakdowns," a father snarked on one website during the Olympics. "I would happily help drive my kid to learn and master a musical instrument but I don't think I would be as enthusiastic were she to be obsessed with a game or sport of some kind. A lot of sports careers end by the time you reach 30 and what are you going to do then?"
Another remark took on the family of two-time gold medal gymnast Gabby Douglas:
"What parent, even after applauding Gabby Douglas, would willingly collaborate in years of unremitting exercise, in a discipline notorious for injuries and eating disorders, sustained by the hope that their teenage daughter, adorned with surgical bandages and high-cut Lycra, might fleetingly -- supposing she does not land on her spine the day before -- (have) the chance to be flattered by a commentator?"
We've all known the mother who insists that her son take high-level calculus because it will look good on his college application, or the father who coaches his daughter's lacrosse team with an eye toward her winning a college scholarship. It's sometimes difficult as a parent to know what feels to the child like pressure rather than encouragement. But most parents eventually realize that they must relinquish their directions so that their children can recognize what inspires them and be able to chase whatever that is, whether it be down a mountain or on the ice.
Like Jacqui and Cheryl, we have front-row seats to watch and cheer them on. If we play our cards right, we may be lucky enough to have them say about us, what Pikus-Pace said on television about her large family in Sochi after she won silver.
"It's not the dream without them," she said. "I can't say it any other way. To have them here every single step of the way, it's been an experience we'll cherish for the rest of our lives."