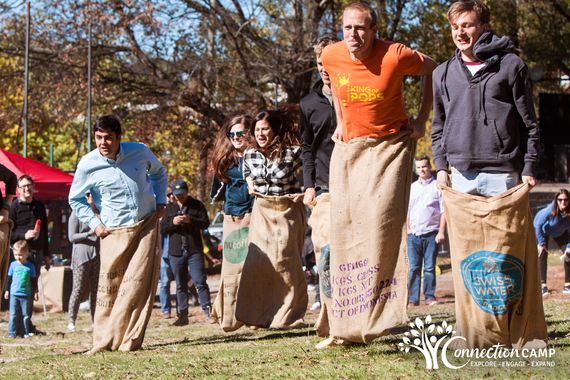 Calling all adventurous and creative people desiring to expand their relational IQ... This recent summer camp experience for adults centered on reintroducing more genuine human connection in all its forms -- with the exception of technology -- just 75 miles from New York City.
Connection Camp, in its inaugural weekend from Friday, July 1st through Monday, July 4th, 2016, let adults take a four day pause from their busy, technology-driven lives and helped to replenish depleted relational reserves for a more rewarding all-around experience with the world and those living in it.
The multi-day escape -- starting from $625 per person -- was an opportunity to reconnect and deepen relationships on all levels. For the 72 adult campers who attended the weekend getaway, Connection Camp inventors wanted "to foster connection in all its forms - connection with self, connection with others, connection with nature, connection through play, and connection through collaboration."
Co-founder Amy Silverman expressed that Connection Camp was "intentionally curated to cultivate connection because adults are really big kids who have lost their connection."
"For me," Silverman said, "finding the freedom to explore connection and play in all these different ways has been really important to my growth and in my life."
"We formed Connection Camp because we've lost our tendencies toward deep human connection, particularly the younger generation," Silverman explained. "This is a part of us that we've lost and it's important to revive it."
During the span of the event, connection was cultivated in nature while tent camping under the stars or with new and old friends in bunk bed style cabins.
When was the last time you wrote a letter to your spouse or anyone using good ole' pen and paper?
Connection Camp attendees chose to participate in this lost art and more than 30 other interactive and bonding activities including, collaborative music and dance workshops, meditation and yoga. Connection Campers also had the option of experiencing a relational meditation practice called "Circling."
"Circling," as described by Justin Cordes, a freelance video editor from New York, New York, and inaugural attendee of Connection Camp 2016, "is when a group of people slow down to talk and relate to one another with a focus on curiosity on moment-to- moment feelings, the benefit being that when we explore deeper feelings in the presence of a compassionate community we're much clearer about what want in our lives and also can let go of old traumas and hurts and have more emotional freedom."
Another connection-building activity in which about 20 campers participated was a "cuddle puddle." At first glance, one might have anxiety, but it is a safe, welcoming place.
"It is a gentle place to practice asking for what you need, refusing what you don't want, and freely expressing how you're feeling," said Lila Donnolo, a yoga instructor from New York, NY, and co-leader of this particular experience. "Anyone who wishes to, asks, and receives permission to touch another human. One does not have to participate - nothing is obligatory but to respect your own boundaries and the boundaries of those around you," she added.
Why might people participate in this activity?
Many people are simply deprived of affection and desire more.
"We, as a society, are suffering from skin hunger - most of us are functioning on a deficit of tenderness and affection. Giving and receiving affectionate touch is as necessary for our wellbeing as adults as being held was necessary for our wellbeing as babies," said Donnolo.
If you need a moment to reconnect with yourself, they had you covered with a complimentary massage or energy work session at the Healing Pavilion.
Why were people attending Connection Camp?
"I can lose hours on Facebook or reading blogs on my RSS reader so it'll be nice to detach from technology," said Justin Cordes. "I'm excited about the whole experience, from the ebb and flow of the deep connection to the release of play and the rustic setting of camping and nature," he stated. "The sleep-away aspect is really fun too since I've never been to sleep-away camp!"
"The idea of mixing these intimate personal growth exercises [like circling] with fun playful activities like boating, swimming, bonfires and music, in a camp setting made attending Connection Camp a no brainer," Cordes said. "The other cool thing is that a lot of these deeper therapeutic exercises are highly focused and sometimes intense, it's nice to have the whole weekend and the lighter activities to decompress or reflect on the nuances of what we learned."
Other attendees were along for the ride and desired a deeper all-around connection.
"I really hope to gain better ways of relating to people and connecting with them which I feel is pretty important for anyone to learn, but especially in a client driven practice such as health coaching, said Jen Lee, a Holistic Health Coach from Burlington, Vermont, who is attending Connection Camp with her husband. "I have always been a very relationship centered person, so deepening and strengthening relationships is very important to me."
She also desired to relive the thrilling camping experience had as a child.
"My lone time attending camp as a child was a magical week so I'm excited to recapture some of that nostalgia," Lee said.
"I'm really curious to learn the circling and authentic relating practices that Amy and The Connection Movement teach as I'm always looking for ways to expand and grow. I really feel like it will deepen my coaching practice as well as my relationships with my husband and others," Lee noted.
How has Connection Camp impacted their lives?
"I definitely see my life changing from this experience. It has already strengthened my marriage tremendously by having this weekend to really connect deeply with my husband. We are much more deeply bonded than we were before and we had a pretty strong relationship prior so it is nice to expand that," Jennifer Lee said.
"I have already started implementing some of the strategies with my friends and clients also and it feels really good to let people feel heard and seen in a deeper way."
When asked about her favorite activity, Lee answered the Self-Appreciation Workshop.
"It was beautiful to see people appreciate certain aspects of their body and then we all went around and commented on each person to let them know what we saw and liked about their body. In a world where we are constantly held to impossible beauty standards and photoshopping and have this culture of body shame, it was a beautiful thing to see women and men only speak lovingly and highly of bodies."
Perhaps most important, adults felt free and safe to express their emotions without fear of guilt or judgment. "There were a great percentage of men at camp and it was beautiful to witness so many men showing their vulnerability," Lee added.
One individual from New York, New York, learned about the importance of self-care. "I got clearer about the need to set boundaries, the need to give myself time to be on my own to recharge, and how good it feels when I allow myself to be seen. I also learned that I cannot connect with everyone and that's fine."
Why is connection so important?
Technology interferes with many aspects of our lives, Roberts says.
"There are three keys to human happiness: how we feel about ourselves, our relationships, and our involvement in the larger community. Technology such as smartphones can interfere with us making connections in all three areas. The constant distraction caused by technologies like smartphones interferes with our time to relax and reflect on our lives and who we are."
Research conducted by Roberts and Meredith David, Ph.D., Assistant Professor of Marketing, found that technology also interferes with our relationships. Their study showed that "partner phubbing" (phone snubbing by a romantic partner) can lower a romantic partner's satisfaction with their relationship, can lead to depression, and even lower over-all levels of life satisfaction.
"Lastly," Roberts says, "our obsession with technology distracts us from getting involved in the world around us. We spend time mired in our own lives instead of reaching out to others or getting involved in larger community issues. The idea of connecting on all these levels is pure gold - we need time to connect with ourselves and others to be truly happy."
Connection in all its forms is needed now more than ever. And there is a place where one can find it.
Photo used with Connection Camp permission.