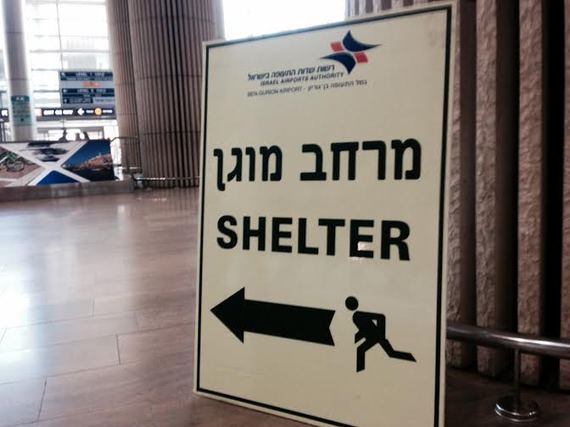 We arrived in Israel on Thursday morning July 24th. The airport was almost empty. I noticed just one other ELAL plane on the tarmac besides our British Airways flight. I headed with my friend and travel companion Yanky to the baggage claim, passing by several bomb shelters on the way. The trip felt like a dream. I had only decided to travel some 34 hours earlier. I had felt guilty that my brethren were under constant missile attacks while I sat comfortably in the United States. When the FAA banned travel to Israel, effectively laying siege to the country, I booked tickets.
The Jerusalem hotel was 65% vacant due to the war. Signs were posted on every floor specifying the location of the bomb shelters. On our walk to the Kotel, we could hear helicopters hovering over the city and the gunshots from Silwan. The Israeli police recommended that we stay near the Jewish quarters. The noise got louder and we saw, from afar, rioters shooting fireworks at Israeli police. The emergency personnel started bringing in injured police officers. We met a young Breslov boy who was beaten by Arabs in the old city and treated him to dinner. I returned to my hotel shaken by the experience.
On Friday we paid a Shiva call to the family of Moshe Malko, a young Ethiopian soldier from the Golani brigade killed in Gaza. I had the opportunity to speak to his father and brother and convey my condolences. I had come to comfort them, but it is I who ended up benefiting from the visit. I left the family, inspired by their strength and proud to be a member of this great nation.
The Palestinians had called for a day of rage in the West Bank on Friday, but, despite the potential danger, we headed there anyway. The Shomron wineries, usually bustling with tourists, were empty. We visited the Tura winery in Rechelim. The small town, named after Rachel Drouk and Rachel Weiss, killed in a Palestinian terror attack in 1988, was ghostly quiet. A few days before our visit, a 25-year-old man was shot and seriously injured in a suspected terrorist attack near the entrance of the town.
Vered, the owner of the winery, told us that there were virtually no visitors since the war started. She asked that, when we visit the Gaza border, we try to find her brother and brother-in-law, reserve soldiers called up for duty at the start of the war. She had not heard from them in a while.
On Saturday night I met a group of young teens singing songs of hope and survival on a Jerusalem street. All of them had family members and close friends on the battlefield. An older soldier approached the group and raised her hand for silence. The soldier began listing the upcoming funerals of the fallen soldiers and asked that the teens try and participate. There was one particular funeral where only a small crowd was expected. The teens jotted down the information on their phones and returned to singing. Judging by their reaction, attending funerals had become a routine part of these teenagers' lives.
On Sunday we rented a car and headed out to the Gaza border. We were armed with 450 cigars and 20 cartons of cigarettes. We drove about 20 minutes before the police made us turn around. The main road was closed -- a car packed with explosives was found near Beitar. We traveled back through Jerusalem, and took another route. We joined up with Rabbi Danny Cohen, director of Chabad of Hebron, in Sdorot. Danny had a van full of hot Shwarma and cold drinks. The IDF staging area on the border near Beit Hanoun was closed to civilians, due to recent mortar attacks resulting in deaths. I will not divulge how Danny managed to get us past the military checkpoint and onto the staging zone.
PHOTO GALLERY
A visit to Israel during the Gaza War.
The soldiers were overjoyed to see us, and surprised that we had managed to visit despite the fact it was a restricted area. These soldiers, barely 20 years old, were forced into adulthood by the Hamas terrorist group. In truth, they were just children, but their childhood was over. Some of them had seen friends taken away in body bags or stretchers. They were tired of war. We gave out cigars and food. We tried to remind the soldiers about life outside of war, and to bring them a moment of relaxation and relief.
The morale was high. This was a just war and they know it. There is no occupation of Gaza. Israel withdrew to the 1967 borders with Gaza in 2005. Hamas responded with missiles and terror. At the beginning of this conflict, Israel said that calm will be met with calm. Hamas continued to fire missiles, yet Israel refrained from invading. It was only after Hamas started using tunnels to attack inside Israel that the IDF had no choice but to act. A soldier pointed out to us the location where several of his colleagues were killed last week. I held his hand tightly and looked him in the eye. We were communicating a message of unity and solidarity far deeper than and not limited by words.
A few weeks before my mother passed away, just over a year ago, she told me that, when she came to terms with her Jewish identity in the early '70s, she was sitting on a mountain watching the IDF planes go to battle. She was overcome with emotion pondering how unfair it was that she had the ability to take the next plane back to the United States but the millions of Jews living in Israel had nowhere to go and were fighting for survival. I, too, felt very Jewish on the Gaza border. These soldiers were in the forefront of the war against Islamic extremism, fighting for the survival of the Jewish state.
We stayed Sunday and Monday night at the home of the Rhodes family, in a community in the Gush Etzion West Bank, just a few minutes' drive from where the three teenagers were kidnapped and subsequently murdered. On Monday we drove to Hebron. We kept our windows open for the drive; we had been told that there has been a lot of stone-throwing in the area, and that if a stone hits a window, the shattered glass can be very dangerous. But if the windows are open, the stone would have to hit the person directly to do damage -- unlikely in a moving car. A taste of Israeli logic...
On Monday we witnessed the Iron Dome do its magic. It looked like white fireworks. An Israeli kid pointed it out to me. Otherwise I would have totally missed it. Perhaps the most frightening experience on my trip was in this little community in the West Bank. We were staying in a small wooden cabin with just two beds and a bathroom behind the main house, located about a 20 minute walk from an Arab village with strong ties to Hamas . The settlement had no gate. Members of the Arab village nearby had axed a Jewish child to death five years ago and since the war began tensions were once again high. I heard a noise outside at about 5:30 a.m. I immediately woke Yanky. His knee-jerk reaction was to turn on his cell in case we needed to call for help. I told him not to since the cell phone had a light. I did not want any possible infiltrators to know we were there. I slowly crawled to the window and peeked outside. The noise was coming from the neighbor's goat. We were safe for now.
On Tuesday, I went to the funeral of Moshe Davino in Jerusalem. At the start of the funeral, the army issued a warning on the loudspeaker that in case of a missile attack everyone should get on their knees and cover their heads with their hands. I looked around at the crowded plaza, grasping that in the event of a missile attack there was nowhere to go and no room for everyone to get on their knees. I thought of my great uncle Raymond Behrman, who was the Director of Civil Defense in Paterson, New Jersey during the 1960s. On the back of his business cards were instructions for what to do in the event of a nuclear attack. They began with a few preliminary directions and ended with: "5. Bend over and place your head between your knees. 6. Kiss your ass goodbye."
The funeral was the most powerful experience of my trip. I joined thousands of Moshiko's friends and admirers to say a final goodbye. I did not know of his existence before I attended his funeral, but, standing next to his newly dug grave, I felt like we were close friends our whole life. He was only 20 but yet he accomplished so much. This great Jewish warrior died defending his nation. I will never forget the name of Sgt. Moshe Davino and I will always remember the day of his funeral. Jews worldwide mourn the untimely passing of this great hero and all the great warriors who lost their lives defending the Jewish homeland.
Calling all HuffPost superfans!
Sign up for membership to become a founding member and help shape HuffPost's next chapter