Found photographs are the stuff of magic. A thrift box of Polaroids here a forgotten storage bin stuffed with albums there -- the snapshots of other people's lives, often people you've never and will never meet, allow you to step into a stranger's shoes for a brief moment.
Such is the case with "Lost and Found," an exhibition of found photographs discovered by a Chicago-based photographer named Jeff Phillips.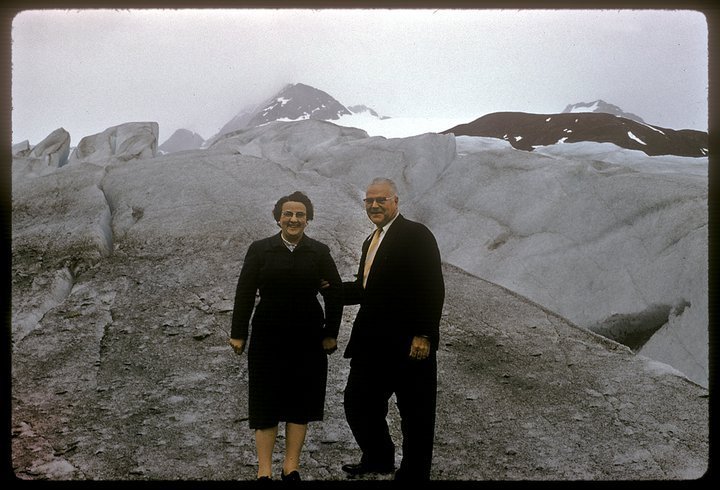 Harry and Edna in Alaska
Phillips happened upon a significant stash of images -- 30 boxes filled with more than one thousand Kodachrome slides -- in a thrift shop in St. Louis, Missouri. Having already developed a penchant for forgotten memories, he bought the collection of family portraits. The purchase was only the beginning of an internet-age love affair with the photos' main stars -- the mysterious Harry and Edna.
Long story short, it took only three weeks for a woman named Jen from Washington to pin down Harry and Edna's full names: Harry August Grossmann and Edna Annette Lehr. Family members were contacted and -- in quite possibly the best possible outcome -- the descendants of Harry and Edna were fully supportive of Phillips' continued interest in the hundreds upon hundreds of saved portraits.
And so an exhibition began. The folks at Intuit: The Center for Intuitive and Outsider Art showcased Phillips' images, giving Chicago a peek into the wonderful life of Harry and Edna. Take a look below and check out Phillips' website for more.
Calling all HuffPost superfans!
Sign up for membership to become a founding member and help shape HuffPost's next chapter