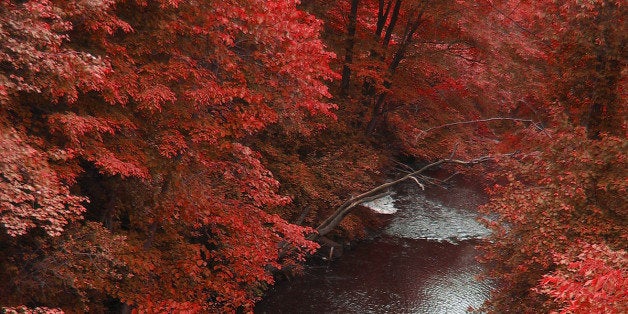 At the age of 57, I am attempting to reinvent myself as a writer so I decided to attend the Southampton Writers Conference. There is so much to learn and inspiration is everywhere. This week I am taking a class with the amazing Robert Emmett Ginna. His stories of publishing through the years, working at Life magazine and interviewing Ernest Hemingway are a joy.
We had an assignment to write a small piece using irony. It could be a true story or something we made up. I haven't done homework in 35 years. Here is my very feeble attempt. I hope I got it right.

Irony Assignment
My husband and I lived in an old farmhouse built in 1728 along the banks of the Squamscott River in Exeter, New Hampshire. Scattered across the two acres were a wide variety of mature trees that thrived in the dark alluvial soil. Apple, lilac, magnolia, blue spruce and larch. Opposite the river side of the house, behind the old barn, a one mile dirt road led to our riverside neighbor's place, an older couple who owned 60 acres of mostly wooded property where wild turkeys and deer roamed the white pine forest.
Across the dirt road, our street side neighbors lived in a small ranch. They were a young couple, friendly enough. This was New Hampshire, where most people keep to themselves... until the day we all received the notice. Our neighbor along the river was selling off several acres of land to a developer who planned to build five McMansions set on a minimum of two acres each. They were billing it as an upscale corporate community.
The neighborhood was divided on the issue. Everyone had an opinion. None of them mattered. The expansion of Route 101 was complete, making Interstate 95 easily accessible. The bedroom communities of Boston, only an hour's drive south, were marching across the tax-free New Hampshire border and there would be no stopping progress.
I wasn't home the day the town work crew came to chop down the tree at the corner of my street neighbor's property. The dirt road was scheduled to be paved and state law required the removal of any visual obstructions at intersections. The next morning, as my daughters and I waited for the school bus, my neighbor approached us in a state of self-righteous indignation...
"Did you see what they did to my tree?" she asked, pointing to the stump at the corner of her property. "I woke to the sound of chainsaws and when I came out to raise holy hell, they told me the tree was on town property. That was my favorite tree. You know, the one with the orange leaves in the fall?"
For the life of me, now that it was gone, I could no longer remember the tree. A lot of leaves turn orange during autumn in New Hampshire. Red and yellow, too.
"What kind of tree was it?" I asked.
"I don't know," she replied, spitting fire and ready for a tussle. "They've ruined my property. But just you wait. I'll show them and their upscale neighborhood."
Two days later a clothesline showed up in her side yard. The next day old nursing bras and faded boxer shorts waved in the breeze. A week later a toilet was added to the protest staging area, then a sturdy cardboard figure of a man wearing a red shirt, blue jeans, and a straw hat. He was holding a rope that from a distance looked like a stream of urine arching from his waist to the toilet.
We hoped this was a temporary protest, but it lasted for the two years she lived there. I called the town manager to see what could be done. "I know it's awful to look at and I'd sure hate to be her neighbor, but this is New Hampshire. Live Free or Die."
In the winter, the bras and boxer shorts hung stiffly frozen from their weather worn wooden clothespins. The toilet was used as a planter with daffodils in springtime and burgundy mums in the fall. The McMansions were almost complete when my neighbor's husband lost his job and they decided to move to Buffalo, where their parents lived. "Good riddance," my husband said.
The new neighbors planted tulips, daffodils and blue hyacinth along the stone wall and a vegetable garden where the clothesline used to be. The trees in their backyard and along the newly-paved road turn vibrant shades of red, orange and yellow each autumn as foliage season returns to a road along the Squamscott River in New Hampshire, where the new upscale neighbors are unaware of the protest staged in honor of their arrival.
REAL LIFE. REAL NEWS. REAL VOICES.
Help us tell more of the stories that matter from voices that too often remain unheard.