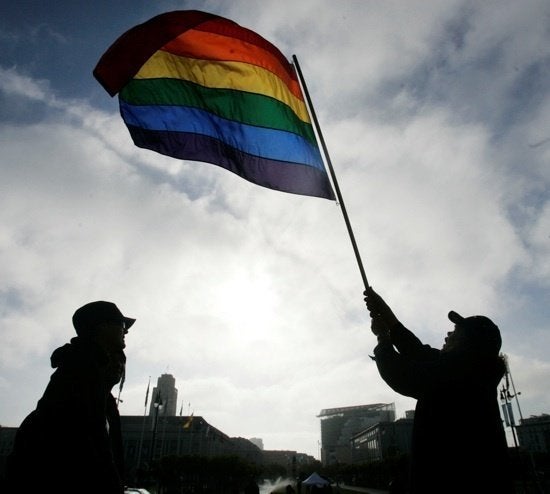 Next Wednesday -- July 23 -- may well mark a critical turning point in the fight to repeal "Don't Ask, Don't Tell," the federal ban on open service that has cost our country the talent and skills of more than 12,000 patriotic Americans and cost tax-payers an estimated $363 million.
Congresswoman Susan Davis (D-CA), Chairwoman of the Personnel Subcommittee of the House Armed Services Committee, will hold the first stand-alone hearing on the law since it was implemented 15 years ago. Davis, who is a co-sponsor of Congressional legislation to repeal "Don't Ask, Don't Tell," deserves great praise for her courage in bringing about this momentous hearing. More than a decade of evidence has shown that our country's ban on gay troops is counter-productive, un-necessary and downright foolish. It has ruined careers, ruined lives and put an unacceptable burden on the men and women who wear our country's uniform, and the family members and partners who love them.
In preparation for next week's hearing, Parents, Families and Friends of Lesbians and Gays (PFLAG) will submit written testimony to committee members, highlighting the impact this archaic law has on American families. A close look at how far the law reaches, and how many lives it touches, clearly shows that, in fact, countless Americans' lives are touched by this official policy of discrimination. Here's a sampling of what PFLAG will say to Congresswoman Davis and the Subcommittee on Personnel:
"Don't Ask, Don't Tell" not only impacts the estimated 65,000 lesbian, gay and bisexual troops on duty today, and the 12,000 who have been dismissed under the law, but it also has a very real, direct impact on the families, partners and spouses and loved ones of those who serve. The law denies patriotic Americans the opportunity to serve our country and also denies service members and their families critical benefits, protections and rights and responsibilities that come along with military service.
Under "Don't Ask, Don't Tell," service members may not be open and honest about their sexual orientation to anyone, at anytime, including family members and friends. Throughout the 15-year history of the law, parents have been questioned about their children's sexual orientation, placing them in the untenable position of potentially ending a child's military career. Spouses and partners, both heterosexual and gay, have also been questioned by military investigators and all of the loved ones of service members have, essentially, been muzzled by this unnecessary and un-American law.
The federal ban on open service also affects service members' abilities to protect their families and take advantage of both civilian laws that recognize their relationships and important military benefits for their dependents. Lesbian, gay and bisexual personnel, for example, are unable to register a civil unions, domestic partnership or marriage in states where those are legal, for fear that the public document of their relationship will result in an investigation into their private lives. Because of this prohibition on the state and local recognition of relationships, service members and their partners and spouses are barred from receiving the important civilian legal protections available to them.
As more and more lesbian, gay and bisexual Americans choose to begin families and raise children, "Don't Ask, Don't Tell" also puts an unacceptable burden on military members who want to enroll their children in the military's benefits system or who want to participate in a second-parent adoption with a partner of the same gender. Doing either can raise suspicion about a service member's private relationships, and potentially trigger a "Don't Ask, Don't Tell" investigation, leading to their dismissal from the armed forces.
It isn't just gay and lesbian troops and their families who are affected by the law, however.
In fact, heterosexual service members are also often targeted under "Don't Ask, Don't Tell." The law has become an especially effective weapon of vengeance for those who understand its workings. The easiest way to jeopardize a career, instigate an investigation or carry out a grudge against a service member is to make an accusation regarding their sexual orientation.
Service members who are gender non-conforming, or who are in non-traditional job roles in the armed forces, also often find themselves the target of rumor, speculation and innuendo about their sexuality. According to the Transgender American Veterans Association, a recent survey found that a large percentage of the organization's members who were gender non-conforming during their time in the services were often impacted by the law. The organization recently reported that,
One of the questions we asked was, "Did anyone ever suspect you were gay or asked if you were gay?" Out of the 801 people who answered that question, 302 said, "Yes." We also asked, "Have you ever been questioned by your commanding officer or any other officer because someone said they thought you were gay?" 799 people answered that question and 109 of them said "Yes."
Private First Class Barry Winchell, one of the top Army marksmen at Fort Campbell, Kentucky, was the target of rumors about his sexual orientation after he began a relationship with Calpernia Addams, a transgender woman living in Nashville. PFC Winchell endured months of taunts and threats from fellow soldiers and was brutally murdered, in July 1999, by two of them while he slept in his barracks on the base. In the wake of Winchell's murder, his parents, Patricia and Wally Kutteles, spoke widely about the fact, because their son was involved in a relationship with a transgender woman, he was the object of suspicion, which led to the attack that took his life.
At least two service members -- Winchell and Navy Seaman Allen Schindler, have been murdered because of their real or perceived sexual orientation, leaving their families to grieve their loss and speak out for an end to "Don't Ask, Don't Tell." No family should ever have to endure such loss, but the law creates a military environment where lesbian, gay and bisexual personnel, and those perceived to be, are classified as 'second-class' by federal law. That sends an unacceptable message that discrimination against gay troops is acceptable and condoned ... and that's just plain wrong.
And that's why it's also welcome news that, next week, Congress will turn its attention to a long overdue conversation about possibly ending federally-sanctioned discrimination in our armed forces. That, in turn, also offers a glimmer of hope that those hearings will mark a turning point for our troops and their families, who give our nation far too much to have our nation leave them so far behind in our quest to live up to the American ideal of "liberty and justice for all."
Calling all HuffPost superfans!
Sign up for membership to become a founding member and help shape HuffPost's next chapter