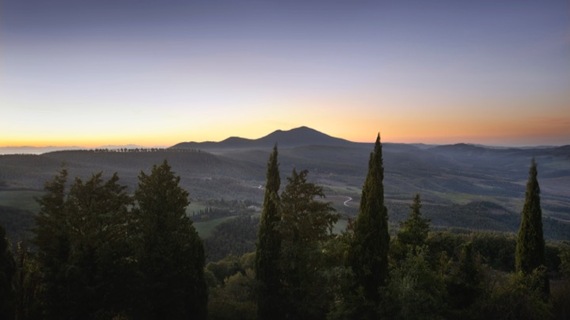 All roads in Italy may lead to Rome, but most of them go through Tuscany first. And for good reason.

Strolling the streets of Florence, looking at the juxtaposition of cutting edge fashion boutiques inside ancient palazzos, it occurred to me that Tuscany may well be the birthplace of modern luxury. Rome's glory is based on power. Venice's on trade. Both were big importers of luxuries like silver, silk, spices and skills from the East. But it seems that Florence was first among the old Italian capitals to make the making of beauty its primary business: both for its immediate joy, and its timeless influence.
Florence is home to fashion brands like Gucci and Ferragamo, and most other Italian luxury brands are manufactured nearby. Florentine craftsmen invented the pietra dura technique of inlaid marble, found throughout the city's monuments and at the Taj Mahal in India. Santa Maria Novella, the skincare brand, was founded in Florence in 1221 and invented the first perfume for Queen Catherine de Medici of France.
Medici money provided the patronage for exceptionally skilled craftsmen to create exceptionally crafted art and objects. First, in ode to the family's local status, then - as the Medici hand reached royal courts and the papacy - as a display of global prowess.
An exhibition at the Cappella dei Principi of Medici gifts made to churches across Europe and the Orient notes: "These gifts may be seen in a dual light today just as they were intended to be back then, testifying both to the grand dukes' and duchesses' piety and to their wealth, erudition and taste, pointing openly to their government's financial and political power." It is luxury as a form of leadership and a way of life.
Which brings us to a rocky mountaintop on the road to Rome, and the reason for my trip: the Hotel Monteverdi had invited me to discover their hotel and its new spa, which inspired this article.
The Monteverdi came to life in 2010, when its founder bought a ruin in the 12th century village of Castiglioncello del Trinoro, on a peak above Tuscany's Val d'Orcia, a UNESCO World Heritage site. For the Ohio-based attorney, drawn here by his Italian roots, it was a surprise gift to himself - against the advice of everyone else - a souvenir of his fiftieth birthday trip.
But a simple impulse purchase turned out to be a foray into the long tradition of patronage that established Tuscany as a byword for good living. And a long-lasting investment, first, in what would grow to become a uniquely luxurious boutique hotel. But even more importantly in the local community and culture.
Despite their famed location, the villages towering over Val d'Orcia have not escaped the urban flight that is emptying the Italian countryside. From a post-war peak of 180 inhabitants, Castiglioncello del Trinoro is now down to just nine permanent residents.
As people have passed or moved away, the Monteverdi has filled the void, renovating the empty homes with sensitivity to local style, skills and materials, maintaining the village lanes, parks and piazza, and filling the place with life. Twelve guestrooms and three, 2-6 bedroom villas are sprinkled throughout the village, as are a gourmet restaurant, casual bistro, library-bar, spa, pool, gym and art gallery.
The feeling is less hotel than tiny hamlet - though an impossibly chic one, even for Tuscany. Contemporary sculptures dot the landscape. The rising sun illuminates a yoga class in the art gallery with a view across the valley. At the spa, Sara and Martina pamper you with a long menu of Santa Maria Novella face and body treatments, or leave you to soak in the sunset from a steaming bath with wine-steeped salts, dried lavender and essential oils. Go down to the local pub and Giuseppe will guide you through a selection of fine wines to enjoy while leafing through art books in a comfy club chair.
And this is a place to learn as much as to relax. The 14th century village church has been rebuilt as a recital hall for performances of the Monteverdi's annual summer concert series and its Accademia Monteverdiana operatic master classes. An Artists and Scholars in Residence program brings accomplished professionals from the worlds of art, cooking, science and philosophy to exhibit, perform, teach and otherwise enrich the guests.
For dinner, take a cooking class with Chef Giancarla Bodoni. The effervescent talent behind Monteverdi's Oreade restaurant, Bodoni is a pioneer in the organic, raw food and farm-to-table movements, with skills perfected over 21 years as owner of Miami Beach's famed Escopazzo.
While teaching a recent group to make hand-rolled pici, beef ragu and truffle sauce, Giancarla spoke of how her approach blended seamlessly with the artistic and wellness synergies that the Monteverdi has brought together in this hilltop village. Turning her attention to the food, one sentence seemed to sum it up best: "The staple of Italian cooking is a few, good quality ingredients, simply prepared."
In a world that seems to constantly demand bigger, faster, flashier, by drawing on its Tuscan roots, Monteverdi makes a seductive proposition. Its straightforward simplicity offers an antidote to our overwrought daily rhythms. Its tangible quality offers meaning when everything seems obsessed with image and spin.
In Tuscany, you see, far from being branded and marketed, what the rest of us call luxury is simply the outcome of a way of life.
Popular in the Community