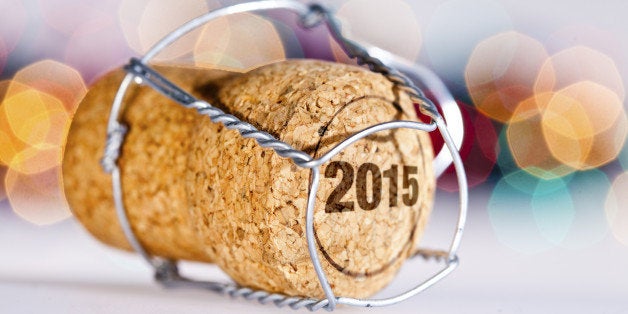 When I turned 25 years old, I hit the "quarter-century slump." I was completely unhappy in my dead-end job, I had moved to a new city where I still was getting settled and was starting to worry that time was running out. Millennials today are constantly in transition and worried about balancing the "new world" vs. what our parents knew. At 25, my parents were getting married, and a year later they owned a house and had given birth to the baby version of myself. At 25, I was just happy to not have a credit card maxed out, let alone being capable of handling another human being.
After speaking with a lot of my friends in similar situations, we complied a list of New Year's resolutions that are not only manageable, but life changing. From quitting smoking to trying healthier living to investing, I was surprised at the change in our resolutions. Gone were the days of cheap liquor, frozen pizzas, and nightclubbing until 5 a.m. Instead, at 25 we were looking for roots, stability, and healthy changes.
As we approach 2015, these resolutions are not only relevant, but hold true for any age.
1. Look for a Job That You Love. If you already have it, work harder to show how much of an asset you are to the company.
2. Eat More Healthy. Your body will thank you.
3. Drink More Water. Your body will thank you.
4. Stop Smoking. Cigarettes are extremely unhealthy and do damage to your body. If you can't go cold turkey all together, why not try electronic cigarettes? Do your research on and compare different companies to find the best for you. Oxford named the word of the 2014 to be "vape" for a reason.
5. Smile More. Don't be that person known as having a serious case of RBF.
6. Go On An Actual Date. Stop Tindering or Grinding and remember the nerves of just getting to know someone organically without an incriminating Snapchat. You may not like the person in the long run, but you'll be discovering new things about yourself in the meantime.
7. Start Exercising More. I added "Run a 5K" to this resolution, because I've heard the more specific, the more attainable. The broader the resolution, the harder it is to maintain. A little more exercise never hurt anyone.
8. Stop Looking for Love. If anything, figure out how to love yourself. When I turned 25, I wasn't ready for love because I wasn't thrilled with my current job/life situation. Only when I started making positive changes and liking who I was, did someone special come in.
9. Invest in your Wardrobe. After 25, you've now started to work above starting salary. Why not invest in something that you'll keep long term and can be a "multi use" item? At 25 I invested in a watch. Although it hurt the bank, I look at it now as an investment in myself.
10. Invest in yourself. Many of us were hired during the recession. Although the economy is booming, it doesn't hurt to have a little cushion in case anything happens.
11. Cut your Crowd. Look at all of the friends in your life. If an emergency happened, who would be there for you? By 25 we start to discover that many of our friends might be acquaintances. Life is too short. As harsh as it sounds, cut your losses.
12. Learn something new. For my friend, it was taking a pole dancing class to try it out. To each their own.
13. Invest in your friendships. For those that made the cut, let those friendships know that you value them. Appreciation goes a long way.
14. Travel. Save up and travel. It's the only thing you can spend money on that you will talk about for the rest of your life.
15. Spend more time with family. Life is too short. You'll be thankful you did when you can't anymore.
16. Take time away from the Internet. You don't always have to know the latest tweets or Instagrams from your friends. Take time away and reconnect with what's important.
17. Consolidate your debt. By consolidating, you can save money in interest.
18. Change your look. Dye it red, streak it blue, or chop it short. You're only young once!
19. Get a tattoo. If you've been thinking about it, take the plunge.
20. Buy a new car. No I'm not saying purchase an exotic car like a Ferrari. Your college Honda got you through some good times, but maybe it's time for something reliable.
21. Do those DIY Projects that you've been pinning. Goes back to making an investment in yourself and trying something new.
22. Stop Selfies. That's self-explanatory. Enough is enough.
23. Come out to your family. This one was a personal goal for my friend, and I am so glad he kept this resolution. Not only did his family welcome him in open arms, but they knew all along. It is almost 2015 after all.
24. Learn to treat yourself and to budget yourself. This fine line is what balances your quality of life.
25. Learn to step away from work and enjoy life. I don't want to wake up at 35 and realize my life has passed me by.
All of these resolutions are easy to keep. No matter what your resolution is, stick to it and be proud. When you go back to reflect for 2016, you'll realize the changes you made are another step in being a healthier and happier you.
Related