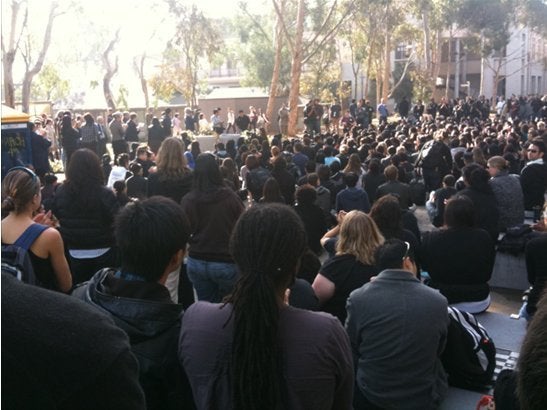 A noose in the library and the N-word on student television. These are some of the ugly things that have recently been tied to UC San Diego's beautiful campus. I've been following the events since news broke of the infamous "Compton Cookout" black-face party allegedly hosted by a fraternity. One protest video I saw on Facebook still sticks with me. It shows the chancellor looking perplexed while co-chairs from the Black Student Union lead a protest. I was moved by the black, white, Asian and Latino students chanting "Real Pain! Real Action!" As I watched those students holler with tears rising in their eyes, my feelings of disgust with the racial tensions on campus turned to disappointment. Students are already overwhelmed with massive budget cuts, tuition hikes, a challenging curriculum and God knows what in their personal lives. The last thing they should have to deal with is a fight for tolerance, whether it's racial, gender, sexual orientation, religious, etc.
I understand their pain because 10-plus years ago, I was a black student entering UC San Diego. The campus was a far different environment from my predominately black and Latino neighborhood in Oakland, Calif. I endured the "you don't belong here" stares, feelings of isolation and the discomfort of being the only person of color in some of my classes. I shared with readers on my blog Cocoa Fly how during my first year in college, a half-white/half-Indian student, who lived across the hall from my suite, consistently asked me to teach him how to speak Ebonics. Never mind that I was one of the top students in my high school and had a private education from kindergarten through the 12th grade. He saw a black girl from Oakland and assumed we all speak jive. When I asked him to stop and tried to explain why his request was offensive, he ignored me. He even wrote a message in broken English on my bedroom door's whiteboard. People passing could see it. Things like this didn't just happen to me. A former classmate told me of the unfriendly welcome she received the first week of her freshman year. A white, male student walking by her saw her brown face and yelled, "What up Shanany! " Thanks to retention programs such as Summer Bridge and supportive spaces like the Cross Cultural Center my friends and I were able to overcome obstacles we faced as underrepresented students and keep striving for our diplomas.
Despite the challenges, I gained a lot from attending UC San Diego. My experiences, good and bad, helped me grow as a person. I made friends with amazing people from various racial backgrounds. Some are like family to me. I discovered great writers like Paule Marshall and learned how to think critically. Of course I can't forget the close proximity to beach. Not many people can say they studied on the beach when they were in college. I'm proud to say I undoubtedly received an excellent education from UC San Diego. Today my black classmates are lawyers, pharmacists, doctors, psychologists, teachers, engineers, PhD candidates at Ivy League schools, theater actors and so on. And here's the shocker: many of us grew up in places like Compton. Then there's me, the journalist. My UCSD diploma has opened doors for me and I appreciate the skills I obtained in my studies. Attending a school that lacked diversity made me more passionate about diversity. Even as a journalist I try to report stories about people who aren't covered much in the mainstream .
Depending on how you look at it, the attention UCSD is receiving could not have happened at a better or worse time. Acceptance letters should be going out soon if not already. Potential students have to decide if they'll check the "Yes, I will attend" box. Recent incidents and the campus response may influence some students' choice. Recently, UC San Diego administrators and the Black Student Union reportedly agreed to common goals that will "address diversity issues to improve the campus climates." When I was a student I sat on a diversity committee and filled out surveys for administrators evaluating the racial climate on campus. It felt like we were just being heard because little change came about. Judging by recent events, hearing doesn't seem to work. Maybe now administrators will listen closely and continue to take action long after the news cameras are gone. Or maybe UCSD will grow from this and be a positive example to other schools with hostile climates. I can't help but want the best for my alma mater. Students at UCSD have endured real pain long enough. Now it's time for real progress.
Related
Popular in the Community