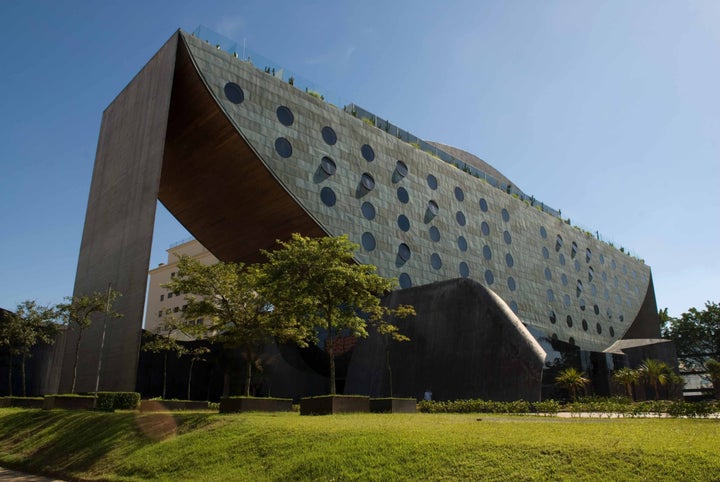 "Original" doesn't do it justice. "Extraordinary" doesn't quite cut it either. "Amazing" is just plain lame. "Unique" probably fits the bill better than anything ... But it's such a weird name for a hotel.
At first glance, the strange boat-shaped "melon-slice" of Hotel Unique is unlike any other building you've ever seen before. The 95-room Sao Paulo hotel, with its circular porthole windows has been described as a Noah's Ark, but it actually looks more like some great steel prison-ship -- a decadently luxurious prison-ship -- tethered to its giant concrete mooring posts. Master-architect Ruy Ohtake's creation looms majestically over the city's Jardines quarter and, as one guest, said "it could only be cooler it if actually rocked."
Hotel Unique rocks in more ways than one. The rooftop Skye restaurant and bar -- on the Ark's upper-deck -- has earned a reputation as one of the ritziest hangouts in a city that is home to more billionaires than any other in South America. The rooftop pool rocks too, as does the pool in the beautifully designed fitness center. I mean they literally rock. Both pools are fitted with underwater speakers, a curious system that allows you to hear the music only while your ears are submerged. The music is not distorted at all, and it's a thoroughly addictive experience.
The fitness center pool tips its hat to Brazilian patriotism with its green, yellow and blue decor. But even in this everything is not as it seems and, as with the glass floors of the gym, there is a hypnotic sense of illusion. The pool is actually tiled relatively simply in white and yellow: it's the addition of subtly blue-tinted water that creates the blue and green in the colour scheme.
It's another part of Ruy Ohtake's work that can only be described as, well, uniquely Unique.
Five Plus Points for Hotel Unique
Übercool space-age rooms with electronic sliding walls that reveal the immense porthole windows and views of Ibirapuera Park.
One of the best-equipped and most beautifully designed fitness centers you will ever find.
Jacuzzi bath with sliding glass wall allowing the bathroom to be incorporated in the room ... or not.
Complimentary gift of a pair of Havaianas is a nice touch.
360° swivelling plasma TV allowing viewing from the bath, bed or office area.
Five Minus Points for Hotel Unique
Ridiculously dark, black-painted corridors and elevators.
Great interior design in the rooms but with an insanely obvious oversight: Why put the iPod speaker jack on one side of the bed and the only bedside plug socket on the other?
Service is excellent apart from one slip-up: My room wasn't made up until after midday.
Excessively expensive mini-bar prices. At these room rates it shouldn't be necessary to make extra small change by charging three times the normal price for a simple beer.
I know nobody expects in-room coffee-making facilities in a hotel of this standard anymore but allow me this gripe: As an early rising (work, work, work) coffee addict, it's something I really appreciate.