How do women measure success? Is it by mothering and having a career? How do they carry out both forms of work to their satisfaction? What helps? What hurts?

This is a weekly series about successful women who participate in the workforce in a range of ways building their careers while mothering. These women fly under the radar of the media but need to be heard. They are silently successful and warrant recognition. They are compassionate, persistently hardworking women who deserve our admiration and offer advice to new mothers. Each week I will spotlight a different remarkable woman.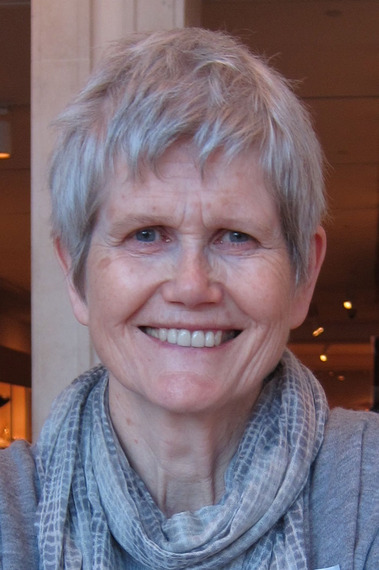 Janet Astington, Ph.D. earned her doctorate in psychology in Toronto, Canada while her two daughters were in elementary school. As a "night owl" she managed to complete her academic achievements while caring for her two young children. Her husband, also a professor, took the night shift with the kids when she took evening courses. She remembers being "offended when somebody asked me if my husband was babysitting. Huh! I thought of it as shared parenting." Although this was decades ago, we know this is still a hot issue for contemporary young dads who want the same full respect mothers get.
Janet shares the conflict she felt when she was teaching and unavailable when needed:
I remember one time I felt very bad. It was when my younger daughter was about 10. There was no school for her one day and she'd gone to a friend's house. They were playing in the park and she jumped across a stream and hit her tooth out on a rock. Her friend's mother had to deal with it.
She continues to explain honestly how "it wasn't rosy all the time." Like many mothers she fretted when her kids were sick: "When the kids were sick it was a problem. We're (she and her husband) both from England and didn't have any family to call on in Toronto."
Looking back, however, she knew she was fortunate to have time with her children while she was taking her coursework and then when they were older they identified with her as a hardworking, successful mother:
They are both now working, accomplishing, successful mothers and so I think they must have benefited. Maybe I inspired them by example. I remember when I was an undergraduate student taking a women's studies course, I wrote an essay about women and careers and reviewed the research literature on effects of maternal employment on children. I found evidence for beneficial effects on daughters' self-concept, independence, and achievement aspirations.
Every mother in the series so far echoes Janet's point of view that mothering has been and continues to be the most important and enjoyable role in her life. Given her vast accomplishments in research writing dozens of articles as well as an author of several books, this points to her dedication and pleasure as a mother.
During my four years at university my ambitions changed. I thought that I had to choose between marriage and family, or a career, and gradually my choice became clear. Marriage and motherhood became my ambition, though I knew I would also work; it was only later when I was at university again as an older student that I started to think about work seriously as a career. Having children moved me from botany to psychology. I enjoyed learning about children's development and relating it to my own children, and perhaps more, to my own grandchildren.
It's so important for women to be able to evaluate what success means to them. Janet, currently in retirement, remarks on her feelings of success:
I feel I've had (and still have!) a sufficiently balanced life. Despite the stresses and ups and downs of my career, I enjoyed enough of it. I was pleased by my successes and got over my failures. I chose to work half-time when I was 65 and to retire when I was 68 - not because I'd run out of research ideas or because I didn't like teaching but because I thought I'd done enough. And now I'm happy in retirement with more time for all the other things I enjoy.
To reach retirement with so many accomplishments behind her, and to look forward to continuing to learn in many new ways sets a fine example for all of us to reach for. The gains of learning and working while children are young do not ever seem to stop for Janet, a remarkable view of a full, expanding life.
Please leave comments for Dr. Astington commending her outstanding, inspiring achievements. And if you would like to participate in this series at any stage of your life as a mother and career woman please contact Laurie.




Laurie Hollman, Ph.D. is a psychoanalyst with a new book, Unlocking Parental Intelligence: Finding Meaning in Your Child's Behavior, on Amazon, Barnes and Noble, Familius and wherever books are found. The book is helpful for parents at all stages of life, grandparents, and professionals who work with children and parents.
Related