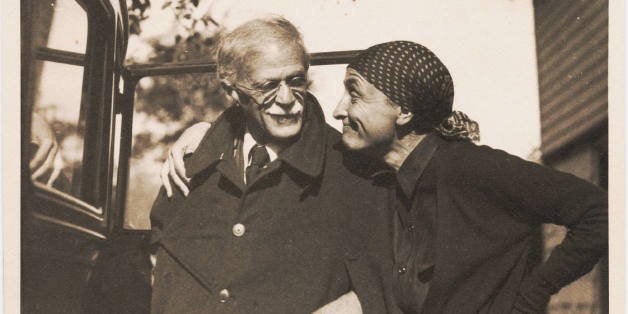 Georgia O'Keeffe was a 28 year old Wisconsin farm girl; Alfred Stieglitz was a 52 year old New York bon vivant. Stieglitz intimately photographed his muse throughout their tumultuous, erotically charged marriage. The inspired images are a testament to the power of artistic collaboration and the enduring flame of romance. Together, the power couple defined a uniquely American artistic language. This Valentine's Day, let's celebrate Georgia O'Keeffe and Alfred Stieglitz!
O'Keeffe, who is best known for her iconic paintings of the American Southwest, met Alfred Stieglitz at his Fifth Avenue art gallery, 291. As a young art student living in New York, O'Keeffe explored the gallery which displayed European Modernists such as Pablo Picasso and Georges Braque. Stieglitz, the tempestuous king of New York's avant-garde art scene, championed the photographic medium and promoted modern artists. In 1916, while teaching in South Carolina, O'Keeffe mailed a series of experimental charcoal drawings to her friend Anita Pollitzer, who delivered them directly to Stieglitz. Upon unrolling the drawings, an awestruck Stieglitz cried out, "Finally, a woman on paper!"
Soon after, O'Keeffe and Stieglitz began to exchange heartfelt letters. In May of 1916, Stieglitz would display some of O'Keeffe's charcoals at 291. Finally, in the summer of 1918, Stieglitz convinced O'Keeffe, who was teaching in Texas, to join him in New York City. Swept in from the plains of Texas, a quietly majestic O'Keeffe fixed her intense gaze upon Stieglitz. The photographer had found his muse.
As O'Keeffe refined her painterly craft, Stieglitz obsessively photographed her. She was his inspiration; he was her influence. Stieglitz's photographs, which he considered a lifelong portrait, celebrated O'Keeffe as his formidable, yet, inspiring soulmate. The images are mesmerizing; Stieglitz gracefully captures O'Keeffe's hands, the intensity of her stare, and the contours of her body. Whether cloaked in black or boldly nude, O'Keeffe is a majestic model.
While pleasing for both artists, the photographs ultimately confined O'Keeffe to the Freudian status of an eroticized female artist. This interpretation, which was encouraged by Stieglitz and the male critics, offended and troubled O'Keeffe. Escaping the milieu of critical New Yorkers, O'Keeffe journeyed to the New Mexican desert for peace and tranquility. While ensconced in the desert, she painted her iconic skulls.
After Stieglitz's death, O'Keeffe cultivated a life for herself in New Mexico. She was frequented by artists and photographers who celebrated her uniquely American persona. Ultimately, O'Keeffe's self-promoted New Mexican identity eclipsed the one crafted by Stieglitz. Those remarkable images, however, celebrate the collaborative achievements realized between two determined and talented artists.
"They please me," beamed O'Keeffe, referring to her desert skulls in a late life interview. In 2014, admiration for O'Keeffe's work displayed itself in a landmark sale. O'Keeffe's Jimson Weed/White Flower No.1 (1932) sold for $44.4 million at Sotheby's New York, breaking the record for the most expensive art work sold by a female artist. Georgia - Alfred would have been pleased, too!
Calling all HuffPost superfans!
Sign up for membership to become a founding member and help shape HuffPost's next chapter