Classics become classic because they don't succumb to time or trend, but grow true to themselves. Such is the case with the makers of the beloved blue box with the white ribbon. As Valentine's Day rolls around, naturally, my mind, as well as my hopes, go straight to that classic blue box.
Growing up, my mother and her sisters were my style mentors. It was my younger aunts in particular with their gold bracelets and brooches that cued me into the finer things in life. Their heavy gold link bracelets, laden with charms that made music as they walked, and the jeweled pins that adorned their dresses and sweaters, were all, as I learned early, from Tiffany's. That blue box tied neatly with the white ribbon became a familiar site under our Christmas tree, on my mothers' birthday, and my parents' wedding anniversary. It became, for me, a style-precocious child, something to aspire to.
My first blue box came at 18 from my first serious boyfriend. He would later become my first fiancé, gifting me yet again with a coveted blue box containing The Ring. But, the first box, which was indeed ring-size and had my fingers trembling as I opened it, held two enamel and gold bands. Pre engagement rings was how I viewed my Valentine's Day gift of the blue and gold and the green and gold Schlumberger bands that stacked beautifully on my finger.
There have been several blue boxes since my first that have made my little heart leap and, truthfully, the thought of another still causes it to stir. Having out-grown what I called the "want attacks" that were a part of my pre motherhood life, I rarely, if ever, obsess over "things" the way I did in my heyday.
Years ago when I made a living as a stylist, and my office ranged from Neiman's to Barneys to Saks and back, I was constantly falling prey to these attacks. Caught in my obsessive spiral, no pair of Manolos was safe. A size 36 pin-striped Armani suit couldn't hide from me. During the height of my career, I worked most exclusively for the iconic photographer turned commercial director, Norman Seeff. Nicknaming him my "sugar daddy," he got used to my long distance calls from New York, Florida or wherever I happened to be when a want attack hit.
"Do we have a job booked?" was my question.
"What did you see that you can't live without now?" was his reply.
But, as stated, that was before children, private schools and a change in priorities -- from adorning me to aiding the world at large.
Having said that; there is still the blue box. As times and priorities have shifted and changed, Tiffany's has kept up without selling out. It has grown with the times without giving up its integrity, its style or quality. Where others may have hopped on the bling-bling train, promoting watches with in-your-face diamonds and self-monogramming up the ying yang, subtlety is still their game.
Their leather goods are deliciously au currant. Especially in their signature blue. Their leather bags beckon to be brought home.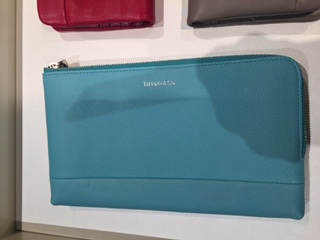 (In a huge blue box!) The item that has me relapsing into my want attack disease, though, is their new "T" bracelet. They are, in this ex fashionista and style maven's never humble opinion, beyond beautiful. Designed by Tiffany's new head of design, Francesca Amfitheatrof, who as the first woman designer at Tiffany's helm, is making history as well as energizing sales.
Architectural, simple and elegant, the T is clean and well proportioned to a wrist. My wrist, for sure! Either in yellow gold, rose gold, white gold with or without diamonds, or silver -- this bracelet, excuse the pun, is a true gem.
With Love Day on its way, Lord knows we have so much to love. Including, perhaps, something that comes in that classic blue box