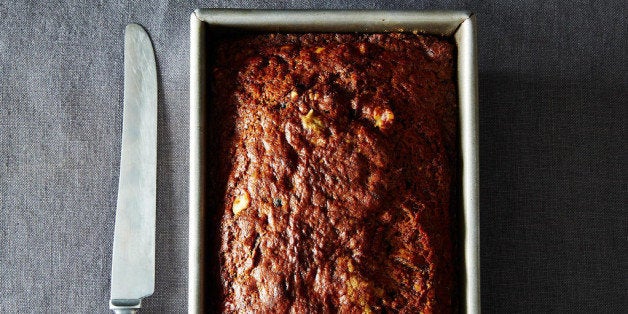 Today: Forget what you think you know about vegan baked goods -- this quickbread is a game-changer.
The first time you taste this bread -- the first time you experience its moist, fluffy texture, or bite into a cluster of pitted and soaked medjool dates, which form ribbons of caramel-like sweetness throughout the loaf -- you'll take back any doubts you might ever have harbored about vegan baked goods.
Dates and walnuts are a classic pairing, and rightly so: The earthy crunch of walnuts contrasts beautifully with soft, sugary dates. I like to soak the dates in boiling water before I make this bread; it adds moisture and ensures that the dates become a little melty as the bread bakes (a very, very good thing). To provide that characteristic buttery taste that we all know and love in traditional quickbreads, I use coconut oil; and to create some binding without eggs, I grind and soak flax meal, a handy and versatile tool in vegan baking.
The result is this delightful loaf, which is great for teatime, dessert, breakfast, or, well, whenever. Consider it for your Easter table, or make your mother very pleased when you present it to her on May 11th.
1 1/2 heaping cups pitted medjool dates, chopped into small pieces
2/3 cup organic cane sugar
1 teaspoon apple cider vinegar
3/4 cup almond or soy milk
1/2 cup melted coconut oil
1 tablespoon flax meal, mixed with 3 tablespoons warm water and allowed to thicken for a few minutes
Preheat oven to 350 F. Pour the boiling water over the dates and allow them to sit for at least ten minutes.
As the dates soak, whisk together the flour, baking soda, cinnamon, salt, and sugar.
Whisk together the vinegar and non-dairy milk vigorously, till it's frothy. Add the coconut oil and flax meal-water combination. Incorporate the wet ingredients into the dry ones until just mixed. Drain and fold in the dates, along with the walnuts. Add a splash of almond milk if the mixture is too dry.
Pour into a 9 x 5-inch baking pan and bake for 35 to 40 minutes, or until a toothpick inserted comes out clean.
Food52 is a community for people who love food and cooking. Follow them at Food52.com -- and check out their new kitchen and home shop, Provisions.