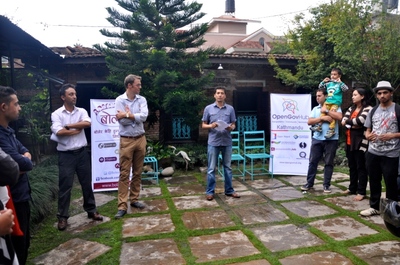 By: Can Atacik, Accountability Lab 2014 Social Impact Tour Participant
Have you ever felt that you are privileged? That you could "give" to others with your experience and utilize your network of contacts to help those living in developing countries? I thought so too, until I participated in the Accountability Lab's Social Impact Tour in Nepal -- the poorest country in South Asia -- only to find out that it was me who actually had a lot to learn.
My work allows for travel and I am fortunate enough to be able to vacation abroad. However, despite all these opportunities, I always feel that I barely scratch the surface of the countries I visit. I want to learn more about their joys, the untold secrets, and the hopes and aspirations of their people. I want to understand everyday life and how citizens built resilience to cope with these challenges. And, I always hoped I could give something back -- money, experience, or access to networks -- that in turn would make me selfishly feel better about myself, and allow me to altruistically do something for those who are less fortunate.
On a recent business trip in Africa, I felt ever more distant and burdened by my purpose there: to generate financial gains. I wanted to do something good -- that I knew -- but I didn't know how to channel this goodwill. I contacted my former colleague and friend Blair who had founded a non-profit, the Accountability Lab, about three years ago, right around the time when I decided to pursue a professional white-collared life in the world of investment banking.
Blair offered the perfect opportunity through which I could leverage my network, crowdfund a donation, travel to a country I knew nothing about and, guided by trusted friends, and embrace the culture around me. On the Social Impact Tour in Nepal, the Lab's wealth of contacts in Kathmandu facilitated our engagement in numerous, varied discussions. Through such meetings, I began to understand the scale of challenges faced by local NGOs, communities, government officials, students and families. Moreover, the Accountability Lab acted as the perfect platform from which we could share ideas collectively, rather than being perceived as outsiders. I feel I did all I could to provide perspective, while also being immeasurably enriched by the conversations I had with the Lab's partners.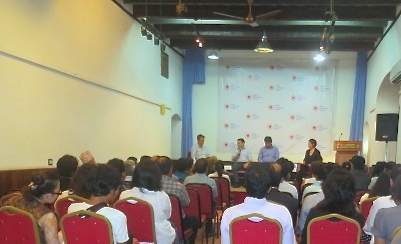 The diversity of individuals within the tour was reflective of the Accountability Lab's all-encompassing appeal: participants included a mathematics professor, a lawyer, a Ph.D. student and a medical sector professional. We visited a wide spectrum of projects and I was particularly struck by the creative visions of the talented, ambitious project leaders who, in the face of many challenges, have managed to address controversial issues ranging from corruption to women's rights in Nepal.
Anita Thapa, Director of an organization called Sambhawana (The Possibilities), has designed a 'Civic Schools' project, working with schools to aid student learning on civic rights and responsibilities. Through activities centered on empowerment, she is engaging children to ask questions of their leaders at the local and national level. Moreover, she is helping students design their own small projects to improve their community, which will hopefully build their desire to work within the community.
GalliGalli, a local organization based in Gyaneshwor, works to gather, package and disseminate information to citizens about obligations of the government and how to access services. Strongly positioned online, as well as on the ground, the organization strives to better the lives of citizens through ease of access to information.
The arts sector was equally as vibrant, acting as a tool for communication to the masses. We were also fortunate enough to visit the Shilpee theatre group who travel village-to-village performing in public squares, covering issues including the sexual harassment of girls by their teachers in school.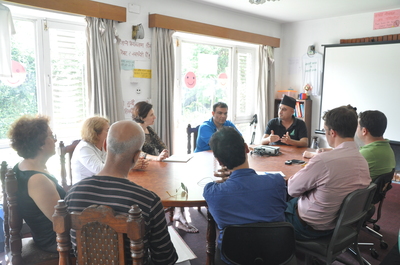 All of these projects receive support from the Accountability Lab through training, management advice and support, access to networks, seed funding and so on -- and I was very proud that I could support these projects as well by recognizing them, sharing my appreciation and providing some level of financial support, thanks to my crowdfunding donors, through the Lab for their continuity. I shared some of my business insight, but I realized that I actually had more to learn. I learned from them the power of hope and persistence. I learned how, in a challenging environment, one has to be very creative in utilizing the limited resources on hand to maximize output potential. I witnessed the courage it took each individual to set out on their unique path, and was inspired by the belief etched onto their faces and in alive in their words.
Because of the Lab, I now have many new friends in Kathmandu. I hope they feel able to reach out to me for assistance in years to come. I will certainly be keeping abreast of the Lab's work and their individual progression in an ever changing Nepal. As for me, I returned home, ever more inspired about life, and about what we can all achieve. I am so grateful for the perspective the Social Impact Tour gave me. Although only a week long, it has given me a new lens through which to view my life.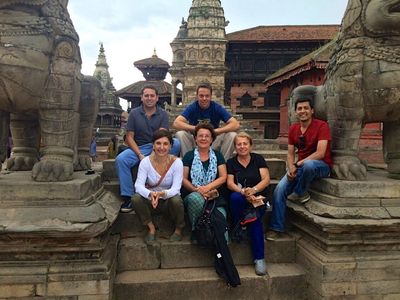 Can Atacik runs Shine Angel and Venture Capital Fund in Istanbul, Turkey. Prior to establishing Shine, Can worked as an investment banker in Turkey. He also worked at the World Bank in Washington, DC focusing on private sector and financial sector development.
Calling all HuffPost superfans!
Sign up for membership to become a founding member and help shape HuffPost's next chapter