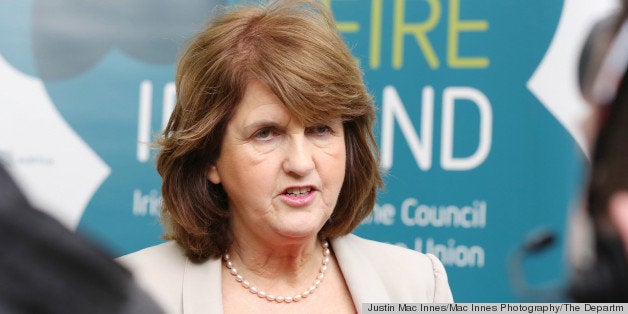 Last week the Irish government launched draft legislation regarding gender recognition for transgender people, which Ireland's trans community has been waiting to see for years. In what can only be described as an Irish solution to a global issue, however, Joan Burton, Minister for Social Protection, launched the draft legislation with little to no consultation with LGBT organizations. In fact, not a single trans rights activist knew about the launch last Wednesday. They weren't even invited to the event.
As the trans community in Ireland has been waiting years for gender recognition, one could be forgiven for assuming that the draft legislation would be welcome. Indeed, while most groups do welcome the bill in the sense that there is now something on the table to discuss, most are of the opinion that Ireland's plans are pretty half-hearted.
Broden Giambrone, Director of Transgender Equality Network Ireland (TENI), said that Minister Burton's draft legislation was "a welcome step forward, [but] it has not gone far enough." Speaking on The Cosmo, a national LGBT radio show, Giambrone explained that while TENI had not been made aware of the government's plans to publish the draft legislation, he was hopeful that it showed a willingness for Ireland to move forward on the issue of gender recognition.
Max Krzyzanowski, who became Mr. Gay World in 2009 and has since become one of Ireland's most vocal LGBT activists, was much more critical of the draft legislation, calling it "deeply upsetting and concerning." Also speaking on national Irish radio recently, Krzyzanowski recounted speaking to Minister Bruton in 2011 about the bizarre proposals that the government's Gender Recognition Advisory Group (GRAG) had made, including requiring a married trans person to divorce ("which is directly contrary to the [Irish] Constitution," he added).
Another proposed requirement is that persons must be over 18, which has raised the concern of LGBT youth groups in the country. "This restriction will have a devastating impact,'' explained Michael Barron, Executive Director of BeLonG To, Ireland's national organization for LGBT young people. "It will completely reinforce the extreme isolation, invisibility and vulnerability of trans young people. Research [in Ireland] and abroad has shown that trans young people face particular isolation in their schools and communities. They urgently need legal recognition, along with access to appropriate health, education, legal and other supports."
"What is also deeply upsetting and concerning," Krzyzanowski added, "is the manner in which this whole process has been done. The GRAG [...] didn't contain any medical experts and it didn't contain any input from trans activists. Nobody on the GRAG was trans." Krzyzanowski also added that Ireland's draft legislation seems to have been modeled on similar legislation in the neighboring United Kingdom, although the UK's law "is now being overhauled because of all these shortcomings in it."
To say that Ireland has been given plenty of time to come up with adequate gender recognition legislation would be a massive understatement. In 2007 the Irish state was found (by its own High Court) to be in breach of the European Convention on Human Rights, as the state refused to amend Dr. Lydia Foy's birth certificate, thereby refusing to officially recognize her as a trans woman. The result came 10 years after Dr. Foy had begun legal proceedings against the Irish government, and she is still awaiting an amended birth certificate to this day. The Irish government appealed the High Court's ruling but withdrew the appeal three years later, in 2010, and instead set up a committee on the legal recognition of transgender people.
So where now? Giambrone explained that the draft bill will go forward to a Committee on Education and Social Protection, which is where potential changes can be made before it is presented to Dáil Éireann, Ireland's lower house of parliament. In the meantime, it seems that the trans community in Ireland are not too pleased with how their government is addressing them, despite the years they've had to get things right.
You can read Ireland's draft Gender Recognition Bill here.
REAL LIFE. REAL NEWS. REAL VOICES.
Help us tell more of the stories that matter from voices that too often remain unheard.