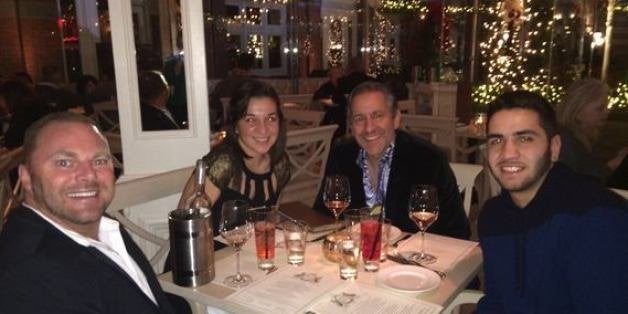 We just recently sold our house in Pennsylvania.
Now mind you, we'd been living in Bucks County for over 20 years, and we'd been talking about moving into New York City full-time for a very long time. We were just waiting for the kids to get firmly settled into college.
We'd also been packing for months, putting our life into storage until we'd figure out where we really want to live. The apartment we currently have in Manhattan is tiny... we've been using it mainly to help me deal with my two-hour-plus commute each way and a hectic schedule.
For months, we said that we couldn't wait to move out of that house and start living the life of empty nesters. For months, we'd been anticipating the day it would happen.
Then we closed on the house and the paperwork got sent to us. It hit us like a ton of bricks.
This is the house that the kids really grew up in! We took prom pictures there and had their high school graduation parties in that house! We sang happy birthday year after year in the kitchen, and just last Christmas, we decorated seven trees.
We had our little routine in that house, including where we would walk the dog and how we would spend happy hours out on the deck... even when it was too cold to sit on the deck.
I suppose the timing couldn't have been worse, even though we planned it that way. We wanted one more summer in the house before the kids went back to college for the fall semester. We wanted to be moved out before the cold weather hit, and all the unpredictability that comes with it. We had it planned down to the very last box.
And then it hit us. It's the holidays.
Our life is in storage. No Christmas trees, no festive plates, no snow globe from when we saw The Rockettes Christmas show when the kids were young.
We just have a small New York apartment, sans any shred of festivity or childhood memories, for four grown adults.
I am not complaining, we wanted it this way... or so we planned.
It turned out to be a very special kind of holiday.
Sure, we wrapped presents and opened them Christmas day, including our annual matching pajamas for fun photos. That tradition didn't change. They just weren't under a Christmas tree.
We still had the requisite artichoke dip, so piping hot that it instantly burns the roof of your mouth. But who can wait for it to cool?
But because we were in the city for the holiday, we did different kinds of things, too.
We went out for happy hour. We went to the movies all together, something we hadn't done in years. We even went to the new Tavern on the Green, a place we had gone to when the kids were young.
And we collected pictures of our beloved French Bulldog Sophie, who passed away this year. In many ways, it was a holiday in salute to her memory.
It turned out to be a transition into a new way of life... a life with two adult children out of their childhood home, doing things that interest all of us, together.
I would certainly say that was a very special holiday indeed.