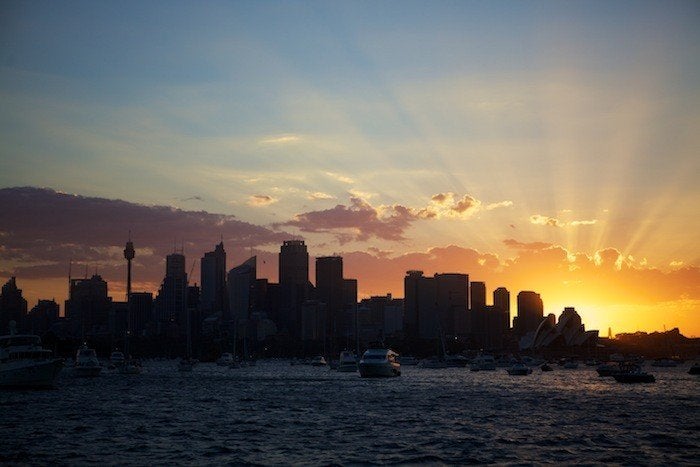 Sydney, Australia: New Years Eve capital of the world. During December's final days, the city becomes party central with waterfront spectacles, beach concerts and an epic fireworks show.
Seeking to experience the evening in full bliss, my boyfriend and I booked a luxury party cruise that would sail us in style through Sydney Harbor. The company promised a dazzling array of cocktails, sumptuous cuisine by premier chefs and a chic lounge with plush leather seating and space enough for 130 people.
To boot, what could be better than panoramic views of the Opera House, an idyllic sunset and prime position for fireworks?
Arriving at King Street Warf in our finest attire, we passed yacht after yacht filled with 20-somethings grooving to techno beats. As we waited at the dock for our luxe boat to make its grand entry, my boyfriend straightened his purple button-up and I rearranged my micro dress. I giggled with excitement like a teenage girl at a Jonas Brothers concert.
Lines of people for surrounding boats continued to swell. "You said Warf 5 right?" my boyfriend asked, glancing around our near-empty platform.
And then, from around the corner of a pumping pontoon, our white chariot arrived. We glanced at the boat then looked at each other. Surely, we thought, they had sent the wrong bride down the isle.
The captain waved us aboard.
I wandered about the caverns in search of the guests. I found a bald guy in a tattered Mountain Dew t-shirt slouched at the nearly empty bow. Kids sprinted around the deck; grandma snoozed on a corner couch downstairs; a woman loafed around in Birkenstocks. It felt like we were gate crashing a family Christmas gathering.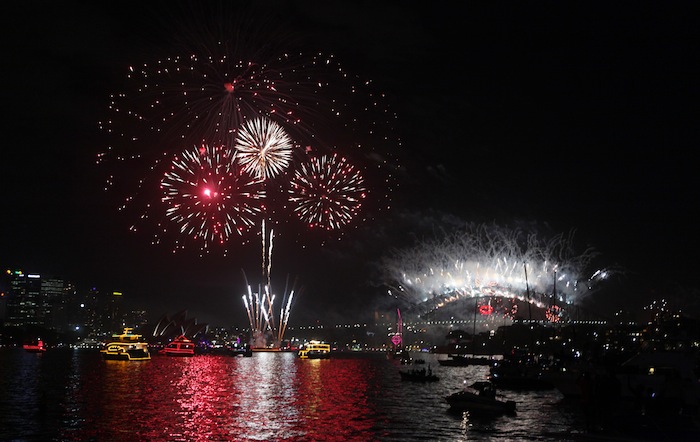 As we passed under the Harbor Bridge, I slipped outside for a quiet moment on the bow.
"Think of it this way," a kind mother encouraged me. "It's like having your own private charter!" Then, a barge of merrymakers sailed by with disco lights flashing and men hollering, "Happy New Year!" in our direction. I raised my champagne glass to them at half-mast.
Continuing to sail beyond Luna Park, I headed for the five-star smorgasbord downstairs. Sprawled out on a folding card table: sushi in a plastic container, smashed nacho cheese Doritos and cucumber sticks.
My boyfriend grinned as he ripped apart a sesame seed roll and smothered sandwich meat inside it. "I get the feeling this is leftover Christmas ham," he whispered, passing me a chunk.
As I simultaneously noshed on ruffled ridge potato chips, I wondered if former boat guest Elton John had taken the buffet's finger sausages with or without ketchup.
Mildly intoxicated Uncle Ned lingered beside me. "That dress fits you so well," he remarked with a wink and a chug of his beer.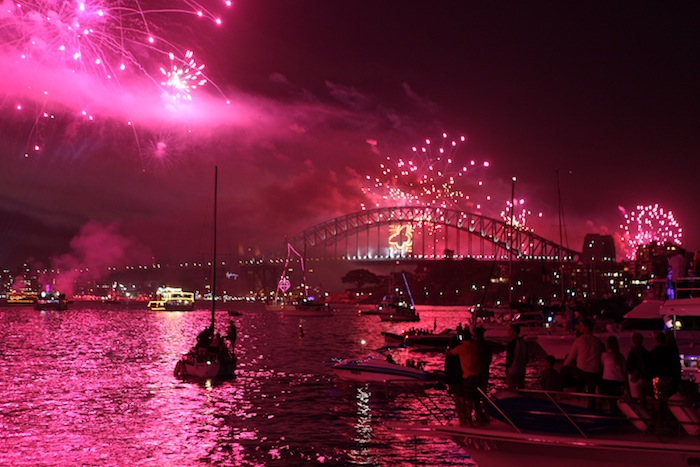 I slinked away with my Styrofoam plate and pulled up a seat next to my boyfriend who chatted with another girl. She pointed to a gap in her mouth where a tooth once protruded.
"My sister punched me in the mouth and my tooth fell out while I was sleeping," she said.
"The tooth fairy is clumsy though. This one time, she kept dropping my tooth on the ground, so I got money for it every night for a week. And see this tooth," she pointed. "I got five dollars for it, which is good because this one time the tooth fairy forgot to pay me for another tooth and then I accidentally dropped it underneath the refrigerator."
I should have prefaced that the girl was eight years old.
As midnight approached, Uncle Ned shimmied his way across the dance floor toward me, beer in hand. "I don't mean this in a creepy way, but the way you move your body on the dance floor ... so natural. I mean really, it's a gift."
I shrugged away from his half-armed embrace as his wife glared at me from the other side of the empty dance floor. Oh, Uncle Ned, I thought.
During our final minutes of 2012, our motley family gathered on deck to watch the fireworks. Together, we counted down the New Year and the sky erupted in vibrant color swatches. Our vantage point, as promised, was the best on the harbor. We were also in prime location to observe the airplane aerobatics and the illuminated boat parade. The city estimates 1.5 million people attend the extravaganza every year; on the waters edge of Neutral Bay where we docked, spectators overflowed onto the rocks. On board, we kicked back in lounge chairs, champagne in hand.
In step with this year's celebration theme Embrace, we counted the quirks memorable experiences. We wanted to adopt the endearing eight-year-old, enjoyed a dance with Uncle Ned and ate enough sushi to put Japan into debt.
The yacht was a safe haven compared to the apocalypse we faced after disembarking. We weaved through barricaded Park Street to escape stumbling crowds, most of whom swarmed around McDonalds. From the gutter, one girl in a sequined dress raised her cheeseburger toward us at half-mast.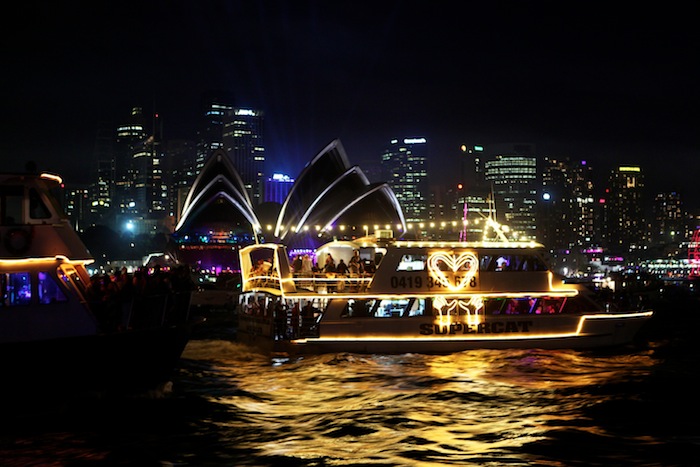 Photos by David Joshua Ford