For me it began on the Embarcadero in my hometown, San Diego, one perfect day in the 1950's. With white doves scattering, fireworks booming and a benediction from the Little Italy parish priest ringing in our ears, a cheering crowd and my young self waved bon voyage to America's Pacific tuna fleet. Heading bravely out to sea were more than a hundred tough tuna clippers, upholding a tradition nearly a century old.
Less than a decade later, those live-bait, pole-and-line clippers were history, replaced by bigger, more efficient purse seiners with mechanized winches and giant nets. Some on board the new boats embarked as kids from my high school. They'd return as seasoned young men, and go on to make good livings as skippers, crew and owners, harvesting the bounty of the deep.
I set a different course, myself. But, curiously, even as a career scientist I never seemed to stray far from that fleet and its catch. Along the way I adopted a principle that got little attention back in the day: sustainability.  
So I couldn't help recalling that gold-toned Blessing of the Fleet image when the International Seafood Sustainability Foundation (ISSF) recently announced some wonderful news: real, quantifiable progress in healing conditions that have troubled conservationists and fishing-industry experts for decades.
First, a little background: Consider how dramatically the fisheries have changed. That 1950s fleet was swept away by political, economic and regulatory changes in the 1970s and 1980s. Now "super seiners" roam the five oceans, exceeding the catch of the San Diego vessels in their prime by a factor of ten. The shift in scale is breathtaking.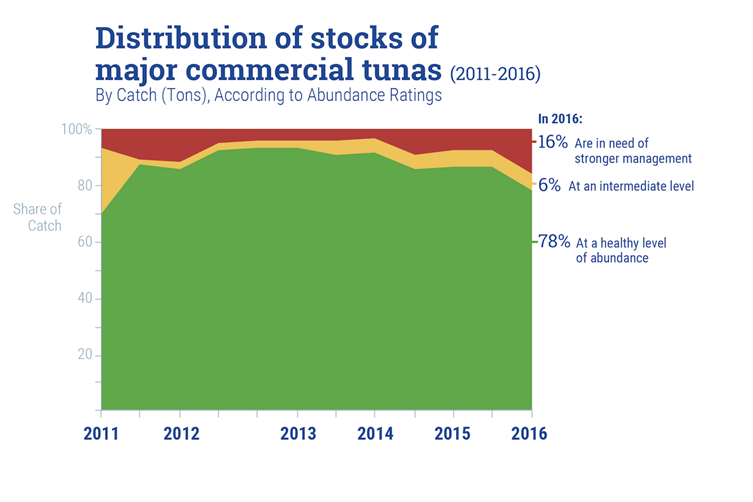 The economic pressures driving all this growth are easy to understand. The industry has upped its game in response to a global explosion of demand for fish protein. As a result, like so many other seafood populations, some commonly caught tuna species have been precariously stressed. [see figure 1]. In a sense, the industry has grown too successful.  
Now, neither the scientific community nor the responsible majority of fishing and processing enterprises have been indifferent as this crisis was developing. By the time I joined the World Wildlife Fund (WWF)—all through my career with the National Oceanic and Atmospheric Administration and the University of Miami—mine had been one of a chorus of voices proposing research, science or policies for steering this complex, unruly worldwide system toward greater sustainability.
But as long as the problem was framed as a face-off between fishing interests and the environment, it was difficult for governments and regional fishery management organizations to build consensus and impose significant solutions.
 Global Impact: Ten Victories in Defense of Worldwide Tuna Sustainability

NORMALIZING SUSTAINABILITY: More than 75 percent of all canned and pouched tuna sold in the world today comes from companies that adhere to strict International Seafood Sustainability Foundation (ISSF) conservation measures.

SAFEGUARDING THE TUNA POPULATION: ISSF has established a solid, concrete goal for sustainable tuna—that all tuna stocks be able to meet the internationally recognized standard of the Marine Stewardship Council, without conditions. ISSF regularly publishes benchmarking tools to measure progress toward that goal.

POSITIVE IDENTIFICATION: To forestall changes in ship names and flags that could mask illegal, unreported and unregulated fishing, the vast majority of large-scale purse-seine tuna vessels now carry unique, permanent International Maritime Organization identification numbers. ISSF and its partners prompted the requirement for registration by the world's regional fisheries management organizations.

DEFINING THE TERMS: ISSF is leading the charge to collect the critical tuna-related data that scientists need in order to define problems and work with fishery managers toward sustainable solutions.

TOOLS OF THE TRADE: In far-ranging research efforts at sea, ISSF is working with fishers to discover and implement science-based changes in fishing methods—including purse-seine fishing with fish-aggregating devices, longline fishing, and pole-and-line bait fishing—for greater efficiency and sustainability.

BEST-PRACTICES MANUALS: With a comprehensive series of downloadable and online guidebooks in almost a dozen languages, ISSF experts spell out best fishery practices based on at-sea research and hands-on experience.

WORKSHOPS FOR SKIPPERS: To date, ISSF's sustainability-oriented Skippers Workshops program has reached more than 1,100 skippers and crew personnel in China, Ecuador, France, Ghana, Indonesia, Mexico, Peru, South Korea, Spain, the U.S.A. and other countries.

SPREADING THE WORD: ISSF is a leader in advocating practical tuna sustainability. We convey a consistent, credible stream of information as industry leaders, retail companies and eNGOs interact with governments and regional fisheries management organizations around the world.

PUSHING BACK THE FRONTIER: Working with the Inter-American Tropical Tuna Commission community, ISSF was instrumental in the re-introduction of lapsed tropical tuna conservation measures in the eastern Pacific.

FULLY INTEGRATED OUTREACH: Since 2008, ISSF efforts have improved tuna conservation and recovery measures in the Atlantic, Eastern Pacific, Western Pacific and Indian Oceans. ISSF's unified approach addresses issues ranging from precautionary harvest strategies to bycatch mitigation that protects sea birds, sharks and turtles.
"The tuna industry must begin to take a leadership role … in bringing about necessary improvements in tuna fisheries management in a responsible and science-based manner," he said. "We need to use our market power as fishermen, traders, processors and marketers to force positive change.
"If we all embrace sustainability and responsible fishing practices, we will be able to maintain the catch of our key tuna species at their maximum sustainable yield while also protecting related species and ecosystems."
That call to action helped spark the establishment of the ISSF. An innovative partnership among tuna companies, WWF and leading scientists, ISSF institutes defined transparency rules and science-based conservation measures. Participating processors can only purchase fish known to be caught sustainably, so responsible behavior is rewarded.
After just a few years, almost all of the industry's key players—with an estimated market share of more than 75 percent—have adopted ISSF conservation measures. Their books are open to independent auditors who verify their behavior, and those audits are public. This is startling progress in a market traditionally dominated by rugged individualism at all levels. It surpasses any pre-ISSF progress I've seen in my entire career.
And that brings me back to the good news I mentioned above. Released this summer, the 2015 ISSF Conservation Measures & Commitments Compliance Report shows a gratifying 87-percent conservation-measure conformance rate across all participating companies. That's a major advance, compared to less than 80 percent in 2014.
There's still work to be done, but I see many reasons for hope. I also see lessons for anyone struggling to promote change, anywhere stakes are high and conflicts persist: Shift your point of view. Look to the participants for solutions and support before you try to control their behavior. And stoke your motivation with a vision—past or future—of rosier times.
Calling all HuffPost superfans!
Sign up for membership to become a founding member and help shape HuffPost's next chapter
This post was published on the now-closed HuffPost Contributor platform. Contributors control their own work and posted freely to our site. If you need to flag this entry as abusive,
send us an email
.