According to the Department of Defense, only .04 percent of Americans are active military personnel, a staggeringly small number to be shouldering the weight of our nation's security. These heroes deserve our full support with reintegration when they transition to civilian life, including the transition to employment.
Over the past few years, the White House and congress have put much legislative focus on supporting veterans and military families, developing several transition programs and coordinating national campaigns about how veterans are terrific hires for businesses. For example, the Joining Forces initiative, launched by First Lady Michelle Obama and Dr. Jill Biden, calls on all Americans to rally around service members, veterans, and their families and support them through wellness, education, and employment opportunities.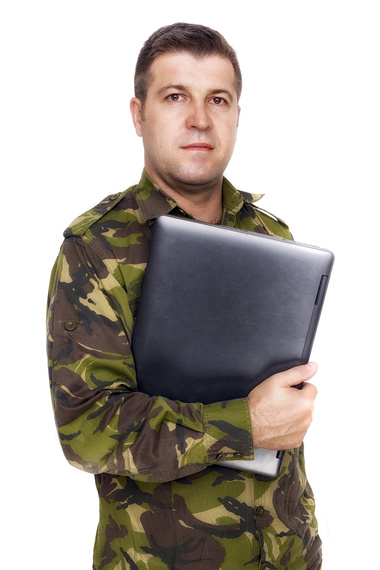 Further supporting vets, Michelle Obama announced in April new private sector commitments to train or hire 90,000 veterans and military spouses, all in the growing fields of energy, transportation, and tech, where there is a high demand for talent. Almost half of these commitments were accompanied by commitments to train vets for high-tech, well-paid careers, often made possible by the cooperation of employers, educators and public leaders.
The efforts are paying off. The September report by the Bureau of Labor Statistics announced that the unemployment rate for veterans dropped to a seven-year low in August, and the rate for Iraq and Afghanistan war-era veterans fell to the lowest level since federal officials started tracking that population. In fact, the unemployment rate for all veterans is now consistently below the unemployment rate for non-veterans.
This progress wouldn't be possible without the innovations and cooperation of the public and private sectors and nonprofits over the past few years. And technology plays a central role in some of the most exciting developments in connecting veterans with jobs.
Private sector creativity For example, the online gaming world is - as I write this - still in the midst of #TheRacetoPrestige, a groundbreaking stream-a-thon that is raising money for the Call of Duty Endowment, a nonprofit focused on employment for vets. How exactly does livestream fundraising work? For one week, five top gaming personalities have been playing Activision Blizzard's highly-anticipated new release, Call of Duty: Black Ops III around the clock relay style on Twitch.tv. The gamers have teamed up with stream-for-charity website Tiltify, which prompts audience members to donate as they watch.
So far, the stream-a-thon has raised $158,000 for CODE, with every dollar raised going towards placing vets into high-quality careers. And this amount doesn't include the matching funds Activision is prepared to donate when the streaming marathon ends on November 10th at 5 p.m. PST. It's a cutting-edge way of engaging new audiences in helping veterans while being entertained by the gaming personalities they admire.
Companies like Microsoft, a leader in veteran recruitment, have also seized upon creative new ways of supporting the cause of employment for vets. The Vow to Hire Heroes Act of 2011 has eased some of the challenges of reintegration by allowing servicemembers to begin the transition process while they are still on active duty, and Microsoft has taken advantage of this opportunity to cultivate employees who have tough-to-find skills. The company's Software and Systems Academy is a 16-week course that guarantees its graduates a job with Microsoft or one of its contractors. According to Microsoft, more than three-fourths of the program's students either found jobs or went on to further their education, and the average starting salary for the soldier who took the course exceeded $70,000. The program has been such a success that Microsoft recently announced its expansion from three military bases to twelve.
Old guard nonprofits find fresh ways to help
Some of the country's many nonprofits focused on veterans employment are early pioneers that are now putting a modern spin on their efforts. For example, Easter Seals Dixon Center - a newer entity within one of the country's name-brand nonprofits - has proven itself a leader in connecting veterans with a nationwide network of community outreach programs to find meaningful employment, education and overall wellness. The program is led by Col. David Sutherland, who commanded a combat brigade in Iraq and served as special assistant to the chairman of the Joint Chiefs of Staff. As co-founder and chairman of the Dixon Center, Sutherland travels around the country to highlight the potential of veterans and create life-changing opportunities.
"When I speak to corporate leaders," Col. Sutherland wrote for Forbes, "I explain that the difference between a master sergeant and an MBA is that the master sergeant has been doing it for 20 years... Why do consulting firms, financial service corporations, and energy giants look to hire more than 100,000 newly-minted MBAs when more than 1,000 soldiers leave the military every day and bring as good, if not better, skills to the table?"
Easter Seals Dixon Center recently worked with award-winning film producer and director Judd Apatow to create a witty PSA that reinforces the value of employing veterans (take a minute to check out the humorous PSA here). As Sutherland notes in his Forbes piece, "You won't find anyone more qualified and with more experience than a non-commissioned officer. NCOs know how to problem-solve under deadlines and often in the throes of crises. They have managed large teams of varying ages and skills while ensuring that multi-million dollar equipment stays in fighting order."
Emerging nonprofits create new opportunities
Vets are also being supported by newer nonprofits that have been created to focus on emerging opportunities. For example, Vets In Tech connects veterans to what the organization refers to as the "national technology ecosystem," bringing together a tech-specific network, resources, and programs for veterans interested in education, entrepreneurship and employment.
The organization was started by tech executive Katherine Webster, the daughter of a former Army and Air National Guardsman, who was troubled to see the difficulties faced by so many young returning military veterans.
"I was watching the returning veterans coming home and they couldn't get a job," Webster told Opportunity Lives. "That didn't make sense to me, considering this generation is so tech savvy. It didn't make sense as to why we weren't doing anything as an industry to welcome home veterans and get them into tech careers."
ViT helps veterans bridge the skills they have from their military careers with those they need for careers in tech. The organization does this by offering training around all aspects of technology, then providing vets with everything they need to find jobs in tech, including resume writing and interview skills, job matching services and job fairs with local tech companies, and networking with mentors and corporate recruiters. For the 48 percent of veterans who prefer to start their own businesses, ViT organizes various entrepreneur programs including hackathons, pitch events, leadership speaker series, local meetups and networking events, and business plan competitions.
Corporate giants are particularly motivated to hire veterans in order to comply with recent Department of Labor regulations that mandate a certain percentage of veteran employees for all companies that are contracting or sub-contract with the federal government. So it makes sense that ViT has partnered with Silicon Valley heavyweights such as Facebook, Intuit, HP, McAfee, LinkedIn and Cisco to recruit and educate veterans. ViT has also developed a unique initiative with Salesforce that aims to employ 10,000 veterans.
The conversation has changed
Amidst all of the challenges facing veterans, the programs and initiatives developed by the private and public sectors and nonprofits across the country have changed the conversation around employment for veterans. As a result, the future looks much brighter now for the men and women who serve our country along with the companies benefiting from their skills and leadership.
As we reflect on the service of our nation's heroes this Veterans Day, let's recognize the progress that has been made over the past few years when it comes to employment for veterans. While there is still much work to be done, putting more vets to work is an example of what's possible when companies prioritize corporate social responsibility and realize that doing so is simply good business, not philanthropy.
Calling all HuffPost superfans!
Sign up for membership to become a founding member and help shape HuffPost's next chapter