It was all tans, tits and tutus Saturday night as East West Partners and Tobie Orr rolled out the catwalk and put on the dog for Saturday's Riverfront Park Fashion 2010. Twelve-hundred of Denver's best dressed congregated for a see-and-be-seen evening awash in purple. The shiny set glowed, sipping and supping in the sensual sunset as couture-clad beauties paraded into the starry night. I took it in from the comfort of a private cabana, milled amongst the throng and spent some time with friends at a table on the runway, and it was luxe, luxe, luxe no matter what the view.
Now in its sixth year, the four-show series of the past was rolled into one event this season, resulting in an oversold, over-fab, fashion fun-fest. A trio of tutued model/dancers kept the catwalk alive, ramping up excitement before the uber-glam began. Betsey Johnson threw down selections from her Kiss Kiss Bang Bang collection with some super-short sweater dresses that soon became repetitive, though her stand-out pieces followed: a radioactive pink satin jacket over black leggings and a off-the-chain crushed velvet pantsuit in a color-saturated antifreeze green. It was in La Bet's finale that the endurance of her design talent was revealed; my favorite, a strapless black and cream ball gown.
Aspen's Gabriel Conroy brought forth an elegant collection of inspired evening wear from his current collection: structured, finely tailored and breathtakingly subtle. Now I'm no fashionista, but to my eye the design star of the night rose in the glorious gowns of Sue Wong. Denise Snyder, owner of Larimer's Mariel Boutique, put together a collection of fitted, flowing creations which were detailed and stunningly feminine. Her tasteful use of beading, fringe and feathers brought ooohs and ahhhs from the mouths of Denver's most stylish observers. The stylists from Luxe Salon & Bang Salon worked magic with the hair and makeup, bringing radical changes, in record time.
I asked East West Partners' Chris Frampton the how and why of it all. "Originally we were looking for an inventive way to highlight the neighborhood and bring people down to Riverfront Park. It was all very new then, we were promoting residential sales and we wanted to create a destination. We started with a wine and fashion event which evolved into food, wine and fashion and grew from there. This year we hope to raise awareness and funding for the Railyard Dogs, the local dog park. Now the whole event's become a big smash up where we all come together because, well, it's fun." He's got that part right.
With food by Zengo and Table 6, libations from Blackstone Winery, Black Box Wines, Svedka, Zaya, and Casa Noble, we wrapped up the night feeling festive and feted and fabulous. Oh, and the view from the bridge... fantastic.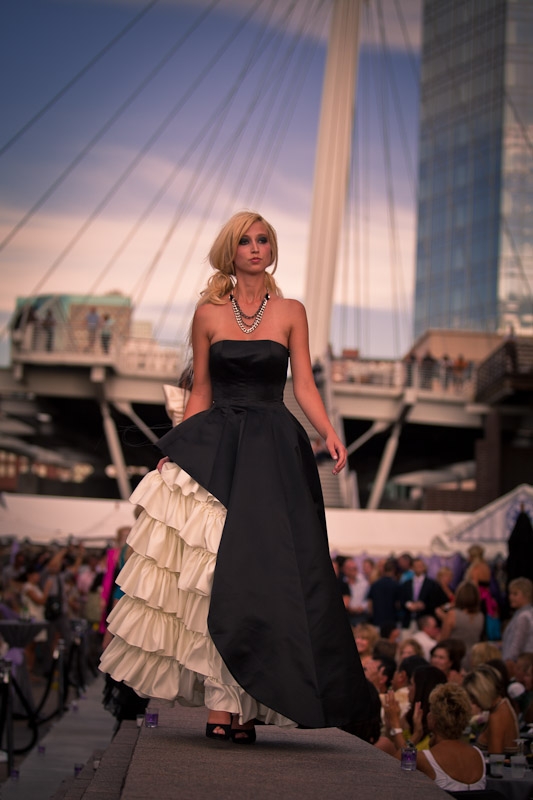 Betsey Johnson gown, Bogdan Photography


Sue Wong gown, Bogdan Photography.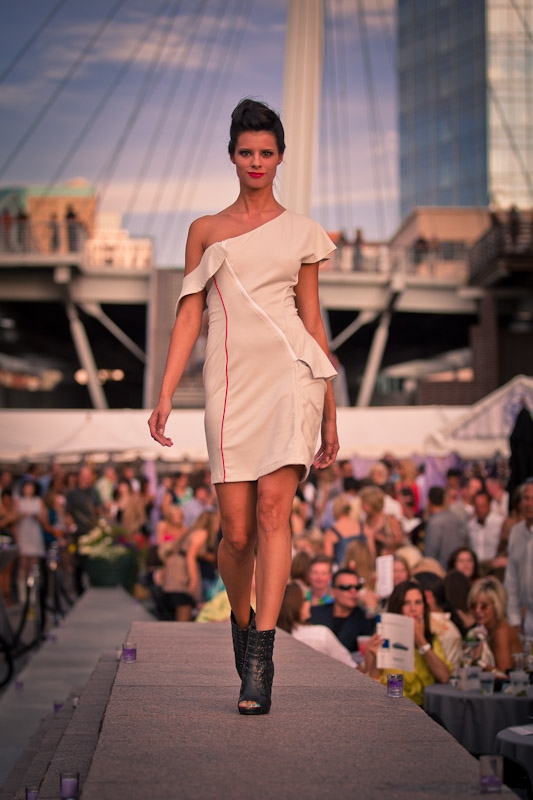 Gabriel Conroy dress, Bogdan Photography