Hope springs into the holiday season for many establishment Republicans. They crave an early Christmas gift--a decline of Trumpism. Will the Donald's latest antics--his call for a ban on Muslim immigrants-- serve as the avenger to his lead in the Republican polls? Maybe. Yet the hopes for the Fall of Trump are nothing new and could be as real as Santa preferring an elephant to elves.
Simply put, those wishing for Trump's demise may not actually see Santa by Christmas day this year, according to New Hampshire's Bob Burns, who is running for the state's' Executive Council. "Honestly, and this is one of the more awful things to say, but there's a certain group of people just obsessed with Donald Trump that I think are gonna vote for him, because he's almost like a Kardashian. He's famous. He's a Kardashian. He's on there all the time. He's Bruce Jenner!"
Bob Burns grew up and lives in Hillsborough, New Hampshire's only county that Bush won in 2000 and 2004 and Obama won in 2008 and 2012. Burns bleeds Republican. Mom is Leslie Burns, who served as a Republican member of the state house for three terms in the eighties. He has been so active as a Young Republican that Congressman Paul Ryan presented him with the Gipper Award at the organization's 2010 annual convention. Burns, a Trump supporter who describes himself as a 'Punk Rock Republican," says his candidate's latest rant may offend the GOP establishment, but will only bring Trump closer to--Ouch--Pennsylvania Avenue. Evidence? Widespread disgust by grassroots Republicans in New Hampshire to Jennifer Horne, the state's party chairman. The thunder of calls for her to resign continue after her criticism of Trump's comments in a Boston Globe interview.


"That was kind of the straw that broke the camel's back, and gave people more cannon fodder against her," says Burns. "Honestly, at the end of the day, Jennifer Horne needs to spend some time to get her life in order, because this is not working out for her. It's Christmas coming up, and I wish her the best."
Burns hopes to see Hillary Clinton as the Democratic nominee but he fears Bernie Sanders, worrying that the GOP would have a tougher time defeating Sanders in purple places like Hillsborough. "We are the anti-establishment state. I think that if you incite the base, you can win huge. And I think a Bernie Sanders or a Donald Trump could do extremely well in a general election here, because they're just simply anti-establishment....If it ended up being Bernie against Jeb Bush, I think a lot of Trump supporters would just be like "Screw you" to the Republican party and go with Bernie Sanders. It's this establishment control, and particularly when I talk to Independents.
"Listen, the Republicans eight years ago thought like, 'Oh, if we get Barack Obama to win the nomination, we're gonna win by a landslide!' We were idiots! That was so stupid! We couldn't win against Obama. Rush Limbaugh ran Operation Chaos. We were independent Republicans who were gonna go out and vote for Barack Obama in the Democratic primary because he had no chance! It was stupid! He was the candidate, because he was the outside guy. I mean, Hillary Clinton had all the super-delegates and stuff like that with the Democratic party, but Americans are craving -- particularly at the beginning of this election cycle, when we had been told that it was gonna be between Bush and Clinton again? Americans are craving an outsider. And look at the Republican party right now. Quite frankly, Bernie Sanders is crazy. I mean, I love the guy, but he's crazy. And he still is competing with Hillary, with 30, 40 percent of the vote. He's a nobody, he's an Independent from Vermont! Who's NUTS! And he's that competitive against her."
However, our survey of the editorial pages in Bush-Obama counties provides a more diverse mixture of sentiments--some embody signs that Burn's predictions of a more lasting Donald is crazy and real. Below are some pieces from editorial pages of newspapers in Bush-Obama counties:
http://www.mercedsunstar.com/opinion/letters-to-the-editor/article48510085.html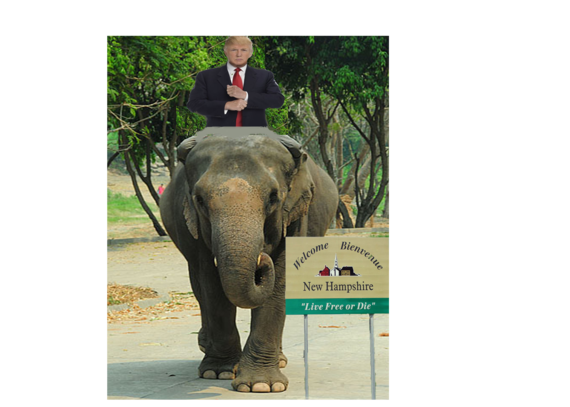 Designed by Owen Iwamasa
Calling all HuffPost superfans!
Sign up for membership to become a founding member and help shape HuffPost's next chapter