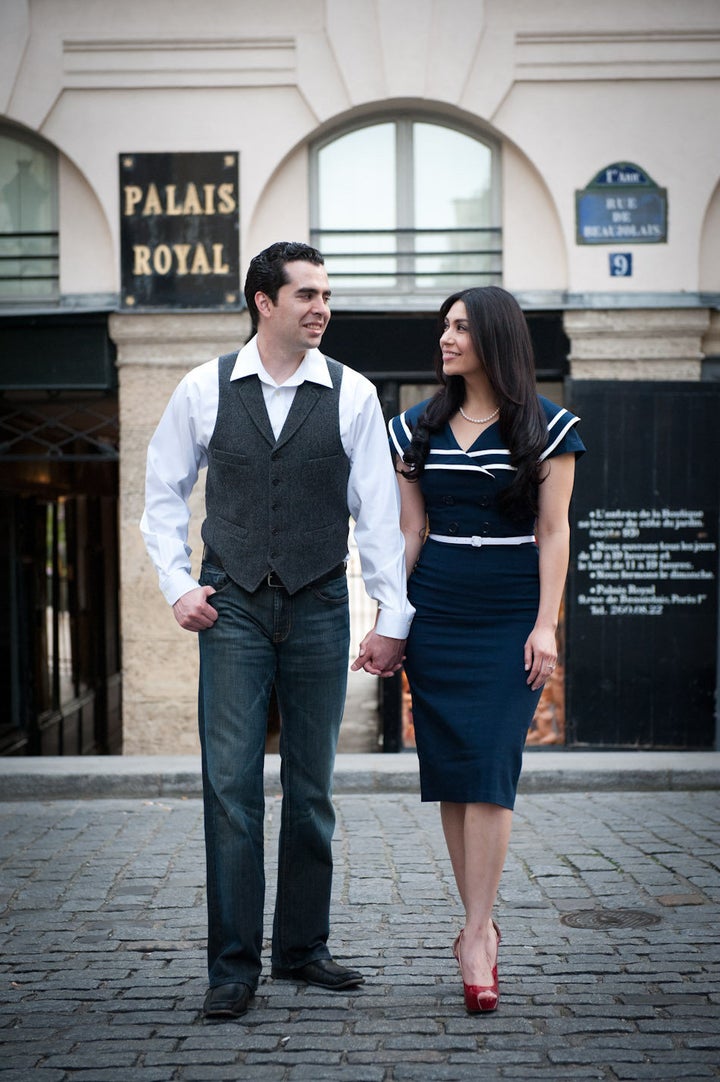 Sandy and Apollo from southern California contacted me to take their engagement photos in Paris. They wanted natural photos set against the beautiful architecture of the city of romance. After having visited numerous wedding blogs, they were also keen on having a vintage touch to the photos. As I tend to work in color, and do not over-treat photos, I told them that finding vintage outfits would be the best option. When I first met the two of them in their hotel near Les Halles in the center of Paris I immediately noticed Sandy's very stylish retro blue dress and knew that the photo shoot would be a hit.

Scroll down for photos
We started the session at the Pont Bir Hakeim (Bir Hakeim Bridge) that has a beautiful vantage point from which to view the Eiffel Tower. As always, I posed the couple a bit, took a few shots, and then waited until they began interacting with one another. This is when people forget about me and I'm able to capture their most natural moments together. I've actually found that the photos get better the longer we spend with one another. This is why I always advise couples to spend at least 4 hours with me, not just taking photos but also chatting and making them feel comfortable, relaxed, and loose.

Sandy and Apollo changed outfits in a quaint café near the Palais Royal and then I photographed them enjoying a cappuccino. After all, cafes exist on almost every street corner in Paris and they are indeed important in people's everyday lives. They are meeting places before work for a quick potent espresso, they are restaurants that serve lunch, and they are places to unwind after work with a beer or glass of wine. Like weddings, I approach these shorter photo sessions from a documentary perspective. I like to make images that capture the soul of a place and its people.

One of my favorite moments during the photo session was photographing Sandy and Apollo enjoying a bottle of champagne together on the banks of the Seine. It was a balmy spring evening and the light was perfect, just before sunset and the summer crowds had not yet arrived.

After sunset we ended the shoot at two of my favorite locations in the city, the Arc de Triomphe and the Trocadero with a view across to the lighted Eiffel Tower. There I always enjoy playing with silhouettes and Sandy and Apollo were the perfect models for this.

I wish them a wonderful wedding this summer in San Diego.