Shai Tal is a student of Middle East studies and management at Ben-Gurion University and a MYTecC instructor in Beir Shava', Israel. Raya Abu Zayad is a computer science student and a MYTecC instructor in Al-beriah, in the Palestinian Territories. They had one thing in common before they became MYTecC instructors: neither had ever met a person from the other's part of the world.
Mediterranean Youth Technology Club (MYTecC) offers young people a place to learn the skills they need to succeed in the global economy. Clubs in 8 countries are linked by a common purpose, an online community, and instructors who attend a weeklong face-to-face training. MYTecC creates a spirit of tolerance and understanding among instructors that spreads to their students and their communities.
Formed in 2007, MYTecC combines Cisco Networking Academy curricula with non-technology content, such as English language, leadership, and basic business skills training. Instructors are carefully selected community leaders who provide grassroots support and manage the program collaboratively. Each local MYTecC is run by a local organization such as Appleseeds Academy, an international organization dedicated to bridging social gaps by diminishing the digital divide, or Palestinian Vision (Ru'ya), a non-profit youth organization that leads programs to encourage participation and volunteerism of youth. Cisco, USAID, and Craig Newmark, founder of craigslist and craigconnects, have provided funding support.
In a weeklong, face-to-face training, instructors discuss goals, plan joint projects, and develop training modules for English language learning, media literacy, video editing, management, and entrepreneurship. They learn to deliver Cisco IT Essentials, a core Networking Academy course. The training gives instructors a neutral place to meet and important work to do. Some of the instructors are very sensitive about meeting people from other countries when they arrive. "By the last day of training, they were hugging and understanding that we are all human beings," said Rami Naser Eddin, the program manager. More than 50 instructors have been trained since the program began.
"It was very empowering for all of us; it gave us the motivation to connect with each other," said Said Alimi, an instructor in Nazareth. "This program was successful because of the great personal connections we built face-to-face." The instructors bring that spirit of tolerance and understanding back to their communities where they help students make the same connections to each other.
Since Shai and Raya met at the instructor training, they have become close friends. Despite the boundaries and borders that separate them, they regularly catch up, share experiences, and learn from one another using technology. "I hope that students will get the benefits of the training and meet more students all over the world," Raya said. "I hope they have a great experience in the MYTecC program."
When the instructors return home, they face the same barriers in their communities that they had confronted in themselves. Each MYTecC group recruits 20 students, aged 14 to 17, from communities where residents face educational and economic challenges. To participate in the yearlong study program, students must pass an English test (the common language used for communications) and are interviewed with their parents by the instructor.
Instructors found that youth were eager to learn technology skills, but reluctant to work with students from other cultures and countries. "My students did not want to communicate with an Arab group," said Shai. Rami found resistance among parents as well: "If we say we are going to meet with Palestinians, they say the kids are not available."
It is up to the instructors to meet with students and parents and explain the value of the program and the skills students will learn. The combination of the Cisco curriculum, the prospect of IT skills development, and strong, local leaders has made the difference. More than 1000 youth have participated at 16 local MYTecCs in Cyprus, Egypt, Israel, Morocco, the Palestinian Territories, Portugal, Turkey, and Yemen.
MYTecC uses social networking and collaboration technologies to create a virtual community and build personal connections that cross national, religious, and socioeconomic borders. Each student has a profile and access to discussions, groups, chat, video, and photo sharing on MYTecC Ning, a closed social network. "The students can socialize on the site and talk to each other," said Raya.
Everyone is invited to a weekly, scheduled chat. Students login from anywhere--even a phone--to participate. Organized projects and contests encourage students to work together, refining their digital skills as well as cross-cultural communication skills. MYTecC students create a video to introduce themselves and their homes to the others.
A photo project invited students to illustrate "what is the best of my culture and what is the worst?" Each group selected the best photo from their local club to share with the others. They all came to a consensus on the "best of the best." "We had many beautiful photos," said Raya. "The best was from Turkey, a smiling child playing with a mom."
After meeting online, Shai's Israeli students were excited to meet their peers face-to-face even though they came from a predominantly Arabic part of Nazareth. When it came time to travel to their neighborhood, Shai used her own experience from the MYTecC instructor training to help her students set aside their fears and come together. The face-to- face meeting gave the students free time to just hang out and connect with each other. Now, they are eager to meet again.
"Every one of us got something big out of something small," said Said, the Nazareth MYTecC instructor. "The perspective that we are all the same, we deal with the same stuff, and we can find subjects that are common between cultures and countries. My wish is that each of us will deliver this to anyone they come into contact with."
MYTecC participants develop valuable 21st century skills and, upon completion of the program, receive a professional certification that opens doors to the job market or leads to additional study in designing, building, and maintaining networks. But more importantly, they carry with them a new awareness of the world around them.
When they learn more about others and the lives they lead, the students have a new perspective on their own challenges. "They start to feel that they are lucky," said Rami. "Before, they thought they were the only people suffering in the world."
"It's changed their minds," said Shai. And that change will influence everyone around them as they show others that they trust and accept their neighbors. "My hope is to make an impact on the students, the same impact I experienced. To give them a different angle on the situation and hope for the Middle East."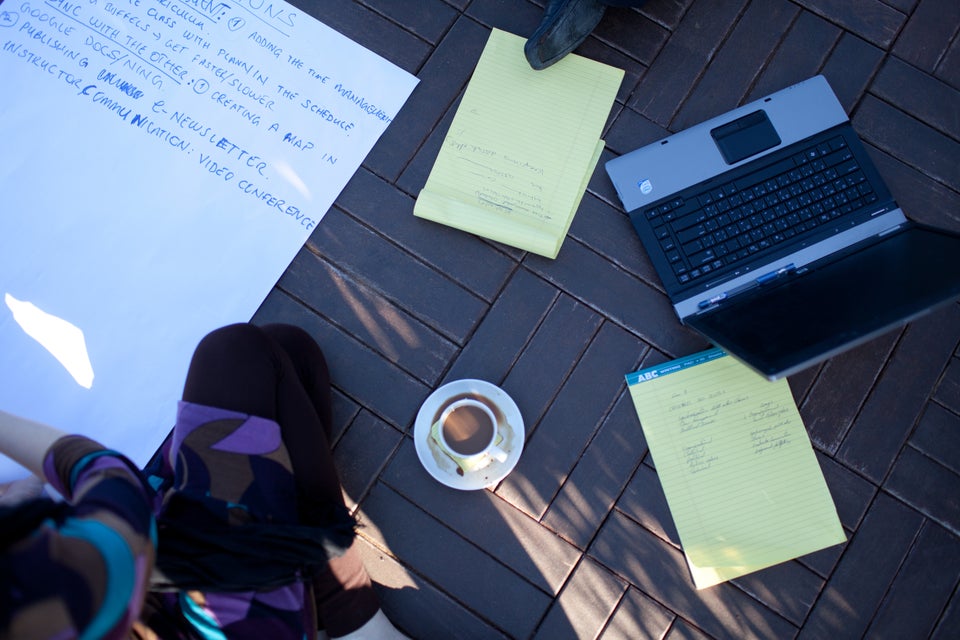 MYTecC Instructor Training
Learn more about Cisco's Corporate Social Responsibility: csr.cisco.com