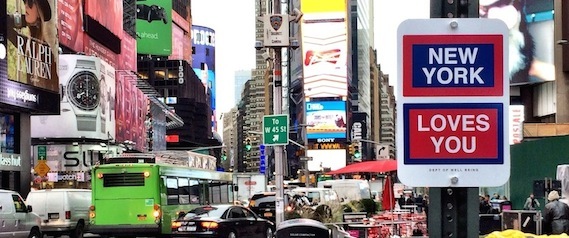 Have you ever thought about how many street signs you see on a daily basis? As I sit looking out of my apartment window I can see 34 in my direct line of sight.
Street signs are perfectly simple and straightforward communication mechanisms that, for almost 100 years, have remained generally unchanged and unquestioned. In fact, the only major changes to street signs have been the result of human innovation, i.e. when we moved from horses to cars and when technology helped move from light reflective glass beads to reflective sheeting and electricity.
As a British guy who moved to New York in January 2013, I was instantly struck by the sheer quantity of street signs, portraying "don't," or "no" messages in Manhattan. One sign captured my attention more than the rest, the now defunct "Don't Honk $350 Penalty" sign which would become an important inspiration for my next stage of painting.
Before the move, I spent eight years painting large abstractions live on stage with some of the world's greatest bands (I have sound/color synesthesia.) Yet, as I sat down to paint in my new home, all I could see was that "Don't Honk" sign - two rectangles at the top and bottom, two colors and four words; so that's what I painted, the opposite of abstract expressionism.
Instead of using the words on the official signs I incorporated positive words to express how I felt about New York City. It was at this moment that I realized the street sign had evolved from a one-way command, into a two way emotionally inspiring communication channel.
I have seen similar evolutions in my parallel career of strategic change consultancy and portfolio management. I help corporate and governmental clients change by injecting positivity and creativity into their structures - which leads to an increase in organisational energy and employee happiness. One of my most successful assignments was at the Office for National Statistics, the UK government department that measures well-being (how people feel about their social, economic, political, cultural and environmental conditions.)
As part of my consultancy, I'm seeing more brands position well-being at the heart of their strategies. Governments such as Bhutan and Venezuela are creating departments of happiness, and in both the US and UK, 'nudge' teams have been set up to focus on behavioral psychology. This gets more interesting when we bring in urban planning and neuroscience research, which shows that community aesthetics are a key contributor to our happiness at the same time positive emotions can change our thoughts, and lead to changes in our behaviors.
It was only after moving to New York City that I realized all my experiences... painting, advising executive boards, creative workshops, statistics and writing books about organizational change...gave me a unique set of tools to create the Dept. of Well Being and start a global social impact initiative, which is powered by public art installations entitled Happy Street Signs™.
New York City got the first Happy Street Signs last November. I used my paintings containing positive phrases like "Honk Less Love More" and "New York Loves You" to manufacture 200 government-specification street signs. They were then installed by a team of fifty volunteers around Manhattan and Brooklyn in 90 minutes. Whilst it was unofficial, the objective was to generate smiles for New Yorkers and then survey reactions. We got clipboards out and asked over 600 New Yorkers if they liked the Happy Street Signs and if they wanted more: 92.5 percent of those people said yes!
This whole journey has led me to an exciting moment. After meeting Mayor Ras Baraka, we now have full approval for Newark's Happy Street Signs and I must express my gratitude to the Mayor for taking a risk on such a unique progressive project. In three weeks, Newark, New Jersey will become the first city in the world to officially install Happy Street Signs. The aim of this citywide installation is sharing positive messages to the people from the people, to use art to inspire and generate feelings of collaboration and connectivity. All of which are recognized as key factors that drive our feelings of happiness - money, health, access to facilities and aesthetics also contribute.
For this to work, it is vital that the messages on the signs are relevant to the people of Newark. Which is why I've spent the last eight months curating Happy Street Sign workshops with almost 250 students from Newark's public and private schools, as well as juvenile detention centers. It's been an incredible experience working with these young people, the stories, purity and sincerity within the messages are astounding.
10 messages have been selected to make up the 200 Happy Street Signs that will installed. The first Happy Street Sign will be installed by Mayor Baraka following a press conference in Newark on Wednesday October 15, 2014. A caravan of community volunteers, lead by the Newark Anti-Violence Coalition will install 100 Happy Street Signs that day. The remaining 100 signs will be installed over the next twelve months during the mayor's weekly community walks.
If you would like to connect with the project or join the community Happy Street Sign installation please contact: @DeptOfWellBeing #HappyStreetSigns
(Video courtesy of filmmakers Sean Flax and Omar Kasrawi, who are making a documentary film about the project.)
Related