Rows of elevated solar panels rise up from the cacti garden in front of the new Las Vegas City Hall. At night the harnessed solar energy lights up a blue-toned electronic display on glass fins across the building's façade. It's the perfect venue for a presentation on the intersection of renewable energy and art by internationally renowned Land Art Generator Initiative (LAGI).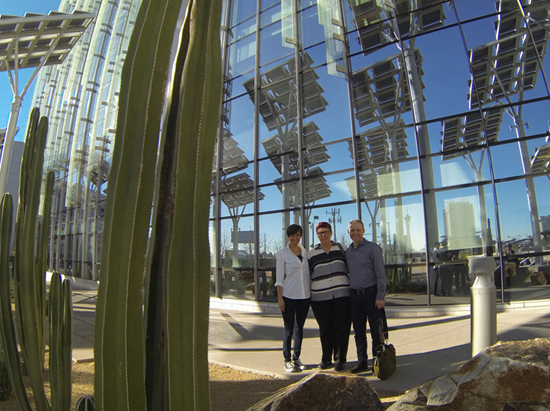 LAGI co-founders Robert Ferry & Elizabeth Monoian have partnered with Pam Stuckey of Las Vegas-based organization Renewable Envoy to lead discussion on the expanding role of technology in art and how it can help to shape the aesthetic impact of renewable energy in the design of public spaces. Alongside community education programs, LAGI is now holding it's fourth biennial international design competition focused on utilizing clean energy. The 2016 design site is Santa Monica and previous sites have been Dubai, Abu Dhabi, New York City and Copenhagen. The winning entry in the 2014 award was Solar Hourglass by Argentinian artist Santiago Muros Cortés.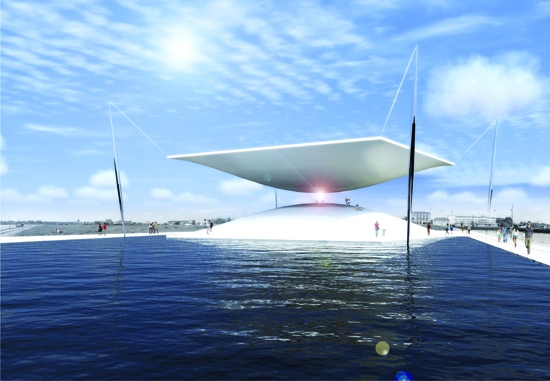 Could Las Vegas feature as a future competition design site? Ferry and Monoian describe the potential they see for working with both public and private institutions within The City of Las Vegas and Clark County, Nevada.
"The region combines ambitious sustainable development goals, a vibrant artist community, proximity to awe-inspiring landscapes, a delight in the spectacle buoyed by a tourist economy that is seeking to diversify, and a near future of increasing growth. A strong desire for renewable energy and water infrastructure in Las Vegas meets up with a commitment to maintain the unique cultural landscape and historic tapestry of the city."
Both LAGI and Renewable Envoy are aiming to foster creative developments utilizing the renewable energy that is abundant in Nevada. Public outcry over a recent decision by Nevada's Public Utilities Commission to revoke previous compensation rates for rooftop solar systems has dominated the media. However other progressive clean energy projects have been initiated in the State. The City of Las Vegas recently announced its intention to achieve 100 percent renewable energy for city operations including all parks, community centers, fire stations, service yards and public buildings. Another large-scale renewable energy project already underway is the 250-megawatt Moapa Southern Paiute Solar Project on the Moapa River Indian Reservation, with further projects on tribal land in development.
Ferry and Monoian have just completed workshops with Maasai artisans in Kenya and will be returning to Las Vegas in mid-April to further develop relationships and deliver a lecture on The Aesthetics of Renewable Energy.

"Art has the proven ability to create movements and stimulate creative dialogue. The artist community has long taken a critical approach to the problems of energy use and production, which has helped to open the public eye to the severity of the problems facing us. The time is now for artists to go further and take an active role in solving the problem through their own work: 'solution-based art practice'."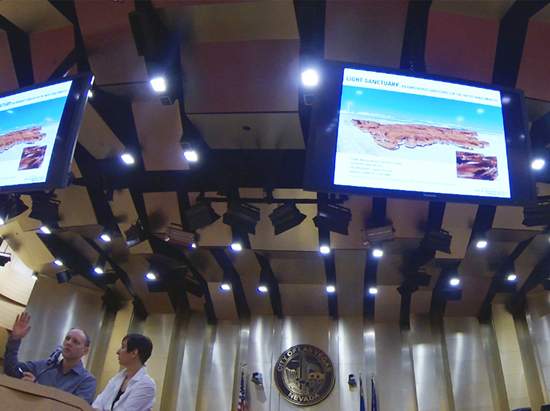 Popular in the Community