Horse sense is the thing a horse has which keeps it from betting on people.
I recently found myself thinking about horses -- a lot. Maybe it was the particular brouhaha that surrounded California Chrome, that lovely chestnut colt with four white feet who had, at best, a most unlikely bloodline. Chrome, though he came from the wrong side of the tracks, didn't know he was no blue blood. That was part of his charm. That's what won our hearts. At about the same time that he'd won the Kentucky Derby and the Preakness, I happened to be reading a biography of Queen Elizabeth II and learned that she has had a keen interest in horses since, at age four, she was given a Shetland pony named Peggy. This diversion developed over time into one of her main leisure activities with a particular emphasis on the breeding of thoroughbreds. I learned that she sometimes sent her horses to be bred in Lexington, Kentucky, home of the top horse farms in the country, as well as the famed Keeneland horse auctions held each autumn. The Queen's prized horses right here on our own soil? Intrigued, I decided to pay a visit to Kentucky for some authentic equine excitement.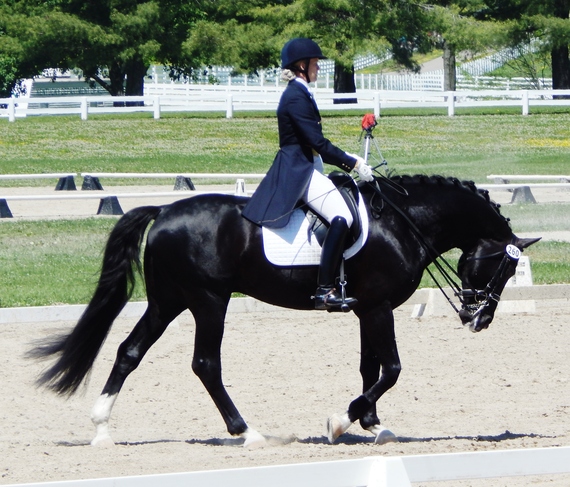 Gentle Voices Are Silenced
As it turned out, during my sojourn I saw these majestic creatures wherever I looked. Lexington is horse country in every sense of the word and, on my drive from the airport, I was enthralled with the spectacular scenery: the rolling hills of Kentucky's famed Blue Grass region with pretty red barns, fields and meadows sprinkled with wild flowers and encircled by miles of white horse fencing that enclosed beauteous thoroughbreds and their foals. Arriving at Shaker Village at Pleasant Hill in Lexington, the picturesque scene continued. Meandering tree-covered lanes, a pasture with two elegant white horses that moved in tandem, seeming to pose for my camera and across the lane, colorful Highland cows, their long russet coat flowing in the breeze. A real treat was the appearance of a rare Randall cow - one of only 300 in the world. She was large, white and regal with splatterings of black across her face and back. After lunch in the Village dining room, I took a leisurely cruise down the Kentucky River on the Dixie Belle paddle wheeler, one of the Village's fun activities. The green of the river matched the verdant forest on either side as the afternoon sun played upon the water.
Shaker Village is the largest Shaker community in the world with 1,900 acres of farmland and 34 restored 19th century buildings. The Shakers were a religious sect that flourished in the 18th century but owing in part to their belief in celibacy, towards the end of the next century the sect became extinct. Luckily, Shaker Village is, once more, a flourishing property with a lively community of people dedicated to preserving the Shaker lifestyle. I spent the night in an authentic home: separate doors for men and women to enter and ascend stairs to their separate bedrooms (is it any wonder that Shaker communities eventually died out?). There are 70 guest rooms, suites and private cottages on the property. My room was large, with Shaker reproduction furniture, hardwood floors, private bath and -- icing on the cake -- a memory-foam mattress atop my king bed. The next morning I had a walking tour of the Village and as I entered each building, the Shaker presence was strongly felt. The sparsely furnished rooms had a pervasive mood of solitary aloneness which made me wish that these celibate people figured out, before it was too late, that they needed to loosen up a bit and for heaven's sake, procreate!
No visit to Kentucky would be complete without visiting some of their famed bourbon distilleries and the Buffalo Trace Distillery is one of America's oldest. On the tour, I observed the entire process of turning corn, rye, and malted barley into world-renowned Kentucky Bourbon. At the Woodford Reserve Distillery, I learned that it is the only facility in the state making bourbon with the original Scottish
method. There were some fine exhibits on the history and heritage of this beloved beverage and lunch on the front porch was a great way to end the distillery tours -- topped off, natch, with a splash of pure, perfect Kentucky Bourbon.
A highlight of my visit was the Kentucky Horse Park that is dedicated to man's relationship with the horse. The park is one of Kentucky's premiere attractions and unlike any other in the world with its showcase of museums, galleries, theaters and working farm exhibits. Fifty breeds graze on its 1,200 acres of lush pastures and everything you've ever wanted to know about the horse is here, including a working farm, the Hall of Champions and the Horses of the World exhibit. At the Park one can take Shawn Washington's Unique Horse Farm Tour. Knowledgeable in all things horse and particularly Kentucky's history of horse racing and breeding, his behind-the-scenes tour of famous horse farms and equine-related facilities is absolutely not to be missed! Mr. Washington began his tour by taking us to the Rood & Riddle Equine Hospital. He explained that this is one of the foremost equine hospitals in the world, established in 1986 -- a leader in equine veterinary care.
As we walked into the reception area, we faced a large window to one of the operating rooms. A masked and gloved nurse was readying the room for doctor and patient. Within moments, double doors swung open and there on a gurney-cum-operating table was a sight I found somewhat alarming -- a totally sedated horse lying on its back, his hind legs drawn up almost to his stomach and his left front leg strung up straight and fixed in place.
The surgeon then drilled a screw into the horse's ankle which would ultimately adjust its abnormal gait. This was a once-in-a-lifetime sight that was difficult to watch but utterly fascinating, start to finish. Shawn Washington is wildly entertaining and enlivens his tours with his vast knowledge of horse history and fascinating tid-bits that one would hear nowhere else. Our behind-the-scenes tour brought us up close and personal with the celebrated stables of Calumet Farm and Keeneland and we visited million-dollar thoroughbreds with their adorable two and three-week-old foals.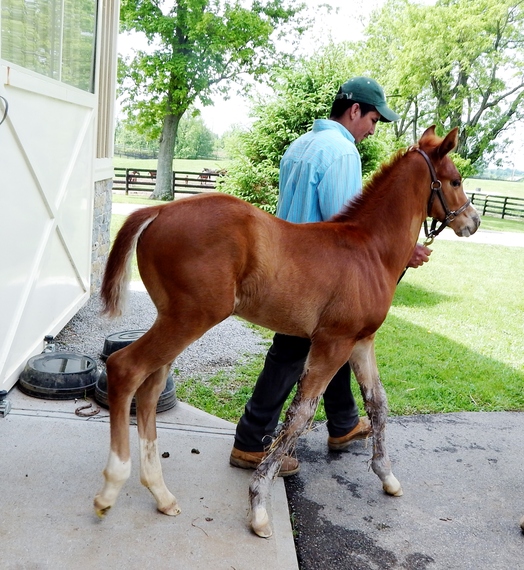 Lexington, Kentucky: Horse Capital of the World
I came away from this engrossing equine experience with a firmer knowledge of what goes into the fine and exacting art of horse breeding. I was captivated by the beauty of the Kentucky countryside and gripped by the towering Man 'O War statue at the entrance to the Kentucky Horse Park. I will always remember the classic and classy Calumet Farm (but will try to erase the vision of that farm's particular stall where the great Alydar met his tragic end); I will reflect often on the serenity of Shaker Village and my strolls along its sun-dappled lanes; I'll have a finer appreciation of horse racing and the complex business of breeding these wonderful animals. But above all when I remember Kentucky, thoughts will return to my peeking into pristinely-kept stalls and finding tiny, just-born foals lying languidly as their elegant mothers protectively hovered over them. The tenderness of those images will stay with me forever.
Popular in the Community