Ever wonder what it would feel like to be kissed by a wolf?
For so long our collective view of wolves has been negative and we may think of them with fear. However, these beautiful creatures are actually very skittish, sweet, and gentle beings that are here to teach us about leadership and partnership. They serve humanity as healers, teachers and companions.
In Acton, CA, about an hour from Los Angeles, there is a magical place called Wolf Connection. This sanctuary is home to over twenty wolfdogs. Most of them came from troubled backgrounds where they were either abused or misunderstood by the humans in their lives. Some were rescued from death's door which makes their stories even more touching. The wolves are paired with at-risk youth and recovering addicts (as well as other groups) in empowerment programs to teach non-violent communication. This video explains it all!
Visiting Wolf Connection was on the top of my bucket-list and I've always wanted to learn animal communication as well. So I jumped at the chance to do both when I saw an email from Lori Spagna for a unique fundraiser that paired them together. Lori Spagna is an intuitive, animal communicator, energy healer, coach, and canine behavioral expert whose mission is to be of service to all animals, human and non human, on a global scale and assist with the awakening process which is happening now on earth.
Despite 100+ degree heat, a group of animal lovers joined together for a tour of Wolf Connection led by one of the volunteers who told the emotional stories of each wolf at the sanctuary. I loved every one we met but felt a special connection to the alpha wolf named Maya who exudes regal Queen energy of balanced masculinity and femininity, leadership, and confidence.
Image of Maya & Kate Photo credit: Kate Neligan
The one hour tour was fantastic and the day became even more incredible as Lori's animal communication workshop began. For a couple hours the group learned all about the science of animal communication as well as the "how to" which included a special meditation which took us into a theta brainwave frequency.
After we learned the basics we each practiced with one of the wolves. I was surprised at how easy and fun it was using Lori's methods. Lori has a natural talent to teach and she covers a lot of important information in a short amount of time. My experience of her is that she is extremely intuitive and can read people and animals quickly and accurately. She has a passion to educate and help animals and humans connect to their true power.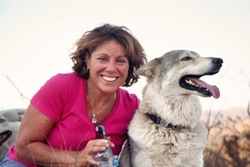 Image of Lori at Wolf Connection Photo credit: Lori Spagna
One of my favorite parts of the day was a 3.5 mile hike with the wolves as the sun was setting. Since some of the wolves were off-leash many of the participants received kisses from the wolves. For me, it was a moment of transformation from fear to love. I learned to be vulnerable and trusting in that experience.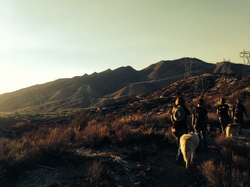 Image of hike with Wolf Connection Photo credit: Kate Neligan
Lori ended the workshop with a long healing meditation where she infused our circle, the wolves, and the planet with qualities such as peace, joy, prosperity, and love. I felt so uplifted and blissful when we finished. The most magical moment was when the wolves all howled in unison at the end of our meditation. It was as though they knew the perfect moment to join in and their call washed over us like a sound bath. It was impossible to hold back tears.
As I drove two new friends home that night, I felt very grateful for people like Lori, and the volunteers and Founder (Teo Alfero) of Wolf Connection, that are voices of support and love for animals in need.
Pairing humans and animals together for personal development is a somewhat new but growing field that creates real synergy, deep learning and powerful changes. I'm grateful to do it with horses and humans in Malibu and it's incredible that wolves are also such helpful partners in teaching critical social skills.
The event fueled my deep desires to learn more about animal communication and to continue supporting Wolf Connection. This non-profit is looking to expand to a larger property so send them positive vibes please. You can learn more and support Wolf Connection here. You can also learn more about how you can work with Lori Spagna here.
Related
Popular in the Community