While Slovenia is a stop on countless rapid-fire tours through the Balkans, what many people don't know is it's a must-see destination in its own right that deserves much more than 24 hours on-and-off a bus. From stretches of gorgeous greenery, hidden underground worlds, relaxing thermal waters, and rustic home cooking, it's a place sure to provide endless opportunities for exploration. Whether you're looking for an inspiring capital, an extended hike through fresh mountain air, relaxing waters, or a customized cave excavation, Slovenia can accommodate any variety of travel adventures.
Spend a week at minimum, but don't be surprised if you end up extending your trip. Here are some top destinations when planning a trip in this Balkan paradise.
Ljubljana is a capital city quite unlike any other. Lying between the Alps and the Adriatic Sea, it's a city full of inspiration and knowledge, rivaling any European capital, yet with a certain serenity rarely found in urban settings. Turn any corner and enjoy the gorgeous Art Nouveau architecture. Enjoy the city center's completely car-free zone. Wander around its cultural highlights and sit down to a hearty meal of local meat. Sokol offers a hunter's plate with stag, wild boar, and venison all on one plate, with accompanying dumplings and sweet cherries. For the more daring foodie, try the traditional foal dish.
Ljubljana is small enough that you can set out on foot and hit most of the city's cultural institutions. Don't miss the National and University Library, designed by Jože Plečnik, a student of Otto Wagner. The Art Nouveau masterpiece houses important medieval manuscripts, Renaissance works, and literature through modern times. Stand outside the building and look up, and you'll see the outward-facing windows take on the shape of open books. Inside, a dark staircase ascends upwards into the light, ending on a symbolic alter of knowledge. UNESCO bestowed Ljubljana the World Book Capital just two years ago. It's a culture the city takes seriously, with literary events held throughout the year.
If time permits be sure to visit the Slovenian Philharmonic Orchestra building, which served as home to no less than Mahler, Liszt and Hayden at various points in time. The impressive Ljubljana Castle is a former fortress turned gala space with the best views of the city. The Town Hall building, dating from the 15th century, houses a spectacular collection of sculptures by Lojze Dolinar. Stop by the Škuc Gallery for an always well-curated collection of contemporary and conceptual art.
Stay at the Antiq Palace Hotel & Spa and feel right at home. The hotel offers apartment-style rooms with all amenities. Walk downstairs to a welcoming breakfast spread and feel like you're sitting in your own living room. The staff doesn't scrimp on that famous Balkan hospitality. Sit on the golden furniture and enjoy rich local coffee. A modest but well-rounded spa and sauna is open 24/7.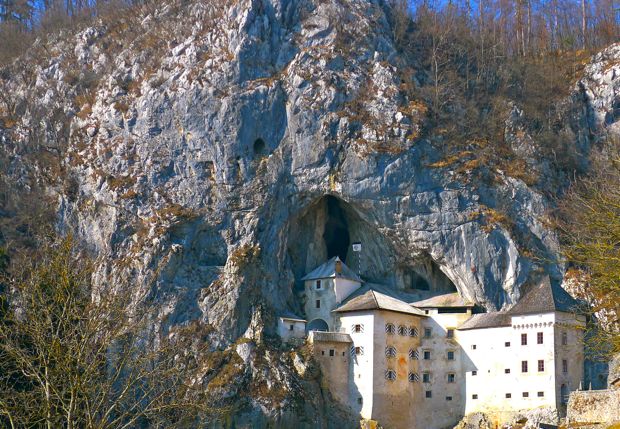 Slovenia is home to over 9,000 karst caves, twisting and turning underground cities full of natural wonders only seen in the dark. Legend dictates that karst caves are where dragons are born. The best of these, the Postojna Cave, is only a short train ride away from Ljubjlana. Opened in 1818, Postojna is a stone fairytale come to life, where flowstone sculptures drape in folds like lace on the most intricate couture dresses and massive stalactites drip overhead like royal chandeliers.
Start in the Vivarium, or Proteus Cave, a newly opened underground zoo, a gallery in darkness home to examples of the 150 cave species that call Postojna home. Among the blind creatures including singular scorpions and beetles, is the proteus or "human fish," a pale vertebrate that lives up to a 100 years. Then get onboard a miniature train and dive deep into the center of the cave, passing beneath menacing arches rich in stalactites. Once in the cave's center, get off the train and explore by foot the cave's greatest sites. The Gothic Hall presents intricate drop stones while the White Gallery feels like a walk through Narnia. The Red Hall allows visitors to experience the endless color structures in the landscape. A spaghetti gallery teases visitors with streams of thin stalactites growing slowly from the ceiling. And toward the end, discover the "Brilliant," a giant drop stone sculpture, shining like a giant ice cream cone hundreds of thousands of years in the making.
A short drive from the cave brings you to Predjama Castle, a legendary medieval fortress that literally hangs in the middle of a rocky cliff. The almost impenetrable fortress served as shelter for many adventurous spirits, most famously the robber knight Erazem. Today it's home to a Renaissance festival that rivals any on the planet.
Wine enthusiasts must spend a night in a vineyard cottage for a taste of local life. Relax in the countryside in the wine-growing region of Posavje where you can rent a typical vineyard cottage and truly get away from it all among small wooden barns, granaries, beehives and haystacks. Go for a bike ride or a walk on a heritage trail, and return home for a warm spread homemade sausage and bread alongside a glass of ruby Cviček.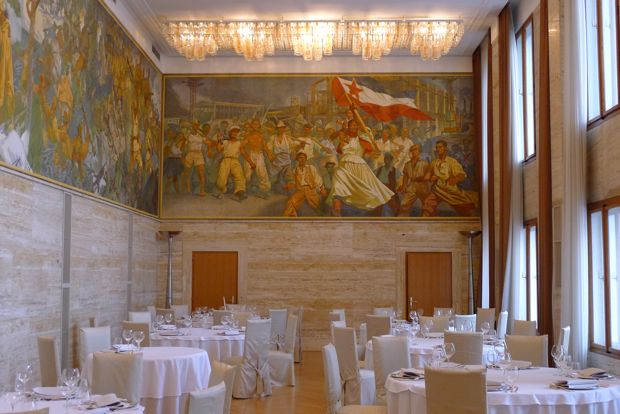 While Europe is famous for any number of gorgeous lakes, I haven't found a more peaceful setting than Bled. This year-round resort town serves as a favorite for summer sun seekers, springtime rowers and winter sports enthusiasts. Stay at the Villa Bled, General Tito's own former summerhouse. The Tito suite features a modest Yugoslavia-era décor for those wanting the full experience. The restaurant boasts a four-star cuisine that would have impressed even the general himself. Stop by the Concert Hall, an event space filled with an impressive mural depicting key points in communist history. Here Tito, a big John Wayne fan, screened Westerns for himself and his closest friends.
For an even quieter evening, head to Lectar in Radovljica. This living museum, pension and restaurant lets visitors stay in a 500-year-old home where they can witness firsthand the making of gingerbread ornaments. Pick up an assortment of souvenirs which can be decorated personally for friends and family. These well-preserved gifts can last forever, but are not for eating. Try the in-house restaurant for some amazing dishes that will satisfy both carnivores and vegetarians alike.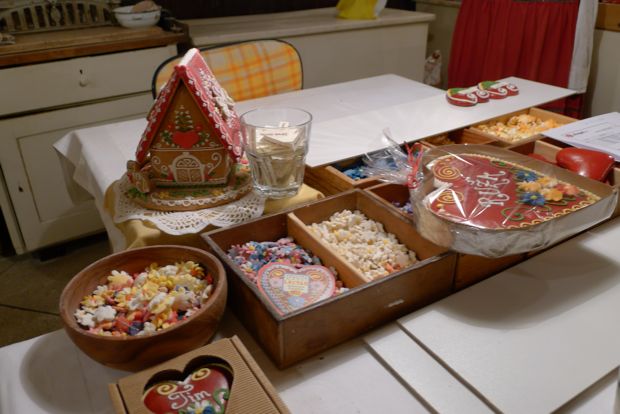 History enthusiasts will find endless amusement in Slovenia, with museums full of rich artifacts and stories from modern times all the way back to prehistory. Spend an afternoon at the Dolenjska Museum in Novo Mesto, home to the spoils of the Kapiteljska Nijva site, one of the largest archaeological finds in Central Europe. With a focus on the Halstatt period, or the Early Iron Age, the Museum offers rare examples of decorated situlae, metal, pottery, and scores of amber and glass beads, hinting at the extreme wealth of the area at the time. More recent exhibits give an intimate look into life under Hapsburg rule and during the Second World War.
End your week with a stop at one of Slovenia's eighty-seven natural thermal spas. With fifteen natural health resorts, Slovenia is one of one the most wellness-rich areas in central Europe. Visitors from across Europe descend upon the first-class thermal springs for revitalizing treatments such as a detox, massage or medical treatment. Dolenjske Toplice leads the pack with ancient techniques combined with modern wellness advances. Hotel Balnea offers luxurious stays overlooking nature and can customize a wellness plan for you making full use of the area. Their attached spa center offers indoor and outdoor thermal swimming pools, a Finish sauna and Japanese sweat bath. It's the perfect way to recharge before heading home.