All eyes are on the Supreme Court as America awaits a final ruling on marriage for same-sex couples, expected this summer. Oral argument took place on April 28, with attorneys making the case on behalf of plaintiffs in marriage cases out of Ohio, Tennessee, Kentucky and Michigan. In total, 30 plaintiffs are represented in the consolidated cases.
But this journey has been a long time in the making, and Americans from all walks of life have been a part of it. On the eve of the oral argument, more than 75 plaintiff couples in 55 marriage cases representing 33 states gathered for a special evening of commemoration and celebration, alongside Freedom to Marry and special guest, Valerie Jarrett.
Take a look at this new video featuring footage from the event. And read the stories, below, of some of the plaintiffs who attended, including some whose stories you may not have known until now.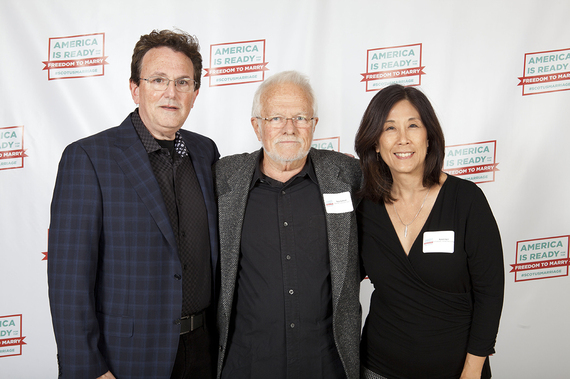 Tony Sullivan, 73, married his partner Richard Adams on April 21, 1975, in Boulder, Colo., long before marriage for same-sex couples was on most Americans' minds, and longer before a majority of Americans were in support. When Richard requested that his new husband, who is from Australia, be given a spouse's visa, the official denial from the U.S. government referred to them as "two faggots." The denial sparked a first-of-its-kind lawsuit in federal court. The two were together for more than 40 years, until Richard sadly passed in 2012. Today, Tony has a new film being released through PBS called Limited Partnership showcasing his and Richard's love, in partnership with Freedom to Marry. In this picture, he appears with his two filmmakers.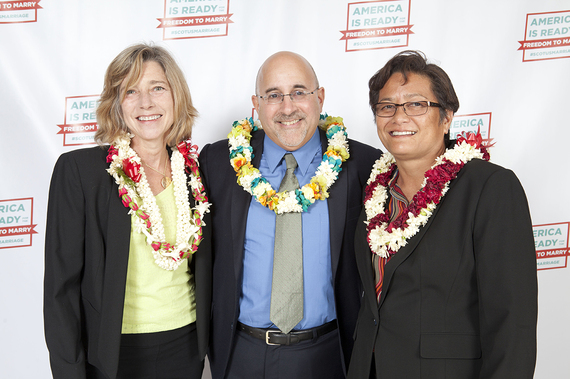 Ninia Baehr and Genora Darcel won the first freedom to marry court case 19 years ago in Hawaii, which launched the ongoing global movement for marriage. The Hawaii Supreme Court ruled that the state must provide a justification for refusing to issue marriage licenses to same-sex couples, and Ninia and Genora became the poster children of marriage. In 1996, Judge Kevin Chang ruled that Hawaii had failed to prove a justification for marriage discrimination. The decision was placed on hold pending appeal and later nullified by a constitutional amendment, but Hawaii marked the first landmark victory for the freedom to marry.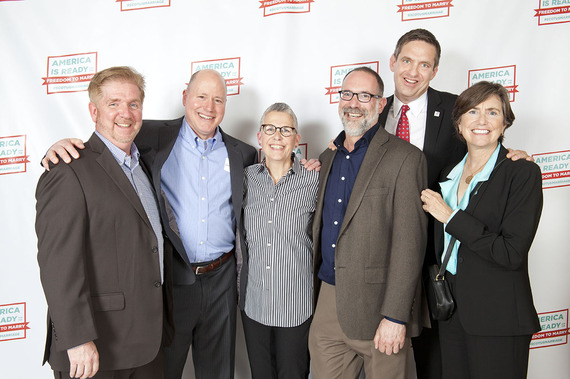 In 2003, Julie Goodridge was one-half of the lead plaintiff couple in the now-famous Goodridge v. Department of Public Health, which made Massachusetts the first state where same-sex couples could share in the freedom to marry. For the first time, Americans saw firsthand that marriage for same-sex couples helped families and harmed no one. Julie and her wife Hillary eventually separated after 19 years together, but remain good friends and worked together to raise their daughter Annie, who is now in college. In this photo, Julie is joined by others in the team that won marriage in Massachusetts, including Freedom to Marry's national campaign director Marc Solomon and fellow plaintiffs Ed Balmelli and Michael Horgan.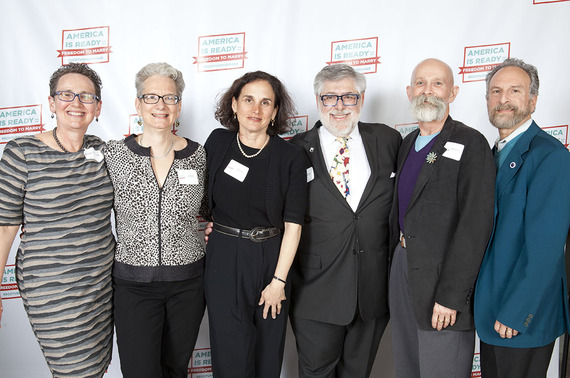 Mary Jo Kennedy and Jo-Ann Shain, who have been together for more than 30 years, were plaintiffs in the 2004 Lambda Legal case that spurred the movement for marriage in New York. They became one of the first couples to marry when the Empire State finally ended its marriage ban in June 2011. The New York victory was transformative: It marked the first time a Republican-led chamber voted for marriage, and it more than doubled the number of Americans living in a state where same-sex couples could marry. In this photo, Mary Jo and Jo-Ann appear with Jon Davidson and Susan Sommer of Lambda Legal, two members of the legal team who participated every step of the way, and other plaintiffs in the New York marriage case.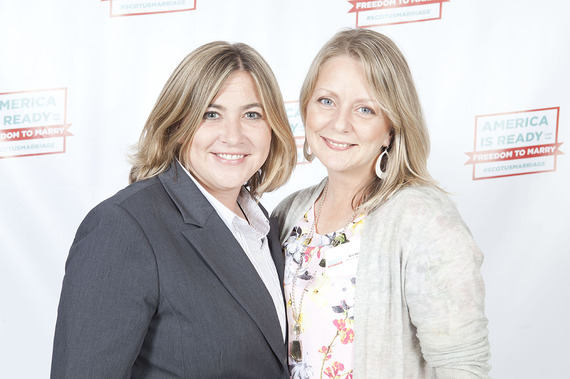 Cari Searcy and Kim McKeand filed a lawsuit in Alabama in 2014, after having been together for nearly 15 years. The lawsuit sought respect for their legal marriage in order to share in all the protections needed to care for their son Khaya. When Khaya had to undergo surgery on his heart shortly following his birth in 2005, Cari was told she was not a legal parent and could not administer any care to her son. In January 2015, a federal judge ruled in favor of marriage in Alabama, but a March order has temporarily halted the issuing of marriage licenses in Alabama. The National Center for Lesbian Rights, the ACLU of Alabama, and the Southern Poverty Law Center have filed a motion seeking class-action status to bring the freedom to marry statewide in Alabama once and for all.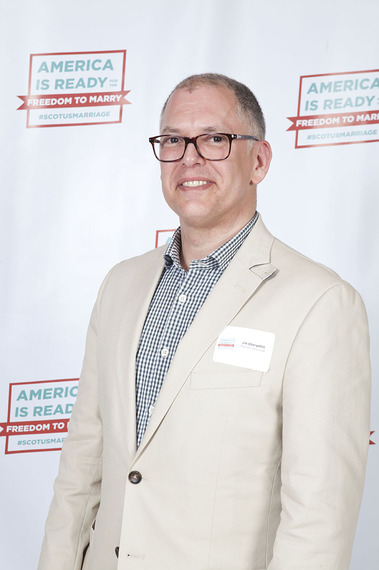 Last but not least, every plaintiff in the marriage cases at the Supreme Court this year joined the event, including Jim Obergefell of Obergefell v. Hodges. He and the rest of the plaintiffs represent and reflect the diverse array of same-sex couples who continue to be denied the freedom to marry -- couples who can't share in crucial protections that would put both their names on their children's birth certificates, a widower who wants the simple dignity of having his spouse's death certificate read "married," and people aspiring to the dream of love and commitment affirmed.
As we look forward to a decision, we hope to keep the celebrations going this summer. We hope the justices see what a majority of Americans and so many lower courts have come to see: It is time to end marriage discrimination nationwide, leaving no state and no family behind. It is time for the freedom to marry.
(Photo credit: Judy G. Rolfe.)
Calling all HuffPost superfans!
Sign up for membership to become a founding member and help shape HuffPost's next chapter