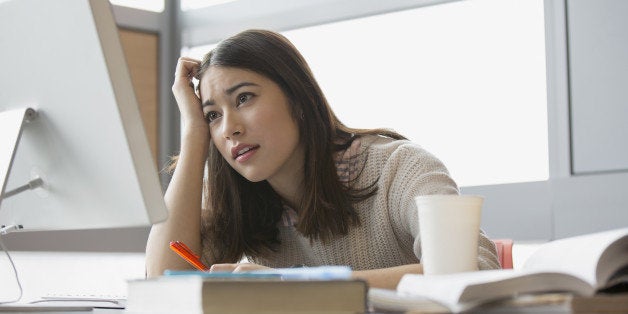 July marks the official beginning of summer here on the East Coast. The Jersey Shore is packed, friends are filling up their mini vans and heading with their families for the mountains, and state and national parks are overflowing with visitors.
For many, July is also a month of transition. Recent college graduates who took a "break" after graduation are now realizing it's time to buckle down and start looking for what's next. Many young adults will finish their term of service with program like AmeriCorps and Jesuit Volunteer Corps. And for others, the calm of the summer months offers a time of reflection and planning.
While most of the conversation will be about finding a job and establishing a career, there is a growing trend, thanks in large part due to the efforts of the Lilly Endowment, to think about our life's work in terms of vocational discernment.
What does that mean? Well according to the dictionary,
Vocational (adjective): a strong feeling of suitability for a particular career or occupation. a particular occupation, business, or profession; calling, a strong impulse or inclination to follow a particular activity or career,
Discernment (noun): the faculty of discerning, discriminating, acuteness of judgment and understanding, the ability to judge well.
The phrase "vocational discernment" has been traditionally used by the Catholic Church to refer to men who are preparing to become priests. But the term can and is being used to include anyone thinking about how they want to use their career to engage in the world.
What do we want to do? What and whom do we love? What social issue do you want to commit to, to impact? How does what you do connect with what you believe?
The concept is meant to capture the significance of our spiritual lives and integrate it into our career exploration. It can be specifically tied to careers defined by a faith tradition, or it can take on a wider, broader sense of being in line and right with the universe.
For me, vocational discernment is about doing your homework and figuring out what is out there and what is not. It's about listening to your heart instead of the voices of others when deciding what to do. It's about deciding to explore and try and not worry about saving face or what others might think. And it's about learning from all of that and charting a new and often more exciting course, all the while seeking to understand how what I do and what I believe line up and serve as a source of inspiration, strength and joy.
In other words: our lives matter. What we do matters. How we chose what we do matters.
For years I've worked with people like Jim Ellison, Martha Wright, Melissa Wiginton, and Marie Campbell to gather with groups, mostly comprised of individuals in their twenties and early thirties, and hold vocational discernment retreats. From those experiences we developed a number of questions about discerning life and planning your journey. These questions can serve as a resource for anyone seeking to plot out a future.
The questions cover four areas: Self, Relationships, Choices, and Vocation. Read them to yourself and then reflect on them either alone or with a group. We have also put this exercise into a deck of cards, known as the "Discernment Deck," which is available at www.faith3.org.
The hope is that by making questions like these available to more people, we'll be able to start meaningful conversations around discernment for more than just the groups we see! Through this exercise, we hope that you discover
• Clarity as to where your interest lie,
• Insight as to who you want to become,
• Reality as it pertains to your situation,
• Influences of your family and significant other,
• Possibility of new horizons, and
• Alignment with your actions, beliefs and spiritual sense of self.
Through your reflections and conversations on these questions, you will have painted a vocational discernment selfie. The next step is to make the road map and go on your way.
Begin now! Here a few questions to start you on your path:

● How do your financial obligations determine what options you can pursue? If your financial obligations are limiting factors, what are you doing about changing that?
● Do you have or do you hope to have a significant other in your life? How does (or how will) this person impact your career choices? Could you ever see yourself leaving a job you or moving from a place you like to advance his/her career?
● Write a six word missing statement about who you want to become.
● What skills are you hoping to develop and what are some places (whether a job or volunteering) where you can learn those skills?
Calling all HuffPost superfans!
Sign up for membership to become a founding member and help shape HuffPost's next chapter