In a hospital in Brooklyn, you might hear the voice of Bessie Smith. That's because the New Brooklyn Theater has set a rare production of Edward Albee's 1959 play, The Death of Bessie Smith, inside Interfaith Medical Center. But you won't see an actress cast in the singer's role. Her bleeding figure remains offstage - and out of the hospital conference where the program has extended its brief run for a few more days.
This on-site rendering of The Death of Bessie Smith aims to help keep the doors open, and ambulances arriving, at Interfaith Medical Center in Brooklyn's Bedford-Stuyvesant community. Albee's tale - of trauma, discrimination, and a woman's untimely death - hits on restricted access to health care most anywhere in America.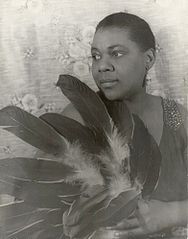 Some facts about the life and death of Bessie Smith remain hard to decipher. By most accounts, the "Empress of the Blues" was born in 1894 in Chattanooga, TN. As a teenager she sang, danced and toured with minstrel groups in the south. She made it through vaudeville and got into jazz. She met success, performing with Gertrude "Ma" Rainey and Louis Armstrong. She signed with Columbia Records, and appeared in a 1929 movie, St. Louis Blues. And she drank. Smith's alcoholism downed her career. She died at the approximate age of 43, in 1937, after a car crash in Clarksdale, Miss.
Smith's arm was nearly severed in the collision. By most reports, she was alive when she reached the first hospital, said to be a "whites only" facility, where doctors did operate. She remained unconscious and, by the next morning, was pronounced dead. As her story is told in Albee's play, she is denied prompt care at the nearest hospital. Her friend and manager, Jack, who's had a few drinks, frantically drives her to the next emergency room.
Albee's play opens with a dark, telling scene. Two men in a bar are speaking, but neither understands what the other means. Next, a white nurse from a once-wealthy Memphis family prepares to take a public bus to the hospital where she works. At home, she treats her aging father with cruelty. She notes proudly that her job is not that of a floor nurse, the kind who touches patients. At the hospital she sits at a desk, fielding telephone calls and wanting cigarettes. The nurse remarks on the disparity, back then, of attention given to the mayor of Memphis, beset with piles, and another patient, also white, whose guts are "spilling out." Throughout the scene, she alternates directions of her verbal abuse between a handsome young white doctor and a male black aide. Each knows his place.
When Bessie Smith's hemorrhaging body arrives in a car outside the hospital's door, with a man pleading for help, it feels like a jolt to the present tense. The nurse, acting as administrator, will not let permit her entry. Upon hearing of the accident victim near by, the intern and aide rush outside. They break rules, and reveal a willingness to care. But it's too late. They cannot save her.
Some of the discrepancies between Bessie Smith's fatal ride and Albee's insightful rendering of the subject - of kindness absent, and care denied, were hashed out years ago. A critical review of the play by Whitney Balliet appeared in the New Yorker in March, 1961. Esquire covered "the Death" in a June, 1969 profile of the singer by Sally Grimes. The later singer Janice Joplin, who drew on Smith's blues, died at age 27, after wearing her body down with alcohol and heroin, in 1970. Joplin gave money for a headstone marking Bessie Smith's previously unmarked grave.
This version of the play transpires in a threatened Brooklyn hospital. But Albee's story of ill will, poor communication and failed provision of medical care, extends far beyond New York City. The message resonates with hospitals shutting, and differential access to health care throughout the United States. In cities like Pittsburgh and Los Angeles, leading academic and specialized hospitals may no longer deny care based on the color of a person's skin, but they can do so based on the brand of a person's insurance.
As this story goes, Bessie Smith stays out of sight. She doesn't appear in the hospital conference room where the action is ongoing. Still her powerful, crackling voice reverberates.