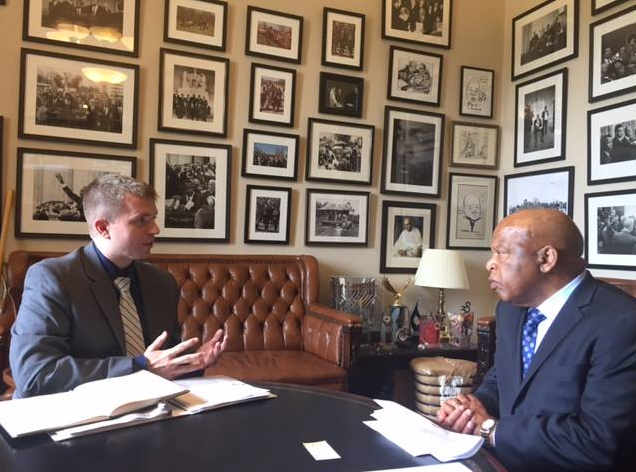 By Chris Purdy, Veterans for American Ideals
President Trump's anti-refugee rhetoric and proposals have deepened a debate that began before he entered office. This debate is about national security, religious liberty, and refugees. More than that, however, it's about the United States of America and what kind of nation we want to be, what kind of nation we're supposed to be.
Among the many pressing issues facing Americans, none to my mind is more important than ensuring that our nation remains a refuge for, as President Reagan put it, "all who must have freedom, for all the pilgrims from all the lost places who are hurtling through the darkness, toward home." Here in Georgia, voters in the 6th congressional district will have a chance to weigh in on this issue tomorrow when they vote in the closely watched special election, which appropriately falls on World Refugee Day.
My perspective on this issue was formed in the military. The people in my unit in Iraq taught me about diversity and equality. We came from all over and on the surface could hardly have been more different, but as we escorted men and materials on Route Tampa, united in purpose, we were all equally flawed and equally American.
Walelenge was born in Ethiopia and came to the United States at 13 as her father sought political asylum. She'd taken a hiatus from studying for medical school and was a model soldier; she was smarter than the rest of us, worked harder, and complained less. Born to Egyptian parents, Tahir was our only Arabic speaking soldier. He took the lead on communicating with Iraqis and gave us the cultural competency needed to survive for days at a time in unfriendly areas. From small-town Virginia, Eric operated our heavy machine gun and provided us cover. Knowing that what mattered to this hardworking, loyal 19-year-old wasn't our religion, race, or class but the American flag patch on our right shoulder, we trusted him to protect us.
Those are just a few of the people who held my life in their hands. The military forces you to develop the deepest of bonds with people you might not otherwise have come to know. I'm the son of an immigrant who enlisted during college out of a sense of obligation. As a teacher in an urban school, I joined forces with people who had vastly different backgrounds. We didn't pretend these differences didn't exist; we looked past them to our common humanity, because we had a vital, dangerous job to do.
Together we drove thousands of miles through open country and bustling city streets. We dove into bunkers during mortar attacks. We were there for each other when we were scared or lonely. We shouted at each other when we messed up. We played pranks on each other. We survived it all together. With cohesion and cooperation life-or-death necessities, we had no choice but to rely on the group and to try to help each overcome our flaws.
Of course, the country isn't a military unit. Yet the ideals that shaped our unit are the very ones that have defined out country throughout its history. These ideals are why men in blue stormed across open fields in Virginia and Tennessee. Why we liberated concentration camps in Europe. Why we welcomed teeming masses of refugees fleeing communism during the Cold War.
And they are why we must oppose efforts to divide us. Speaking out against demagogic language and laws that demonize Muslims—or any other minority—is not only the right thing to do; it is our civic duty. Standing up for those fleeing terrorism and persecution, regardless of how they come here, is not a liberal or conservative stance; it is a principle embedded in our national character.
For better or worse, the special election in Georgia's sixth is a bellwether; as such, it will be viewed as a referendum on President Trump's hostility toward Muslims and refugees. My profound hope is that voters reject the politics of fear and distraction, and that the message they send is the one I learned, in a visceral way, while trying to stay alive in Iraq: that we have everything to gain by championing equality, and everything to lose by rejecting it. 
Chris Purdy is an Atlanta resident and an Army veteran who served in Iraq. He is a leader with Veterans for American Ideals, a project of Human Rights First.
Calling all HuffPost superfans!
Sign up for membership to become a founding member and help shape HuffPost's next chapter
This post was published on the now-closed HuffPost Contributor platform. Contributors control their own work and posted freely to our site. If you need to flag this entry as abusive,
send us an email
.