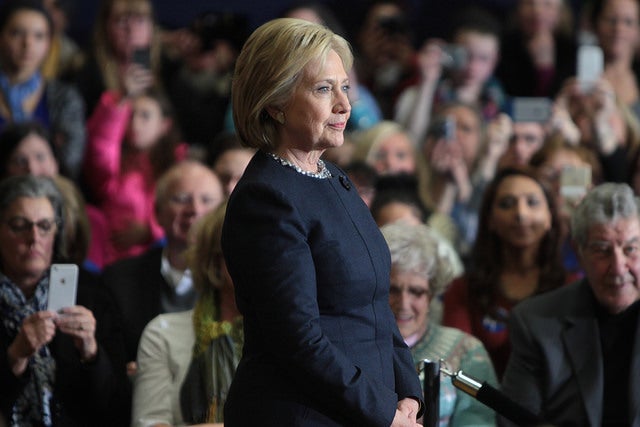 My absentee ballot has been sitting on my table for the last two weeks, the bubbles waiting to be filled and the envelope ready to be mailed. For the last couple of months, all of the activist and advocate in me has been absorbed with the heinous words and actions from across the country. All my feelings and thought-processes have been a reaction to the constant stream of depravity. Like so many others, I let the tide pull me into the group of voters who was casting their vote for "the lesser of two evils." But, two weeks ago, when the time came to fill in that circle, I could not actually do it without really thinking about what the person I am voting for represents. Two weeks later, I dropped the envelope into the post-office box with no qualms, shames, or regrets about my choice. I did not pick the lesser of two evils; I voted for Hillary Clinton and I picked social justice and radical change. Here is how:
Hillary's win is a win for justice.
We have spent the last few months witnessing the worst in people, from bigotry and racism to violence to outright hate. Like so many before me have articulated, this seemingly unprecedented show of face did not organically form in reaction to a particular man with orange skin; it was always there waiting for an opening to show itself. And we have a choice and a chance to stop it. The choice is not to pick the lesser of two evils; the choice is to stop the evil. In the history of abuses against humankind, the choice to resist evil leadership has not always been available. Some of the cruelest violations against humanity have taken place under circumstances where choosing to not "elect" the evil was not an option.
That is not the case in the US. Our votes can defy injustice in a single day, obliterating the insidious force of the last few months. When I mailed my ballot, I took action against a petty tyrant who has cost America decades of political and social reform. But voting for Hillary does not only halt a reversal in progress, it is also a catalyst for further development.
Hillary's win is a win for change.
For the last two elections, we have made history by placing a black president in the White House, not once, but twice. This is not a temporary break in the systemic inequalities of this country. If Hillary wins to become Madam President, there will be a sustained force of change for 12 years. These accomplishments have the potential to alter the entire tide of what leadership in this country looks like for years to come. While Hillary's brand of feminism is colored very differently then my own, she has set the precedent of a woman in a man's, sexist world. For every stab at her cough, "likability," pantsuit, and marriage, she has forced her criticizers to acknowledge her qualifications rather than her womanhood. That is progress.
Gun violence prevention. Planned Parenthood. "Gay rights is human rights." Immigration reform. Climate change. Black Lives Matter. That is all progress. And flawed as she may be, that is all Hillary Clinton.
So, I did not vote for the lesser of two evils. If Hillary Clinton were to win, I genuinely look forward to what unfolds in the next four years under leadership of the first female president of the United States. #IAmWithHer
Calling all HuffPost superfans!
Sign up for membership to become a founding member and help shape HuffPost's next chapter
BEFORE YOU GO