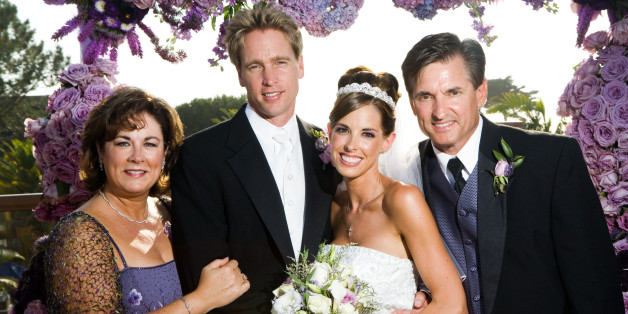 One of the reasons I started my website is that I wanted a place for women to come together and dream. We women need to know that we don't have to hang on to an old dream that has stopped nurturing us -- that there is always time to start a new dream. This week's story is about a woman who found herself in an embarrassing situation, and decided to invent a solution. Her product landed her a spot on national TV, and has helped thousands of women throughout the U.S.! -- Marlo, MarloThomas.com
By Lori Weiss
When Nanette Frank's only daughter, Alicia, announced that she was engaged, the proud mother was going to be sure that she planned a wedding fit for a princess. After six months of shopping for the perfect shades of lavender, picking out yards of fabric and tulle, and creating a menu that her guests would remember, the romantic beach front wedding was finally under way. As the procession began, Nanette began her walk down the aisle on the arm of her son, Evan.
"I was holding in my stomach and holding up my chin," Nanette laughed. "Everything was perfect, until we got about halfway down the aisle. All of a sudden I started feeling this slime under my boobs. All I could think was, I can't be in my daughter's wedding with boob sweat! I just wanted to get to my chair before it started showing."
While Nanette and Alicia had taken care of every possible detail they could think of, no one had expected the temperature in San Diego, where a typical July day is in the 70's, to soar to 117. Even with the breeze from the beach, it was a sweltering 104 during the ceremony, and Nanette knew that there was nothing that could save her from the wrath of Mother Nature.
"The front of my lavender beaded gown was soaked in sweat marks," she sighed. "You can see in the pictures that I was lovingly touching my son-in-law as I posed for a photo. That was my way of strategically placing my arm across my breasts so the sweat stains wouldn't show up in my daughter's wedding album."
"I went to the bathroom to see what I could do. And there were two choices. Panty liners made from plastic, which I knew would make the problem worse, or paper towels. So I took the paper towels and put them underneath my bra. By my third trip to the bathroom, I vowed that I was going to find a way to put an end to boob sweat."
And while many of us might have had similar thoughts during moments of desperation, Nanette was determined to follow through. She would not only develop a product to put an end to this fashion faux pas -- she would put that product into the hands of Dr. Oz and in front of an audience of millions.
Article continues below slideshow
PHOTO GALLERY
Nanette Frank
"In 2006 the feminine hygiene business was an 18.5 billion dollar industry," Nanette exclaimed. "You would think that they could have come up with an answer for this! There are tampons and pads and liners -- long, short, with wings and without -- but nothing for boob sweat!"
"The closest thing that I could find was a liner made from a really stiff rayon material, which was created for plus size women -- so that their bras wouldn't dig into folds of fat. You don't have to be plus size to have this problem. Boob sweat is generated from skin on skin contact -- where a little portion of your breast touches the chest, or where your breasts touch each other.
"If you think about it, the breasts are sitting right above your body's major organs, where heat and energy are generated. So that part of your body tends to heat up quickly and in turn, produces sweat. On a warm day, that wetness can cause rashes and even yeast infections."
So Nanette started making phone calls -- lots and lots of phone calls. She called more than one hundred manufacturers until she found someone who would take her seriously.
"Everyone I spoke to either wanted to charge a fortune to send fabric samples or they tried to lure me in with consulting fees. But when a sales rep offered to drive down from central California, I knew I was in the right place. He saw the potential for a product like this."
Soon, Nanette was sitting at the Singer sewing machine she'd had from the time she was 13. She began cutting patterns, pinning fabrics and making samples for a product that she would call Girlease -- a bra liner that's cut in a curved pattern and goes up and around a woman's breasts.
"I wanted to use a non-woven material, so that it would be light and airy. It also had to be soft, absorbent and thin enough that it wouldn't create a bulky layer under clothes. I made samples for 30 women, whose bra sizes ranged from a 32B to a 48D. Then I sent them each four samples made from different materials. I needed to know it worked for women of all sizes."
And since Nanette clearly had the problem herself, she became part of that test group. She decided to take a sample out for a brisk walk, with one "girl" protected by a hand sewn bra liner, and the other by just the bra itself.
"It was 75 degrees," she recalled. "When I got home, the 'girl' that was protected was nice and cool. The unprotected one was slimy. So I went into my kitchen and pulled out two rectal thermometers that I used when my kids were small, and stuck them in my bra. The protected side was 98.6 degrees. The slimy one was 99.9."
With a provisional patent in place, Nanette gathered her research and found a material that all the women agreed on, and then ordered 4,800 bra liners.
"I just kept hoping I wasn't crazy," she said with a grin, "or my boobs were going to be covered for the rest of my life."
And then Mother Nature smiled upon the determined entrepreneur. San Diego experienced something many natives consider a heat wave -- with temperatures soaring to 84 degrees. So Nanette picked up the phone again -- only this time, it was to call the local Fox affiliate -- and she told them about the solution she'd created to prevent boob sweat.
The story got picked up by stations around the country and within three weeks, every one of those 4,800 bra liners was on its way to someone who had been searching for a solution for their sticky situation.
It wasn't long before Girlease began turning even more heads. Nanette took second place in a contest for budding entrepreneurs -- after comparing boob sweat to the feeling a group of bewildered male judges might have under their armpits, after a long day of mowing the lawn. QVC began selling her product on their website, and viewers picked it as one of their favorites during the shopping network's "Sprout" campaign. Then, after two years of relentless emails, Nanette got a call that would put her solution for boob sweat in the national spotlight.
"I noticed on Dr. Oz's website that they were doing a show on embarrassing body complaints and I thought, finally, this might be my opportunity, so I sent another email. And then they called and asked for samples! Two months later, Dr. Oz was holding a Girlease bra liner up to his chest!"
"The orders started coming in non-stop," Nanette recalled. "Each time the show would air in a different time zone, there were pages and pages of orders. I was sending so many out, the postman asked me to stop leaving them by the mailbox. So I was hauling boxes of bra liners to the post office!"
While Nanette is the first to admit that her product isn't a solution that's going to bring about world peace -- there's no question that she's bringing a lot of women peace of mind.
"I remember seeing a remark on Twitter that read, 'Now that NASA has shut down, maybe someone can work on a serious problem like coming up with a solution for boob sweat.' My idea isn't rocket science," Nanette laughed, "but I know I'm giving some women out there a better quality of life. I knew I couldn't be the only one. No one should ever have to walk down the aisle at her daughter's wedding hiding boob sweat under a bouquet of flowers."
Add Marlo On Facebook:
Follow Marlo on Twitter:
Sign up to receive my email newsletter each week - It will keep you up-to-date on upcoming articles, Mondays with Marlo guests, videos, and more!