I was never what you would call an "adventure traveler." I've tested my strength on white water rapids in Maine, camped with skunks on Grape Island near Boston (not a pleasant evening), and hiked some of the most beautiful trails in the U.S., but I wouldn't file any of these under "adventure." To me, adventure is danger -- and danger is not something I often flirt with (unless it flirts with me first). So, when the tour guides at Sonora Resort in Sonora Island, British Columbia, suggested I take a grizzly bear tour my first reaction was hesitation.
Every fall, the elusive grizzly bear comes down to the mouth of the Orford River in British Columbia to feed on salmon. For a few lucky visitors in the area, the chance to see these beautiful and endangered creatures up close is a once in a lifetime opportunity. While I was slightly hesitant to walk with bears in their natural habitat, it was an adventure I was not going to miss.
"Don't worry," the guide said. "We'll give you something to wear so you don't stick out."
Clearly a city girl stuck in the country, I was ill-prepared with a wardrobe to head out on this grizzly bear journey. I suited up in lined fishing waders for warmth, grabbed my fleece pullover and stepped into the eco-boat for the hour voyage up Bute Inlet, through the Arran and Yuculta rapids to the Orford River. With my camera in hand I was ready for anything, but I wasn't prepared for what appeared in front of me.
The boat fell silent and rocked in unison with the waves in the water as it approached the rocks. I stood up, caught my balance, grabbed my Nikon 55-200mm camera lens and zoomed in on the brown bear in the distance, which was only about 35 feet away. A mother bear was fishing for salmon in the estuary while her two cubs played behind her. I watched in awe as the cubs wrestled in the rocky waters, splashing water at each other like two siblings would do in the neighborhood pool. This is the grizzly bear that few people ever see: focused, skillful and relaxed in its natural habitat. Despite my incessant clicking of the camera, the gorgeous grizzlies in front of me had one thing in mind: dinner.
The boat slowly backed away from the area and made its way to the dock. I disembarked, boarded a bus and headed for the one of the viewing towers in the Phillips River valley, home to all five species of salmon as well as grizzly bears, black bears, cougars, wolves and other wildlife. I was surprisingly calm to be standing in a bear's territory. The beauty of the valley took me by surprise -- I was so captivated by the waterfalls, streams and tall trees that provided the perfect frame around a bright sun that I hardly noticed the grizzly bear walking along the stream in front of me. He was in search of salmon and seemed to care less that I was 10 feet from him.
All I could think was, "Please don't eat me," and oddly, he didn't seem to care I was there.
His carefree attitude toward me put me at ease so I slowly started to walk the same route with him. The size of the bear wasn't lost on me, but the beauty and grace in which he moved left a lasting impression.
As if out for a typical afternoon stroll, the grizzly casually sauntered his way along the paved path and into the river in search of salmon. Over rocks, up tree limbs and into the water, he was focused on the task at hand. I was focused on capturing it all.
After a 10-minute photo session, in which the bear was clearly oblivious to my camera, we made our way along the ravine and to the next viewing tower. Alas, this was the end of my bear sightings, but the beginning of a nature trail so beautiful it was hard to believe it was real.
Tall trees lined the three streams that met at the corner of a graveled path. This unspoilt land in British Columbia was home to dozens of wildlife species, and we humans are just visitors in their glorious habitat. Witnessing the beauty of an animal in their own habitat is something few people get to see, especially at grizzly bear proportions, but after two hours walking through the woods it was time to head back.
The beauty of British Columbia is in its nature and landscape. The fresh mountain air and ocean views offer any traveler a type of inner-peace often unknown amid the daily adventure of our everyday lives. But to walk in the path of another's home -- where wildlife and bears make the rules -- that, in itself, is an adventure of epic proportions.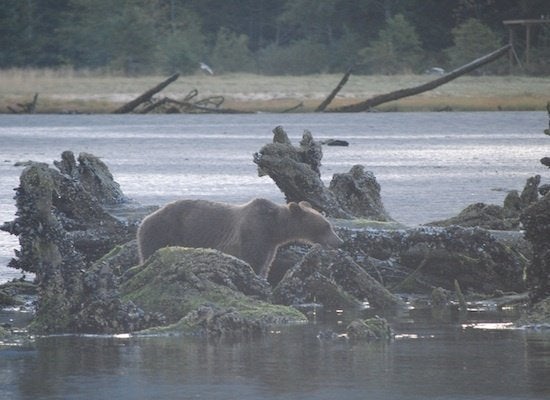 A Walk Among Bears in British Columbia, Canada